"You don't play your idol every day" – Carlos Alcaraz is poised for a potentially career-defining match against his idol Rafael Nadal in Indian Wells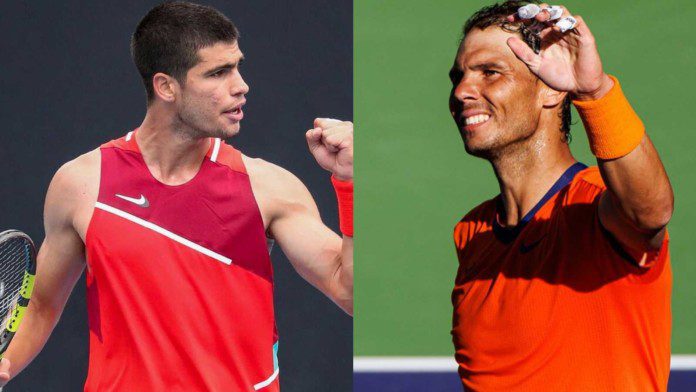 Carlo Alcaraz defeated defending champion Cameron Norrie In the 2022 Indian Wells to set up an all-Spanish semi-final against Rafael Nadal. The teenager showed nerves of steel in the quarter-finals of his first Masters when he overtook the Brit 6-4, 6-3.
Alcaraz have had a flawless season so far, with 11 wins at the expense of just one loss, hard-fought in the third round against Matteo Berrettini Australian Open. Fresh from his triumph in Rio, where he became the youngest winner of an ATP 500 tournament and then broke into the top-20 as the youngest player since Rafael Nadal. Now he faces the man himself, Nadal, in the semifinals in the desert.
He faces an uphill battle with a clash with his 'idol' Nadal, who is undefeated this year. But the young Spaniard assesses his chances and looks forward to a duel with his idol. Alcaraz has drawn comparisons to Nadal for their similar playing style and clay-court skills, and it's safe to say he's following in the footsteps of the 21-time Grand Slam champion given his brilliant start to his career.
"He's tough to play against but he'll enjoy it. You don't play against your idol every day. I'll be happy even if I lose, but the focus is on doing my best and taking my chances." he said.
'I think he's unstoppable in terms of his career': Rafael Nadal on Carlos Alcaraz
Nadal was full of praise for the young Spaniard, saying he was 'unstoppable' and even saying he saw a glimpse of his younger self at Alcaraz. The world No. 4 urged him to fight for titles soon and heaped praise on him for saying it's good to see such talent blooming from his own country.
"He has a great team next to him I think. I think he's unstoppable in terms of his career. He has all the ingredients. He has the passion. He's got that, he's humble enough to work hard. No, he's a good guy. He reminds me a lot [myself] when I was a 17 or 18 year old kid. I think he has the passion. He has the talent and the physical component that it's great." he said during his post-match press conference.
"I'm super happy, although of course now and without a doubt it will be a great rival for the next few months. But honestly if I think and am selfish it's great to have such a star from my country because we tennis lovers will continue to enjoy a great player fighting for the most important titles for the next one I know I know not how many years, many years," he added.
This is only the duo's second meeting, the only previous clash taking place at the 2021 Mutua Madrid Open. Nadal was dominant throughout the match as he beat Alcaraz 6-1, 6-2. Since then, Alcaraz has improved by leaps and bounds and could pose a threat to Nadal's 19-game unbeaten run. With Nadal eliminated after a 3-hour match, the 18-year-old will assess his chances of ending Nadal's perfect start to the season.
Also read: "He wishes there would be peace soon," reveals Sergiy Stakhovsky that Roger Federer has answered his call for help
https://firstsportz.com/tennis-its-not-everyday-you-play-against-your-idol-carlos-alcaraz-ready-for-a-potential-career-defining-match-against-his-idol-rafael-nadal-at-indian-wells/ "You don't play your idol every day" – Carlos Alcaraz is poised for a potentially career-defining match against his idol Rafael Nadal in Indian Wells