Women Filmmakers at Sundance: Don't Touch Abortion Rights!
Sundance 2022: Movies that remind us how it feels when women don't have a choice
"Call Jane" stars Elizabeth Banks and Sigourney Weaver in the story of a suburban housewife named Joy (Banks) who begins an abortion in Chicago in 1968, when it is illegal to do so. Joy stumbles across an underground network of women (led by Weaver), known as The Jane Collective, who have surreptitiously performed abortions on women, until the Supreme Court legalized it. termination in 1973.
This trait is rooted in history and records the second-class status suffered by women, even during the civil rights revolution. Joy doesn't tell her husband (Chris Messina) that she had an abortion (because of her life-threatening pregnancy), or that she signed up with this group of unfaithful women. Joy is finally coming out of her passive life as a housewife and mother by learning how to perform the abortion herself and be the main "Jane" – while teaching others how to do it. follow.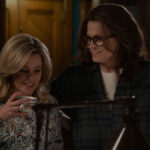 Coincidentally, "The Janes," a competitive documentary by directors Tia Lessin and Emma Pildes, deals with the same subject. An engaging companion to the feature film, "The Janes" features interviews with many of the real-life Jane Collective members. One of them noted that they went undetected for a long time because male-dominated police could not imagine women organizing themselves. "This is a case of men underestimating the abilities of women – it worked very well for us," she says.
Let's pause for a moment to remember that: Active women in the 1960s taught themselves how to have abortions, and this group performed an estimated 11,000 of them until they disbanded.
Judith Arcana and Diane Stevens were part of a group that performed abortions and were arrested when police eventually discovered the group based on tips from family members of a pregnant woman, who who opposed her plans to end the pregnancy.
In an interview this weekend on the set of TheWrap, Arcana and Stevens said they didn't think much of the illegality at the time, or that they risked life in prison if caught.
"I almost never think about risk," says Arcana. "It sounds simple, but it's not… That's not the point."
Stevens has a similar view: "I knew I was doing something illegal, and I knew there was a possibility of going to jail. I feel very strongly that's what I have to do. "Those beliefs have come at a cost. "When we were actually arrested, I was in a much better position than other women in that I had no children, no family that would be affected," Stevens said. "I'm ready to face it."
Sigourney Weaver, in a separate interview at TheWrap's Sundance studio, recalled the impact Roe v. Wade's decision had on women at the time.
She said: "It was truly earth-shattering. "It was like: Now I can breathe… Suddenly we were seen. We were able to make decisions about our own bodies. The last thing I used to think was that we were going back to those very sad, desperate days when women had to take care of themselves."
It's a helpful reminder of what life was like before women had complete control over their bodies. One of the facts that I learned from watching both films is that the oral contraceptive, once invented, was only legal in that era for married women. A mess for the contemporary mind. Additionally, women also turn to the Mafia for illegal abortions, creating an even more sinister agent for the darkened nature of the procedure.
Yet another hugely influential film, "Happening," in the festival's Spotlight section, tells the story of a university student in France in the late 1960s who became pregnant and wanted an abortion. The film, written and directed by Audrey Diwan (based on a book), has a similar theme to "Call Jane," where the gifted literature student Anne (played by Anamaria Vartolomei) insists that she have to have an abortion and find a solution in every possible avenue.
The film is shot very closely, mostly with close-ups of Anne's face, trying to present this story through the eyes of a young woman determined not to let her life go astray. "The loneliness of the character moved me," Diwan told me in an interview at TheWrap's Sundance studio, as she spoke from afar from Paris. "And I decided not to do the legal abortion section, but to talk more about this character – how she wants to be free, how she wants to have sex and her education."
"It fostered a certain anger in me," Vartolomei said. "Everything stems from that anger. I put myself in this young lady's shoes…. I can't imagine that there is still a world where a girl has to choose between her life and her career. I just wanted to show the determination in my character and give her justice."
In Europe, abortion is not under the immediate legal threat it is in the US – but it is under pressure. Poland introduced an almost complete ban on abortion a year ago. And the current head of the European Union is the Pole.
"Aftershock" is another film in the festival that deals with women's rights and maternity. In this case, it was not abortion under close supervision but the substandard care provided to women of color during pregnancy that resulted in high rates of cesarean delivery and mortality in the United States. babies are taller than white women. While this movie isn't about the right to choose, it's most certainly about the right of women – especially women of color – to be subordinated to other priorities when it comes to health.
For so many of the women I interviewed in the first days of the festival, the topic of women's access to health care is enlivening their lives as they are witnessing the end of their lives. Roe's slow push with fear.
That includes me. Watching these movies made me positively imagine life after Roe's demise. I found it to be something of a disengagement – in a country where the government is about to take away the rights you've had for 50 years. The government can tell you when and how to have a baby.
"I feel this is very recent history," Banks said of her participation in "Call Jane." "I was born in 1974.… Choice is something that I find difficult to grasp at this time. One of the reasons I wanted to be involved is the women in this story – everything they care about matters. We need to tell more about those things."
Their movies remind us of what our future as women look like: the past. A period when most men make the rules, when a woman's sex life is something to be controlled and when sex is something that seems to need punishment.
It also reminds us of an important fact: Regardless of the imminent threat to abortion rights in the Supreme Court, women will not stop needing abortions or seeking them out. "You don't have to imagine what it's like," says "Jane" director Pildes. "It is like this. Fearful. Isolation. You can see it on the screen".
https://www.thewrap.com/female-filmmakers-sundance-abortion-rights/ Women Filmmakers at Sundance: Don't Touch Abortion Rights!