Who is Citadel's Traitor and what does that mean for Season 2?
Editor's Note: The following contains spoilers for Season 1 of Citadel.
The first season of Russo Brothers' citadel establishes an international spy franchise with several announced spin-offs. We're introduced to an underground spy agency that appears to have orchestrated every "good" event in the story, but is immediately wiped out in the first sequence due to inside information leaking out. From the very first episode, the series raises the most timeless and fundamental question of the spy counter: who is the mole? In an agency full of trained agents for whom lying is as natural as breathing, the candidates are likely to be endless. We anticipate constant guessing throughout the season and prepare to be shocked at the final reveal. However, if you look closely and know the basics of the genre, it's not hard to see who it is. Ultimately, the most intriguing part of this whole story isn't really who the mole actually is, but what the implications are for future seasons.
RELATED: 'Citadel' Season 2: Cast, Release Window, Storyline, and Everything We Know So Far
We start the show with the end of the powerful spy agency Citadel. In a calculated access riff, the two protagonists of the series narrowly escape with their lives and are presumed dead. In addition, Citadel tech genius Bernard Orlick (Stanley Tucci), activates a chip implanted in her brain that erases her memories. We follow Mason Kane (Richard Madden) while being slowly restored to his life as a spy by Orlick and battling agents of the evil Manticore organization over a case of nuclear codes. Along the way we meet his former partner Nadia Sinh (Priyanka Chopra Jonas), a former associate of Spence (Osy Ikhile) and his new wife Abby/Celeste (Ashleigh Cummings), who used to be a Citadel agent herself. The series alternates between flashbacks and the present, constantly giving us false information about the Mole's identity until the big reveal in the finale.
Who is Citadel's Mole?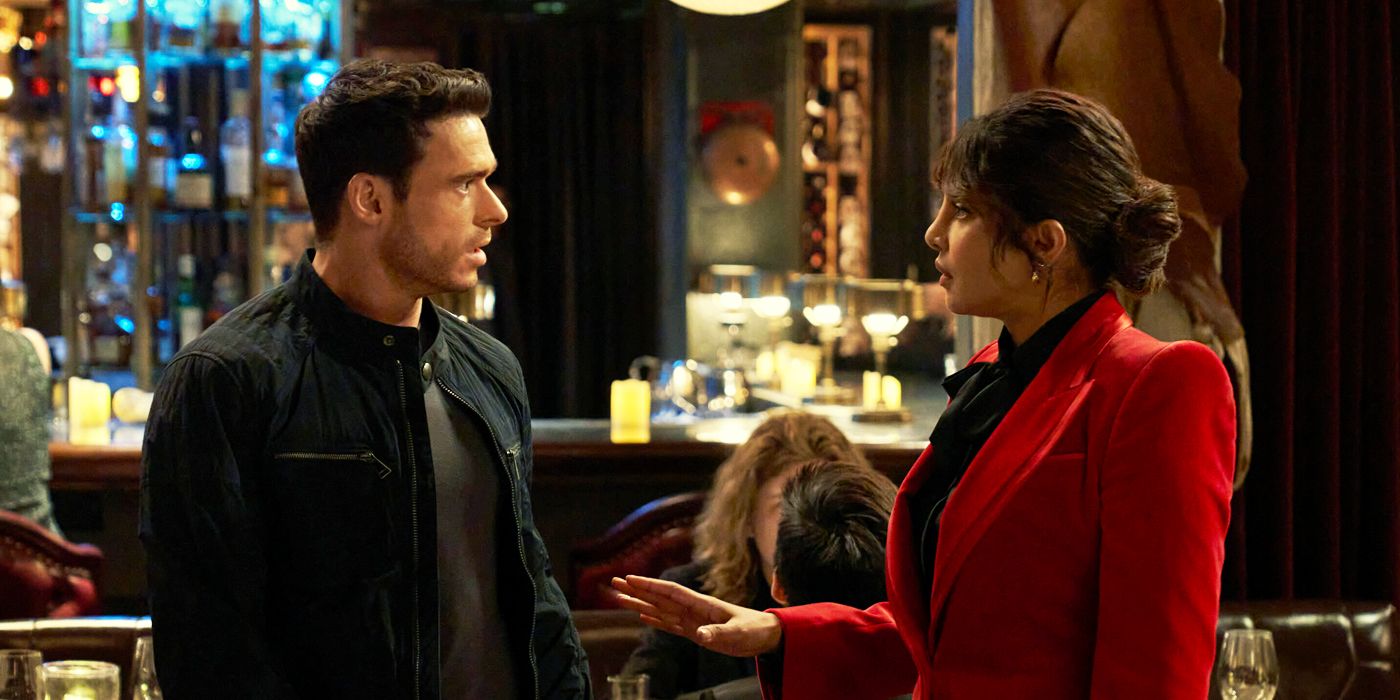 With most of the Citadel agents having been wiped out, there are only five real choices for the Mole in the series unless an entirely new character is introduced. These include Kane, Sinh, Spence, Celeste and Orlick. In the fourth episode's flashbacks, Kane voices his suspicion that Celeste is the mole. Aside from simply saying she was the mole, which immediately disqualified her, her late introduction to the series and access to Tier One information also made it clear that wasn't the case, and took her off the cast candidate list. Similarly, in the last few episodes, Nadia has been poignantly portrayed as a double agent, which can be seen as a red herring even by amateur spying. From the present scenes of Orlick being interrogated by Manticore agent Dahlia (Lesley Manville) and Spence's time being tortured in a secret location, it's easy to assume they're in the clear. The elimination process allows Kane to be easily identified as a mole well before the finale.
The show essentially plays catch-up in the finale, revealing the mole to be Kane while he regains his memories. However, we learn that Kane is actually the son of a Manticore agent, Dahlia. In a flashback, we discover that Citadel was involved in a cover-up when Kane was a kid. Citadel had accidentally sent an air missile to the wrong coordinates, killing 157 innocent civilians, including that of Dahlia's husband – Kane's father. Previously, Kane believed his father died in a terrorist attack and was shocked to learn Citadel was responsible. After Nadia's disappearance, Kane was particularly vulnerable to Dahlia's argument that "Citadel takes people you love and suffers no consequences whatsoever", leading to him sharing secret files and information with her in order to destroy Citadel. As such, Kane was responsible for the downfall of Citadel as Dahlia used the information provided to eliminate all Citadel agents and facilities in an elaborate plan.
What does this mean for Citadel Season 2?
While the Mole's identity was fairly predictable, the implications of this formed a premise for Season 2 that is far more compelling and complex. In this first season, Kane is a rather boring character, which makes sense considering that having his memory wiped leaves his personality a blank slate and he's been just confused for most of the season. Now that his memories have returned, we'll be able to experience not only the full force of the arrogant and manipulative personality hinted at in the flashbacks, but also the new complexities inherent in the relationships. With so many unanswered questions on the show, such as how Kane will respond to his past relationship with Nadia, what he's done to his now-wife, and his role as a mole, season two should finally address conflicts that initially remained hidden . On the other hand, there's also a good chance he'll switch sides and be portrayed as a villain, especially given that he's acquired nuclear codes alongside his memories.
The finale also creates a gray area that was virtually non-existent in the first season and which is also a hallmark of spy shows. The first season depicts a simple conflict and binary between the "good" Citadel and the "bad" Manticore, completely ignoring moral ambiguities that make the spy counter-movie more than fancy-gadget action. Only in the finale, during Kane's memory of Dahlia, is this already established binary broken and the influence of Citadel questioned. Even the fact that Kane, one of Citadel's top agents, eventually agrees to become a double agent probably suggests there's more to both organizations than meets the eye. His motives for destroying the Citadel appear to be rooted in emotion and ideology, further indicating that there is more to discover about the Citadel and its unbridled power. This finally allows the show's second season to operate in the gray area – hopefully with decisions that challenge ethical certainties and interesting dynamics between agencies that are commonly seen as good and bad.