"We're working hard to make it happen." Cup Series rookie Harrison Burton is poised for a comeback after falling into oblivion following his heroics earlier in the season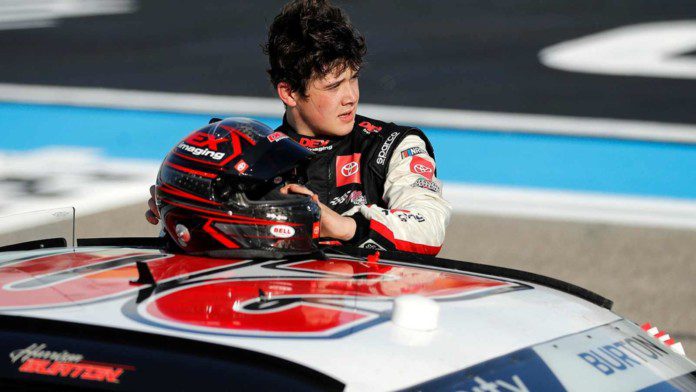 Harrison Burton In early 2022, he seemed to have everything he needed to compete Daytona 500 winner Austin Cinderic for the Rookie of the Year award, but after six Cup Series races, the rookie is nowhere near the promised land.
Harrison Burton impressed those NASCAR Community with his preseason runs at LA Coliseum where he finished P12 and Daytona 500 where he once led the race and also finished P3 in the Daytona Duel race in his #21 Ford Mustang. But after those early season wonders, it was a run into the dark for the young lad as two DNFs and just two top 20 finishes sent him 30th on the championship standings.
Harrison Burton showed he can make a comeback in COTA last weekend, where he scored some stage points and finished P17. Now he has expressed confidence he will return to the top of the cup series after reflecting on his early debut season.
Find out what Harrison Burton had to say about his season so far
Harrison Burton said the rookie season was a building process for him and the team and everyone around him at Wood Brothers Racing knew it was like that. He continued despite their failure to replicate the exploits of LA and Daytona in more races over the past week COTA was a good step in the right direction. the previous Xfinity Leader added that he now understands that the top 5 in the Cup Series takes more hard work than Xfinity.
"It's a building process and I think everyone at the Wood Brothers and I understand that this is going to be a building process. Obviously we wanted to continue the good start we had in LA and Daytona and that didn't quite happen so we're working hard to achieve that and I think we have a great track ahead of us up in Richmond' Harrison Burton said.
"I think every rookie has those days where you feel like you're riding hard and what would do for a top 5 in Xfinity isn't a top 5 in the cup, that's for sure. I think this weekend (at COTA) was similar for me, just with the stage pointsadded Harrison Burton.
"I feel like I need to be a little more aggressive," Harrison Burton says of how to improve his performance in the Cup Series
Harrison Burton acknowledged that once lost, it's difficult for a young rookie like him to regain track position as the computers are smarter and more adept than he thought. So the rookie suggests that he should work on his aggressive offenses instead of defense and try to bring the fight to them.
"I feel like I need to be a bit more aggressive to understand how important track position is," said Burton. "Once the race starts, it's time to go. It's easy to say, "I've got 500 miles to find out." Well if you lose a few places the guys who pass you are really smart, they are really good and it's hard to pass them again so you end up spending more time passing them than you do would try to move forward' Harrison Burton said.
"That's what I focused on – getting a little more aggressive over time and going a little bit more offensive than defensive against these guys. Just take the fight to them and see what we haveadded Harrison Burton.
Also read: 'I've never had more confidence,' Aric Almirola reveals he's more than ready for a first win of 2022 in Richmond
https://firstsportz.com/nascar-were-working-hard-to-make-it-happen-cup-series-rookie-harrison-burton-is-all-ready-to-make-a-comeback-following-his-fall-to-obscurity-after-early-season-heroics/ "We're working hard to make it happen." Cup Series rookie Harrison Burton is poised for a comeback after falling into oblivion following his heroics earlier in the season