"Well, yeah!!": Stephen Colbert pokes fun at Trump's latest baffling confrontation with Biden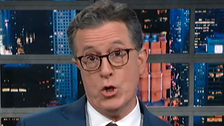 "Late Show" host Stephen Colbert mocked Donald Trump on Monday for stating the obvious with one aspect of his recent attack on President Joe Biden.
During a weekend rally in Iowa, Trump called Biden the "Manchurian candidate" and compared his White House successor to the political scion who is brainwashed to become a communist assassin in Richard Condon's thriller. The book has been adapted twice for the big screen.
"Now we have a Manchurian candidate in the Oval Office," Trump said. "Look at the film, it was pretty good. Not as bad as the original. That's one thing. The reality is even worse."
"Good yes!!" Colbert commented. "Usually bad things that happen in real life are worse than they happen in movies."
He then took on the role of Trump with a mocking version of the horror film "The Ring."