"We thought the same thing about Max Verstappen last year," Jan Lammers refuses to rule out Mercedes in the title race this season » FirstSportz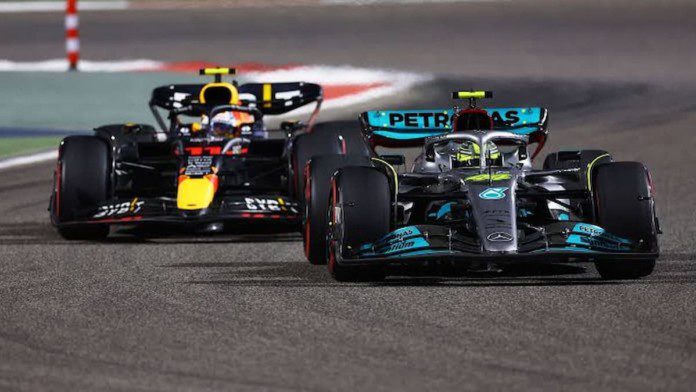 Ferrari's Charles Leclerc won the season-opening race of the season in Bahrain this Sunday. He started the race from pole position. Max Verstappen who had started the race from P2 was having quite a good run until he had to retire his RB18 right in the closing stages of the race.
Before his retirement, there was a battle between him and Leclerc for P1 on laps 17, 18 and 19. However, Leclerc managed to hold his lead throughout the race. Despite the progress made this weekend, former Dutch racer Jan Lammers believes it's too early to believe we'll have a new champion.
Jan Lammers believes the benefit comes primarily from the notion that competition was quickly ignited between different teams and drivers. Although Ferrari appeared to be the quickest, Max Verstappen's strong racing skills allowed him to bring the RB18 close to Leclerc's F1-75.
"Season three-way battle is imminent": Jan Lammers
When asked to pick a season favorite for the league title this season, Lammers replied: "Of course it's still too early to make a decision. After such a convincing race you naturally think: 'He goes straight into the championship.' We thought the same thing about Verstappen last year. The biggest win we need to see right now is the prospect of a three-team battle."
He added that he believes there will be a close three-way battle between Ferrari, Red Bull and Mercedes this season. He also mentioned that people can't write Mercedes off just yet, just because of Ferrari's 1-2 podium finish in the season opener at the Bahrain International Circuit.
Despite not getting it right in practice and having a not-so-strong qualifying run, 7-time Mercedes World Champion Lewis Hamilton ended up just barely finishing on the podium. Despite the Red Bull Racing fiasco, Hamilton finished the race while Verstappen and Sergio Perez failed to do so.
Also read: "Mercedes was the favorite in Jeddah, but Verstappen played like crazy there," warns Christijan Albers Ferrari ahead of the Saudi Arabian GP
https://firstsportz.com/formula-one-we-thought-the-same-last-year-with-max-verstappen-jan-lammers-refuses-to-rule-out-mercedes-in-title-race-this-season/ "We thought the same thing about Max Verstappen last year," Jan Lammers refuses to rule out Mercedes in the title race this season » FirstSportz