"We have to punish this kind of attitude more," says Rafael Nadal in a bold statement on Alexander Zverev's Acapulco breakdown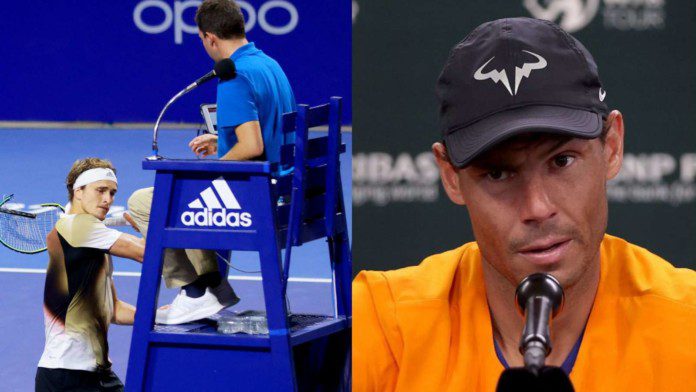 21-time Grand Slam champion Rafael Nadal has made a dream start to its 2022 season. Nadal, uncertain about participating in the Australian stage finish due to a foot injury, went unbeaten in Melbourne to win his record-breaking 21st Major title. He then continued his unbeaten streak in Acapulco by winning the Mexican Open for the 4th title.
He is currently riding a 15-game win streak and will be looking to add 6 more games this week in Indian Wells. The Spaniard enters the tournament as 4th seed and given his current form will be one of the favorites to win the title in the California heat.
In the pre-tournament press conference, Nadal spoke about Alexander Zverev's mishap in Acapulco. After losing his double, an enraged Zverev, unhappy with the referee's calls, smashed his racquet violently into the referee's chair several times. As a result, he was kicked out of the tournament. The German later apologized for his actions and vowed that such an incident would never happen again.
Nadal shared two perspectives on the story. He said he has a good relationship with Zverev and it's good that he recognized and accepted his mistake very early on.
"It's so difficult to talk about my position because in a way I have a good relationship with Sascha (Zverev) – I like him and I train with him very often." said Nadal. "I wish him the best and he knows he was wrong, honestly, and he realized that very early on. I think that's a positive thing on his side."
From a different perspective, Nadal said that it is important for tennis federations to punish these types of acts as it is a positive example for all children who follow the sport.
"On the other hand … if we're not able to control and create a rule or a way to punish that kind of attitude a little bit more, then we feel stronger and stronger as players all the time. We have to be a positive example, especially for the kids watching us." he said.
Nadal further added: "So on the one hand I don't want any punishment for Sascha because I like him and I have a very good relationship with him. On the other hand…I would like something tougher for that kind of attitude, not just him, I mean in general because that protects the sport and protects the referees."
'I was brave enough to play with the right determination': Nadal
The 2022 season has been nothing but magical for Nadal so far. Not only did he win his 21st major title, but he also recorded his best-ever start to the season. Speaking about his 15-game winning streak, Nadal said that being in this position was unexpected for him. He also spoke about his attitude towards Indian Wells.
"It was an unexpected moment for me to be in this position," said Nadal. "I'm enjoying it every day and trying to stay in the right mindset to enjoy the fact that I'm playing well and enjoying games and winning titles. I've found a way to adjust my game to what I need to be competitive – some days more aggressive, some days more tactical, more defensive. Then I was brave enough to play with the right determination in the moments that I needed."
Nadal will open his Indian Wells campaign in the second round against either Sebastian Korda or Thanasi Kokkinakis.
Also read: "It's better for tennis," praises tennis great Chris Evert Novak Djokovic, although he's not his "biggest fan".
https://firstsportz.com/tennis-we-have-to-penalize-this-type-of-attitude-in-a-stronger-way-rafael-nadal-makes-a-bold-claim-about-alexander-zverevs-acapulco-breakdown/ "We have to punish this kind of attitude more," says Rafael Nadal in a bold statement on Alexander Zverev's Acapulco breakdown