WATCH: Vanderbilt buries No. 6 Tennessee on Summer Beater, snapping an 11-game losing streak in rivalry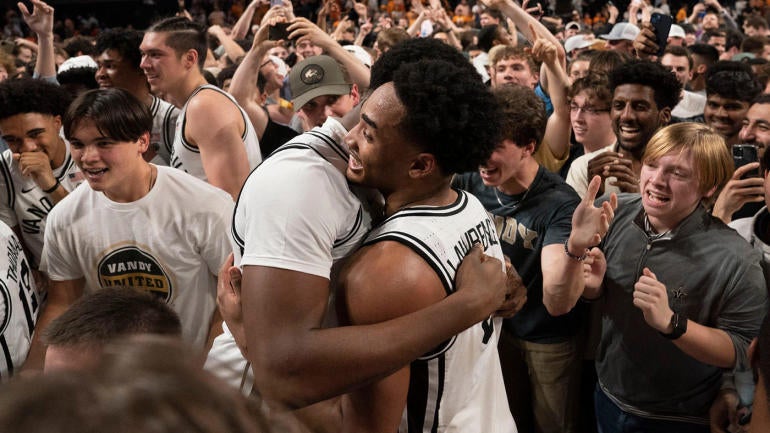 USATSI
Vanderbilt ended an 11-game losing streak against rival Tennessee in exciting fashion, defeating the nation's No. 6 team by a 3-point buzzer to win 66-65.
The final seconds of the game lasted minutes. Vanderbilt had two points less than 30 seconds to go and had just two team fouls. The Commodores had to foul Tennessee five times in the last 15 seconds to give themselves an opportunity to get the ball back, which they did on the rebound after Volunteers guard Santiago Vescovi missed the front end of a one-and-one .
After advancing the ball and calling a time-out, Vanderbilt head coach Jerry Stackhouse had four seconds on the clock to draft a play. The goal was to get downhill and make a play, and a drive down the lane was thrown to a wide-open Tyrin Lawrence in the corner. Lawrence sunk the shot straight as the final horn blew, sending the home crowd into a frenzy for a court storming celebration.
Lawrence finished the game with a game-high 19 points, going from the field 8 to 12 and hitting from behind the arc on three of his four tries, nothing more important than that lightning-quick, game-winning buzzer shot.
Given the result, Tennessee will look back on the opportunity they had to convert a wide-open basket with about 20 seconds remaining and instead opt to pull the ball out and pull another foul. Back then, the possibility of running the clock and getting closer to free throws seemed less significant. That changed after Vanderbilt had the opportunity to win just two points instead of four.
The program's first win against Tennessee since February 2017 also marks the first win against the Vols for Stackhouse, who took over as head coach ahead of the 2019-20 season. In his previous three seasons, Stackhouse has consistently improved the team's conference game win rate, and just last year he led the Commodores to an NIT Quarterfinals appearance. This victory over a top 10 opponent and rival is another step forward in Vanderbilt's efforts to improve the program's standing in the SEC.
As for Tennessee, losing to an opponent who entered the night rankings outside of the top-100 in the NET will hurt the team's seeding for the NCAA tournament. CBS Sports' Jerry Palm had ranked the Vols #2 in his most recent Bracketology update.
https://www.cbssports.com/college-basketball/news/watch-vanderbilt-buries-no-6-tennessee-on-buzzer-beater-snapping-11-game-losing-streak-in-rivalry/ WATCH: Vanderbilt buries No. 6 Tennessee on Summer Beater, snapping an 11-game losing streak in rivalry