Vince McMahon returns to fight Pat McAfee at Wrestlemania 38 » FirstSportz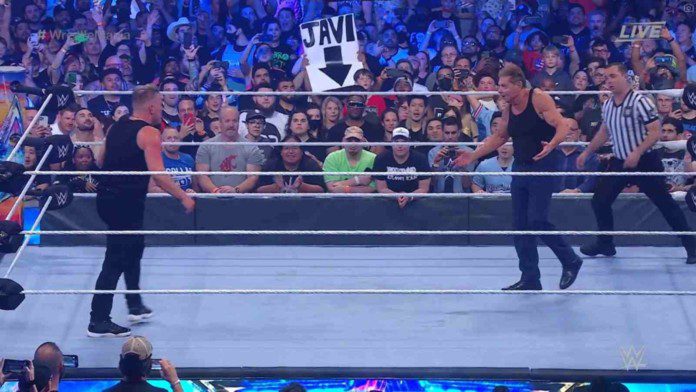 Vince McMahon is the most powerful man in all of professional wrestling. While this appeared to be true while the show was running, he did show up Wrestlemania 38 that even as a performer he still has the power! The WWE CEO and Chairman returned to in-ring action at Wrestlemania 38.
Appearing on The Pat McAfee Show, the WWE Chairman announced that he would be giving the Smackdown commentator a match. There has been speculation that McMahon himself will be McAfee's opponent – and fans thought the idea was outrageous. It was soon announced that the opponent is Vince McMahon's protégé, Austin Theory.
Pat McAfee performed far better than anyone expected and picked up a convincing win. But it seems his Wrestlemania moment went to his head and he went all out and challenged boss Vince McMahon to a match! McMahon initially teased and eventually agreed to the match.
While it wasn't exactly a return to the ring, it was still far beyond what one would expect from a 76-year-old man. Austin Theory continued to attack McAfee throughout the match and to no surprises, the WWE CEO and Chairman clinched victory over the Smackdown announcer.
Vince McMahon took some massive bumps
That didn't just end the night for the WWE CEO and Chairman. As he and Austin Theory laughed and posed in the ring celebrating the win, the Texas Rattlesnake reappeared. "Stone Cold" Steve Austin walked out and defeated Theory with a stunner. He offered to share a beer with Vince McMahon – but as fans expected, he ended up giving his longtime rival a stunner!
But that was not all. He called Pat McAfee to the ring. Celebrated with him, drank a beer and delivered a stunner at the end! This year, WWE really went all out with Wrestlemania, and Stone Cold's clash with McMahon has to be one of the highlights of the event.
also read: "Rated-R Infamy": Edge and Damian Priest tease a huge team at Wrestlemania 38
https://firstsportz.com/wwe-vince-mcmahon-vs-pat-mcafee-wm-38/ Vince McMahon returns to fight Pat McAfee at Wrestlemania 38 » FirstSportz