This 'SNL' parody should actually be a Wes Anderson movie
No matter what your opinion on the status is Saturday night live, whether you're a die-hard fan or someone who hasn't found it funny since (insert season number), one thing most viewers of the show, young to old and in-between, can agree on is that the show is always knocks out of the park with their TV and movie parodies. The last "HBO Mario Kart" bit that saw Pedro Pascal in a mashup of Mario Kart And The last of us, is proof of that. Everything flows into these segments, making them feel like a high-budget movie. SNL has done many horror parodies over the years, but the best will always be the one that should have been a real movie, Wes Anderson Horror Trailer.
The amount of creativity that went into this segment doesn't just consist of the parody Wes Andersonbut the set design, costumes and music make it one of the most impressive things SNL ever did. The segment parodies Anderson's unique style of filmmaking and turns it into a trailer for a horror movie so hilarious yet so entertaining that it's an absolute shame Wes Anderson wasn't inspired enough by it to make him create his to make your own horror film. There is no doubt that it would have been one of the most memorable films in the genre.
"Wes Anderson Horror Trailer" parodies every Wes Anderson trope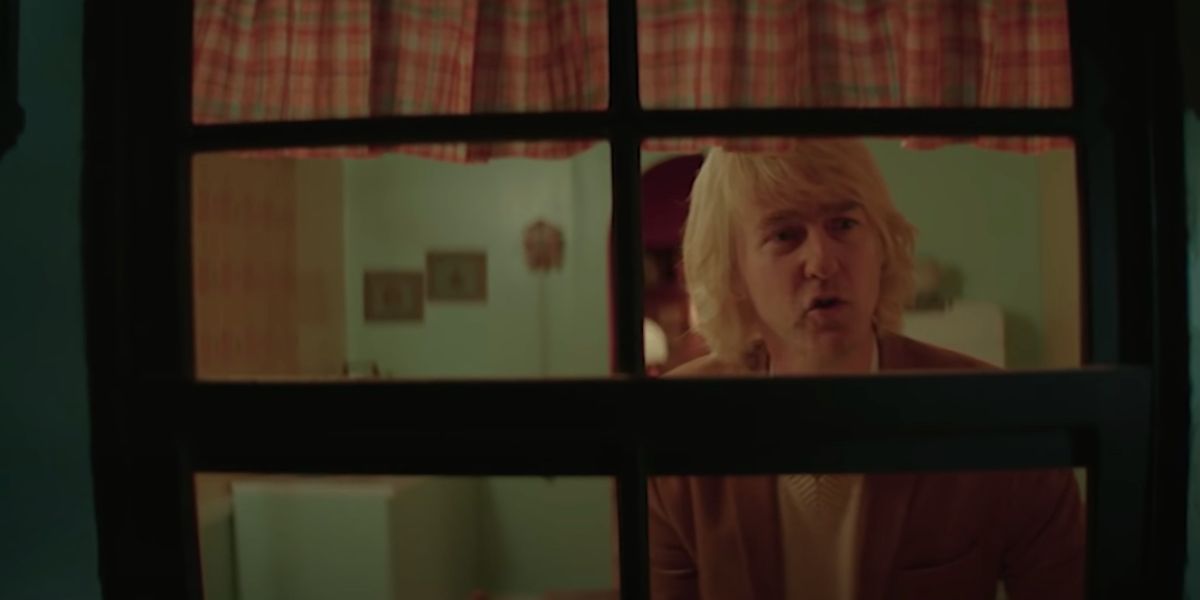 The trailer, released in 2013, is two minutes and forty-two seconds of pure madness, smashing all the Wes Anderson and slasher movie tropes together at a furious pace. Frequently Saturday night live contributor Alec Baldwin plays the narrator and welcomes us to a movie coming this Halloween, "this is a new vision of horror like you've never seen before". If that's not an understatement, then I don't know what is. We open a house at night, then a close-up of shoes slowly walking towards it through the yard. A knife from an unseen hand comes into view as this is the latest Halloween. We get ominous horror music before Baldwin says the lines that make it something brilliant. "From the twisted mind of Wes Anderson…" The camera suddenly switches to a view of the approaching menacing presence. It's a masked man with a chainsaw, but oh no, that's not Leatherface. Dressed in a suit, this man waves enthusiastically at the camera as the not-at-all-creepy steps through "Me and Julio Down by the School Yard." PaulSimon It's a song known for its use in Anderson's 2001 film The Royal Tenenbaums. The perfect Wes Anderson horror movie title then appears onscreen in this familiar text font: The Midnight Coterie of sinister invaders. Get ready for the most presumptuous rip off of The strangers ever tried.
SNL innkeeper Edward Nortonwho has appeared in several of Anderson's films, plays another Anderson employee, Owen Wilson, in a selective impression as a man in the house who is being followed. He looks outside at the man with the chainsaw and casually says, "Hey honey, I think we're about to get murdered." He's more curious than scared. From the distinct film color palette, the vintage-looking interior, and the way the camera pulls back without a cut, it all feels like Peak Anderson. SNL featured player Noël Wells plays his frightened wife, Gwenyth Paltrowwith her fur coat and the cigarette that makes her look like she just got out The Royal Tenenbaums Sentence. "You don't say that," she says, completely disinterested.
RELATED: Why We'll Never Have Another Filmmaker Like Wes Anderson
There is actually a funny horror film to be found inside SNL's Wes Anderson film parody
The playful punches at Anderson continue, and Norton looks through binoculars at the now-masked group of strangers on the lawn. You don't just carry your traditional weapons. No, one has a record player, one has a falcon, there is The Royal Tenenbaums Twins in matching red tracksuits and even Danny Glover. You might get stabbed with these killers, but you can listen to good music and learn about falconry on the way out. However, these killers are sophisticated in more ways than one. There is no scene where they write on the window in blood. No, they throw a paper airplane through the window with a rather polite death threat written on it. As a violin plays, Norton reads what he calls the "communiqué." "Dear homeowner, can we kill you? – The killers." It's so hilarious that it might just be terrifying to see a mad assassin go against traditional means in this way. Norton types his answer on a typewriter, because of course there is a typewriter. "Dear murderers, no you mustn't! – The homeowner."
Norton as Wilson then directs his children to go to the panic room before sitting down in an open yellow tent straight out of the living room Moonrise Kingdom. His children, played by Nassim Pedrad And John Milhiser, counting their guns like only Wes Anderson kids can. You have a slingshot, a ship in a bottle, a protractor, a picture of Edith Piaf, and an assault rifle that's randomly thrown in towards the end. These will definitely do some damage. Imagine the scene where a kid with a protractor fights a killer who wields a hawk. This is pure movie magic.
The trailer then reveals that the killers made it inside and tied up the family. Baldwin introduces us next Kate McKinnon as a city police officer Tilda Swinton, another Anderson favorite. "Hey, wow, we're saved," says Edward Norton or Owen Wilson. McKinnon bursts in and doesn't try to hunt down the killers, but asks, "Who are the killers here?" She is promptly stabbed. "I see," says McKinnon before landing a perfect face plant.
The parody taps into that pretentious love some have for everything Anderson does just because, without simply trying to understand it first. We see blurbs from the New York Times that say, "You had me with Wes Anderson," and Fangoria says, "Da Fuh?" Before the trailer kicks off, he gives us a full list of Wes Anderson actors in the film Jason Schwartzman (Kyle Mooney) To Adrian Brody (Michael O'Brien), the former bleeding from the mouth and the latter from the stump where his right arm used to be. There's even a stop-motion mouse. Ah, go on.
The Saturday Night Live trailer spoof celebrates Wes Anderson instead of mocking him
The trailer doesn't make fun of Wes Anderson. It celebrates him and his unique endeavor in making films. In his blog SNLCamera operator, Alex BonoHe wrote: "Wes Anderson is one of the most idiosyncratic filmmakers of our time. His style is so unique that one might think it would be easy to perpetuate it. But here's the problem: It turns out everyone has a different opinion about what makes Wes Anderson's style MOST distinctive. …And within a subculture as knowledgeable about film as the writers and producers of SNL, we were surrounded by astute Wes Anderson connoisseurs. Suddenly this place had gone from something I was dying to photograph to something I was afraid to photograph!"
The segment is made with love and respect and not a hint of cruel mockery. Those behind love Anderson's films. And whether they wanted to or not, they also showed how great a Wes Anderson film can be. Its eccentricities and tropes are perfect for a genre that's all about tropes and uniformity. What doesn't look like a match actually fits perfectly. It's like one of those mashup songs you find on YouTube, made of two very different songs combined into something incredible and original. A Wes Anderson film could unite us all and bring together the art film crowd with horror fanatics to produce a work that could make an audience scream, laugh and dance to what is sure to be a great soundtrack. It's not too late, Wes. You can still do it.