"They deserve a play-in spot more than the Lakers," chanted fans LeBron James and co. after the San Antonio Spurs upset the dominant Golden State Warriors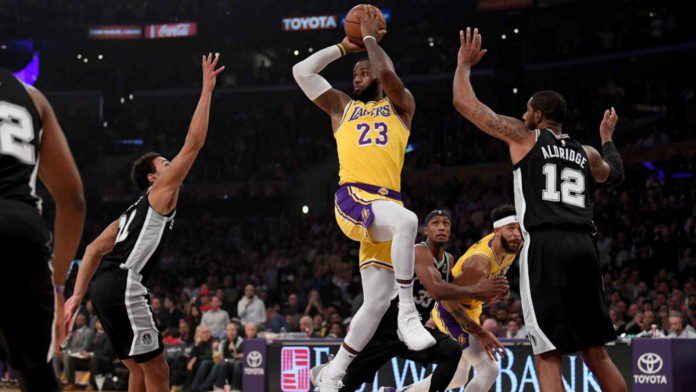 The Lakers and LeBron James suffered another loss in their recent encounter with the Washington Wizards as the Lakers keep falling in the Western Conference which has got people thinking about whether the Lakers deserve to be in the NBA Play- to play in tournament? The San Antonio Spurs shocked the Golden State Warriors in their win over the dub nation.
LeBron James and Co. keep crashing the league
The Lakers had a disappointing season with a season record of 3-7. It's not the kind of standard we're used to from purple and gold. LeBron James and Co. have a lot of work to do, sitting 10thth in the Western Conference, which is a venue for the play-in tournament. Things are looking very dicey for the Lakers after falling off 8th till 9th and are currently 10th in the West it will come as no surprise if they drop to 11thbut it will be a big disappointment for them.
The Lakers have developed a habit of falling behind during games, which has resulted in them catching up most games. There hasn't been a single game where the Lakers have taken command of the game or teamed up. The Lakers are defensively out of place. It only gets difficult with Anthony Davis, who is still injured, Davis is like a piece of glass at the moment that cracks and shatters with any kind of challenge.
The Lakers don't deserve it but will make it to the play-in tournament
The Lakers and LeBron James, while the latter deserves the playoffs, the former as a collective doesn't even deserve the play-in tournament. The San Antonio Spurs, who defeated a Curry-less Warriors, gave the crowd something to talk about. They've got people asking questions about whether they deserve to play in the play-in tournament rather than with the Lakers. The Spurs took the game straight to 3/10th of a second to earn a 3-point win over them to finish the game 110-108. A deserved win for Spurs. The Warriors have now lost Stephen Curry to an ankle injury but remain optimistic with Draymond Green back in the line-up.
LeBron James and the Lakers are just 2 wins ahead of the Spurs and as they stand it could be anyone's place, the Lakers will face rigorous testing from teams above them in the league, the Spurs will also be facing the same fate , but after last night's outing it looks like Spurs have the will to fight for it. it's going to be an exciting run until the final game of the regular season.
Also read: 'LeBron James can't win another championship': Twitter has a maniacal reaction…
Also read: "Best game of the season" Twitter praises San Antonio Spurs after…
https://firstsportz.com/nba-they-deserve-a-play-in-spot-more-than-lakers-fans-calls-out-lebron-james-and-co-after-san-antonio-spurs-upset-dominant-golden-state-warriors/ "They deserve a play-in spot more than the Lakers," chanted fans LeBron James and co. after the San Antonio Spurs upset the dominant Golden State Warriors