The full Tears Of The Kingdom theme song is Killer
Nintendo dazzled us with the latest and final trailer for The Legend of Zelda: Tears of the Kingdom on April 13th. We have learn many new details about what is to come breath of the wild Sequel, including the return of the Gleeok enemies and introducing what could be the Zonai tribe. Now that the company isn't shy DeadK Nintendo is flashing everything it has of the game ahead of its May 12 launch on the Switch. Specifically, Nintendo recently discontinued Tears of the Kingdom's banger main theme.
Skyward Sword HD picks up on the stumble that led to Breath of the Wild
Continue reading: Tears of the Kingdom Might get full Princess Mononoke With Zelda
Tears of the Kingdom is the follow-up to the 2017 hit, breath of the wild. unlike most zelda sequels, DeadK appears to be a direct sequel to its predecessor. Some interesting parts of the final trailer include the possibility that Link will travel deep undergroundGanondorf is rehydrated (and get hot), And the Save ability. This allows Link to combine weapons to increase their durability and effectiveness. Hidden in all of this novelty, however, was DeadK's main theme song that absolutely smacks.
DeadK's main theme song is a whole vibe
April 13th Twitch streamer and YouTuber Aerocovering the gaming industry with a focus on Nintendo, excitedly tweeted that they discovered it Zelda: Tears of the Kingdom Main theme embedded in the game's Japanese website. They extracted it and re-uploaded it to Twitter, which has been embedded below for your listening pleasure. You will not be disappointed.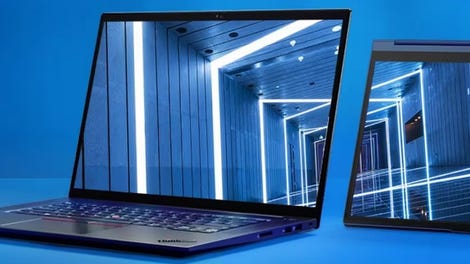 Up to 69% discount
Custom Lenovo laptops or PCs
Choose your processor, RAM, GPU and more
Whether you're looking for a new laptop or desktop, or you want to build something specifically to play with, you can do it here and save up to 52%.
The song isn't that long. At just under two minutes, the track is this understated arrangement of horns, strings and claps. It sounds like a flute leading the thrust of the main melody followed by some stringed instruments. Then, around the one minute mark, the theme builds to a full blown crescendo. Everything blares. The horns pop off. The piano hammers these keys. The cymbals add some drama. It's going ok!
Continue reading: In 10 minutes, Nintendo will be rekindled Zelda: Tears of the KingdomThe lost hype
With Tears of the Kingdom Coming in May, we don't have much time left before we can hear the full topic in the context of the final game. Perhaps it serves as more than just the opening theme? Maybe it will be reshuffled for the final boss fight? I can not say it. At least for the moment we can let off steam to this great melody.