"The dream of becoming a champion doesn't pay off" – Renato Moicano reveals the harsh truth about a fighter's life » FirstSportz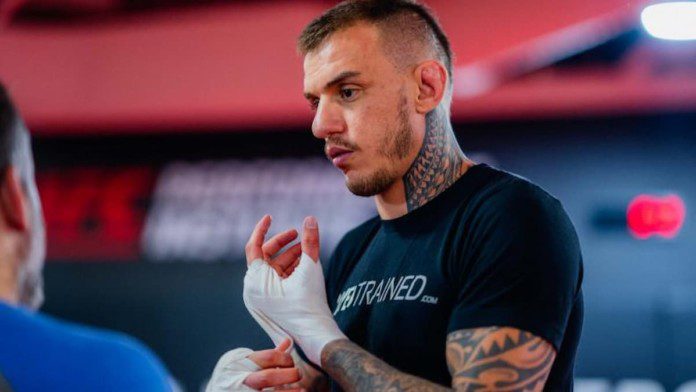 Renato Moicano made a last-minute stand-in against Rafael Dos Anjos when Rafael Fiziev withdrew from the UFC 272 co-main event. Moicano escaped after defeating Alexander Hernandez, but facing RDA at short notice was too big a task for him, too.
RDA came in well prepared and he immediately took up the fight to Moicano. He took him to the ground and punched him continuously for 5 rounds. Moicano's face was a mess, with many calling for the fight to be stopped. The referee had to call the doctor to check on him and everyone in the commentary booth was begging him to end the fight.
Related – "I wouldn't know what I'm made of," Renato Moicano thanks referee Marc Goddard for not stopping the fight against Rafael Dos Anjos
The doctor had to give him a chance to fight and he showed incredible willpower to at least finish the fight. This became the talk of the town after the event and even RDA felt the fight should have ended. Renato Moicano, in a post-fight interview, thanked the referee for letting him continue.
"It's a fight that makes sense"– Renato Moicano wants to test his skills against Bobby Green
After his recent win over Alexander Hernandez, Moicano claimed that from now on he only wants big money fights and that taking on a short-term fight against RDA was part of the plan. In conversation with fightMoicano doubled his money demands, he said, "Another win and we demand more money. At the end of the day, that's what matters. The dream of becoming a champion is nice, but it doesn't pay the bills. The dream alone does not do it. I want to be champion but my goal right now is to make money. Got enough of that to support me. Invest, study and make the money work for me."
Moicano is looking to fight another slight prospect, Bobby Green, next and speaking about his future, he said: "We both had tough fights on the same night. So it's the same waiting time for both of us. We're not in the rankings anymore, but we had great performances. It's a fight that makes sense and I want to capitalize on its hype as well. It's a winnable fight. I'm better everywhere. I want a main event and I want to put my name at the top. I want to show the UFC that I'm ready for anyone."
Also read – 'Fighter may never be the same' – Michael Bisping makes fun of Renato Moicano's corner for letting him fight at UFC 272
https://firstsportz.com/ufc-renato-moicano-on-getting-paid/ "The dream of becoming a champion doesn't pay off" – Renato Moicano reveals the harsh truth about a fighter's life » FirstSportz