'The chair umpire had to have the authority to remove it' – Tara Moore recalls being harassed at Wimbledon amid Naomi Osaka incident – FirstSportz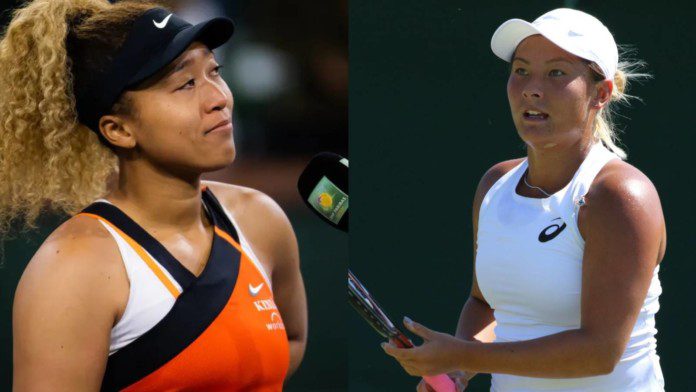 british tennis star, Tara Moore recalled the time she was verbally abused during a game following Naomi Osaka's incident at Indian Wells. Osaka was brought to tears after a spectator yelled at her during her second-round elimination Indian Wells. The bystander, who hurled "Naomi, you suck," faced a wave of boos from the crowd after the incident. Osaka was visibly shaken by the incident as they lost 0-6, 4-6 Veronica Kudermetova.
Shortly after the incident, Osaka paused the game to ask the chair umpire to step in and give her the microphone so she could address the crowd. The referees asked the supervisor for advice, who eventually turned it down. Troubled by the comments, Osaka collapsed during the substitution but then rallied to stage a comeback in the second set, but it wasn't enough as Kudermetova kept her composure to win the match in straight sets.
Osaka had skipped most of her 2021 season after battling depression and just returning to the tennis courts. The Indian Wells was only her third tournament of the year. After her loss, Osaka addressed the crowd and said the review reminded her of the abuse serena and Venus Williams faced two decades earlier.
Tara Moore recalls the time she was molested by a bystander
British tennis player Tara Moore drew a comparison to the Osaka incident and shared her own story of being verbally abused during her match Wimbledon in 2013. Moore, who is now Britain's No. 1 in women's doubles, noted the spectator was not removed after the outbreak and said the referee also refused to intervene as she had no authority over such circumstances. Moore highlighted how the referee stated he was unable to remove the person despite the constant heckling, drawing parallels to how Osaka were denied addressing the heckler even during their game.
While there's no hard and fast rule against unruly fan behavior, it's part of the unofficial code of etiquette that has survived over the years. And as such, Indian Wells is no stranger to such incidents. Serena and Venus were subjected to racial slurs and heckling during the finals that year after they were accused of faking and orchestrating an injury so Serena could have a clear path to the title. Such was the abuse they endured that both Serena and Venus vowed never to return to the tournament. They boycotted it for 15 years before making a comeback in 2016.
Also Read: 'Please keep your negative comments to yourself' Amanda Anisimova Breaks Silence Over Her Abrupt Resignation From Indian Wells Against Leylah Fernandez
https://firstsportz.com/tennis-the-chair-umpire-had-to-authority-to-remove-him-tara-moore-recalls-her-being-heckled-at-wimbledon-amidst-naomi-osaka-incident/ 'The chair umpire had to have the authority to remove it' – Tara Moore recalls being harassed at Wimbledon amid Naomi Osaka incident – FirstSportz