The Bachelor's Zach Shallcross got engaged to Kaity Biggar, heartbroken runner-up Gabi Elnicki
"The love I have for you is something I never could have imagined and something I thought I could never deserve in my entire life," Zach told Kaity before popping the question .
'The Bachelor' Star Zach Shallcross Is Engaged to Kaity Biggar!
During Monday night's season 27 finale, the 26-year-old gave Kaity his final rose and popped the question. Of course she agreed.
In typical "Bachelor" fashion, however, the finale wasn't without its fair share of drama, as runner-up Gabi Elnicki was left devastated and heartbroken, though she said she had a "gut feeling" Zach would choose Kaity.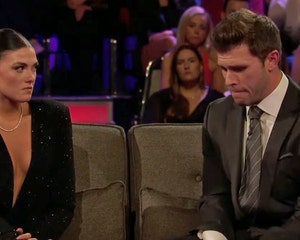 ABC
Bachelors runner-up Gabi confronts Zach Shallcross for revealing they had sex

view history
When Gabi arrived at the beach to meet Zach, she told host Jesse Palmer, "I think I just know what's going to happen."
"I have a gut feeling and I think if it were me, I would know it was me," she sadly said in a voiceover.
When she reached Zach, she quickly realized that her gut was right.
"Falling in love with you has made me a better man. But…" Zach said before Gabi interrupted him. "You don't have to say it. I don't want to hear it."
"I'm sorry," Zach said, trying to continue. Gabi – now in tears – begged him to stop, but Zach continued. "You deserve a man who will choose you first every day," he said. "I'm sorry."
"It's okay," Gabi said to him. "I knew it was coming. I knew it was coming. What I don't know is why you didn't tell me when you knew."
While Zach claimed he made the decision the night before, Gabi said he was "known."
"I'm doing well. I'm doing well. I want you to be happy," she told Zach. "Kaity is a really special person and she's really lucky, so good luck."
As Zach brought Gabi to the van, he tried to apologize again, but Gabi stopped him.
"This is heartbreaking and I don't want an apology," she said. "I don't want you to feel guilty. I knew what I was getting myself into and I thank you for everything you truly showed me from the bottom of your heart. I thank you for this."
After getting into the van and saying goodbye to Zach, she let her tears flow. "That was damn humiliating," Gabi said. "I've been on this the whole damn time now, for what?"
"What's really pissing me off is that I fucking knew," she added.
For his part, Zach broke down in tears when he saw the car drive away.
ABC
Bachelor Blowup: Zach's 'No Sex' fantasy suite plan explodes with betrayal, broken trust

view history
Meanwhile, Zach's marriage proposal to Kaity was filled with tears — but tears of joy.
As the two held hands, Kaity and Zach spilled their hearts out to each other.
"I built my walls so high I couldn't see past them," Kaity told him. "And then you came into my life. And Zach, every moment I've spent with you, my walls have crumbled. With every kiss, with every laugh and with every 'hello, hello' I'm so in love with you and so crazy about you and I want to spend the rest of my life with you. And frankly, if it's not you, nobody is."
Zach then told her, "I can no longer say I'm in love with you because Kaity Lane, I'm so in love with you. And I can't, it's like, you're my world. The love I feel You're something I could never have imagined and something I thought I could never deserve in my entire life. I love you so much. I love you with all my heart and you are the face I want to wake up to. I want to go through life with you and only you every morning."
"Kaity, I want to be with you forever," he added. "My heart is beating through my chest right now."
The two shared a kiss before Zach then got down on one knee and popped the question. "Will you marry me?" he asked, to which Kaity replied without hesitation, "Absolutely."
The couple kissed again and gushed over each other. Kaity showed off her ring and Kaity accepted Zach's last rose.
Waiting for your permission to load the Instagram media.
Meanwhile, when the newly engaged couple is set to get married, Zach said they're "thinking about 2025" for a wedding.
In an interview with People, Zach and Kaity opened up about their new life together, with the former sharing that they're in "no rush" to tie the knot.
"Right now the focus is on living together in Austin, getting to know each other better and just seeing how things go," Zach said. "There's no rush."
Kaity added approvingly: "We have the rest of our lives together so why does everything have to be in a rush? "It doesn't have to be."
The two announced that they will be living in Austin, where Zach called home before starring on The Bachelor.
"I really wanted to go back," he told People. "Filming has kept me in LA and California – it's cool and all, but it's not Austin. I can't wait to spend it [time] with Kaity and just being in public."
Meanwhile, Kaity said she's looking forward to having a "normal life" with Zach as they had to hide their romance until the finale aired.
"We've been pretty isolated — we can't go to a coffee shop, we can't go to a restaurant or anything like that," she explained. "We've seen each other a few times and we have these happy weekends. I never get tired of him so it was great. All I want is more time with him. When he comes to Austin, we're just gonna try to have that normal life that we've wanted for so long. We are super excited."
The couple also have plans to have children in the future, with Zach saying they plan on getting married "with a bunch of little kids running around — maybe one, maybe two."
https://toofab.com/2023/03/28/the-bachelor-finale-zach-shallcross-engaged-kaity-biggar-gabi-elnicki-heartbroken/ The Bachelor's Zach Shallcross got engaged to Kaity Biggar, heartbroken runner-up Gabi Elnicki