"That's where Chimaev needs to be" – Chael Sonnen declares Khamzat Chimaev needs to fight in middleweight instead of welterweight »FirstSportz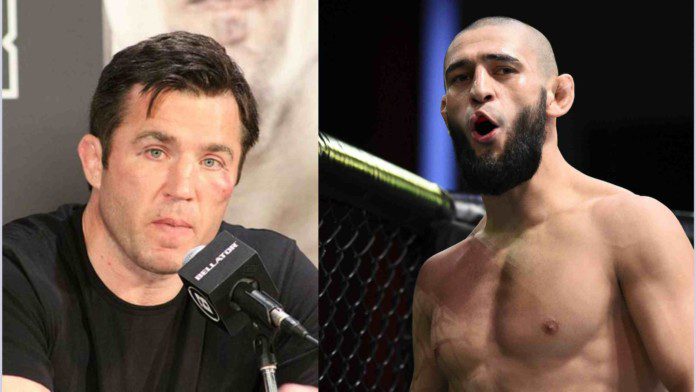 UFC 271 main event battle leaves Chael Sonnen wondering why Khamzat Chimaev didn't make the decision to stay in the middleweight class.
The fighter that excites UFC legend Chael Sonnen most is rising superstar Khamzat Chimaev. The former boxer can't help but think of "Borz" when watching the middleweight kings Israel Adesanya and Robert Whittaker won each other's middleweight belts at UFC 271.
Chimaev, who has previously fought in the middleweight division, should look to dominate the 185 lb class, according to Chael. Khamzat has had 4 fights in the UFC and 2 of them have been middleweight. The weight division didn't stop the boxer from finishing off his opponent, which led Sonnen to question why Chimaev's camp pushed him to fight at 170-lb.
Related "If I don't suffer, I feel bad," Khamzat Chimaev reveals his intense training routine before a fight
Chael Sonnen says Khamzat Chimaev is being "Americanized"
Sonnen believes it's a culture in America that wrestlers must fight at a weight lower than their natural weight for best performance. The process may have given them a weight advantage inside the octagon but nevertheless, the job of cutting the weight is a tedious one that Sonnen strongly condemns.
"Grab Chimaev. It's not very late. Stop. Stop trading this 170. We don't want to see you there with Usman. The whole point of Chimaev attraction is to see how far he can go," Sonnen tells of Khamzat's plan to claim the heavyweight title.
"When you have a guy in Chimaev who loves to knock people down, you're going to ask, 'Is he capable of taking down a guy who's never wrestled? [Israel Adesanya] or a national wrestling champion [Kamaru Usman]? '" Chael said. Do you agree with Sonnen on this? Candlestick Khamzat Chimaev middleweight belt priority?
Also read "DM me and we can set it up," Darren Till replied to Uriah Hall and called "Prime Time" for a fight
https://firstsportz.com/ufc-thats-where-chimaev-needs-to-be-chael-sonnen-declares-khamzat-chimaev-needs-to-fight-in-middleweight-instead-of-welterweight/ "That's where Chimaev needs to be" – Chael Sonnen declares Khamzat Chimaev needs to fight in middleweight instead of welterweight »FirstSportz