"That's what the fans want to see," said Otmar Szafnauer about the "breathtaking" fight between Fernando Alonso and Esteban Ocon at the Saudi Arabian GP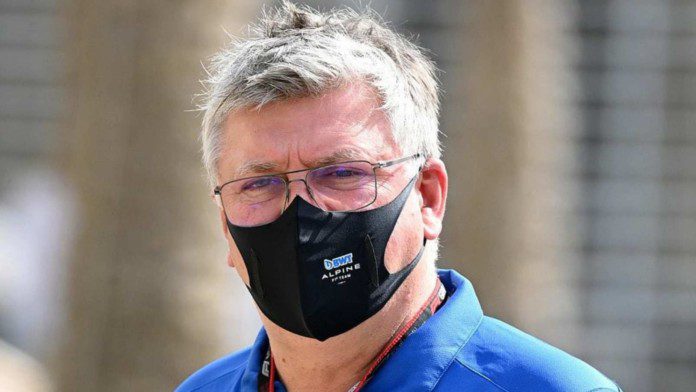 The Alpine team boss Otmar Szafnauer recently wrote about the "intensive" fight that took place between its drivers Esteban Ocon and Fernando Alonso in Saudi Arabia.
The battle between the two aggressive Alpine drivers was one of the highlights of the Saudi Arabian Grand Prix.
When the battle between the top 4 started, Fernando and Ocon tried each other from time to time, in such situations most teams try to intervene and ask the riders to follow the team orders, but at Alpine, the story was very different.
The duo were allowed to compete against each other for an extended period of time and ensured great audiences around the world.
Otmar believes the fight between the two was fair and while speaking about it he said: "It was ok, it was clean."
"That's what the fans want to see. And we told them at the beginning we let them race."
Otmar Szafnauer continued when their fight started to hurt the team
While welcoming Fernando and Ocon's exciting races, Otmar also spoke about when their struggle started to hurt the team.
"WWe lost a little more time than expected. It's a bit because of the track specific stuff here and a bit because the cars can follow each other more easily now, which was the aim of the new rule."
"And if you can follow more easily, this will allow you to overtake yourself one lap at a time."
The only downside to their fight was the fact that while Ocon and Alonso were busy fighting each other, Bottas was catching up on the two Alpine riders. At a certain point, Alpine had had enough and challenged Ocon to hold his position, which he couldn't, subsequently losing his position to Bottas.
Otmar was asked if the team would intervene should such incidents be repeated in the upcoming races and in reply Otmar said: "That's exactly the kind of thing we need to look at – when do we tell them not to start overtaking each other because it's going to cost you time."
"That's the compromise."
Alpine is currently fourth in the Constructors Championship and if they want to get a better grip on that in the coming races they certainly need to act in a way that allows the team to build a nice lead over the team in fifth place.
Also read: "I have no doubt that Mercedes will eventually join this fight," says Christian Horner about the ever-looming threat from the reigning champion
https://firstsportz.com/formula-1-its-what-fans-want-to-see-otmar-szafnauer-on-the-breath-taking-battle-between-fernando-alonso-and-esteban-ocon-at-saudi-arabian-gp/ "That's what the fans want to see," said Otmar Szafnauer about the "breathtaking" fight between Fernando Alonso and Esteban Ocon at the Saudi Arabian GP