Super Bowl 2023: GM Howie Roseman's trust in Jalen Hurts helped the Eagles build a championship-level team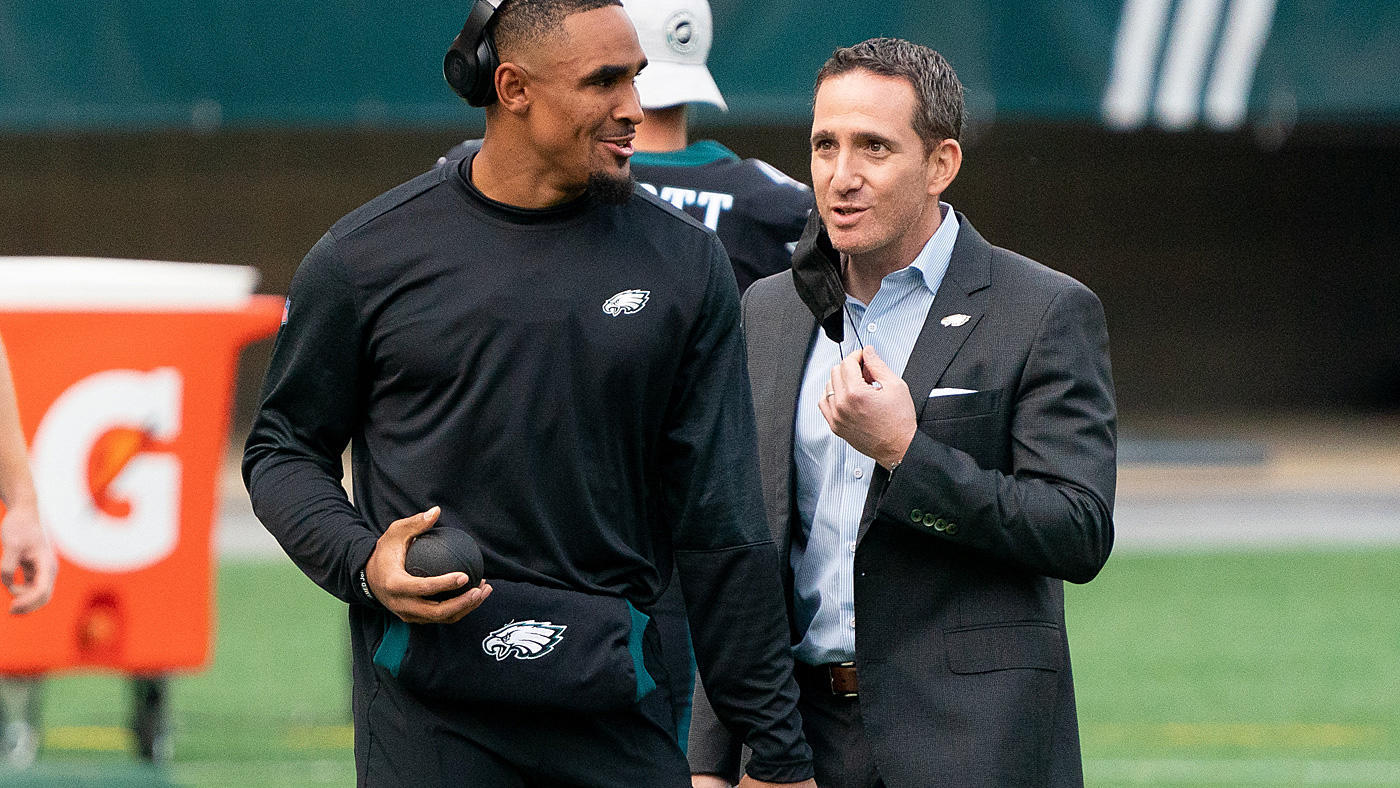 The Philadelphia Eagles ended last season with a respectable 9-8 record and second place in the NFC East. While most analysts spent the offseason questioning Jalen Hurts' credentials as an NFL quarterback, general manager Howie Roseman doubled down on the player as a sophomore from Oklahoma. As a result, the franchise is back in the Super Bowl for the first time since winning in 2017.
How did they build such a Super Bowl caliber list?
The hype train started on April 28 when Tennessee wide receiver AJ Brown was acquired. The Eagles also drafted defensive tackle Jordan Davis with the No. 13 overall pick that night. The Brown trade was made possible by moves made a year earlier. On draft night, Roseman was armed with three first-round picks. In 2021, the Eagles had been traded back from 12th overall to allow Miami to move up to 6th overall and select wide receiver Jaylen Waddle. Indianapolis also provided them with a first-round selection as part of the Carson Wentz trade. The abundance of draft resources allowed Roseman to seize an opportunity.
Later in the offseason, Philadelphia signed veteran free agent edge rusher Haason Reddick and cornerback James Bradberry before facilitating a preseason trade for Saints safety CJ Gardner-Johnson. Roseman was able to make those moves largely because of Hurts' salary cap of around $4.9 million, just over 1/10th of his sideline counterpart across from him in the Super Bowl.
Head coach Nick Sirianni's team got off to a hot start with an 8-0 record. However, as the season progressed, injuries created needs in the squad. The team responded by signing defensive tackles Linval Joseph and Ndamukong Suh, punter Brett Kern, and trading edge rusher Robert Quinn.
There are plenty of homegrown talents on the roster, including wide receiver Devonta Smith, tight end Dallas Goedert, center Jason Kelce, offensive tackles Jordan Mailata and Lane Johnson, defensive tackle Fletcher Cox, edge rusher Josh Sweat and more.
Studying Philadelphia's roster, an investment in the trenches becomes evident; a calling card from Roseman's tenure in the City of Brotherly Love.
Philadelphia spends the fourth-highest salary cap spot on the league's offensive line; about 25.65% of the total salary cap. Kansas City's defensive line is a strength, but the Eagles should be prepared given that the five starters along the offensive line have a combined 36 years of experience.
The team also spends the ninth-highest salary cap spot on the defensive line; around 19.38%. Secondary is the only other position group to rank in the top half of the league (12th) in terms of spending.
The average age of the players in the squad is 25.8 years. They have ten players over 30 years old, in addition to eight rookies.
A 14-3 regular season record, plus a divisional round win over the Giants and a conference championship against San Francisco were the fruits of Roseman's labors.
The best chance of winning a Super Bowl is this year and next while Hurts is playing out his rookie contract. That's not to say the team couldn't win the Super Bowl on a rookie contract without hurts — Patrick Mahomes has a chance to do just that with Kansas City — but it's going to be harder. The difference between their respective salary caps is approximately $42 million; the equivalent of defensive tackle Javon Hargrave, Brown, Kelce and Reddick with some spare change.
It wouldn't be a surprise if the Eagles negotiated an overtime with Hurts this offseason. That will be one of many decisions awaiting the franchise as celebrity names like Brandon Graham, Robert Quinn, Cox, Kelce, Gardner-Johnson and Bradberry litter the roster of upcoming free agents.
Philadelphia isn't worried about that just yet, however, as they have some business of their own to take care of on February 12th.
https://www.cbssports.com/nfl/news/super-bowl-2023-gm-howie-rosemans-confidence-in-jalen-hurts-helped-eagles-build-championship-caliber-team/ Super Bowl 2023: GM Howie Roseman's trust in Jalen Hurts helped the Eagles build a championship-level team