'She's by far the scariest opponent for me,' Maria Sharapova AGAIN shocking insights about Serena Williams »FirstSportz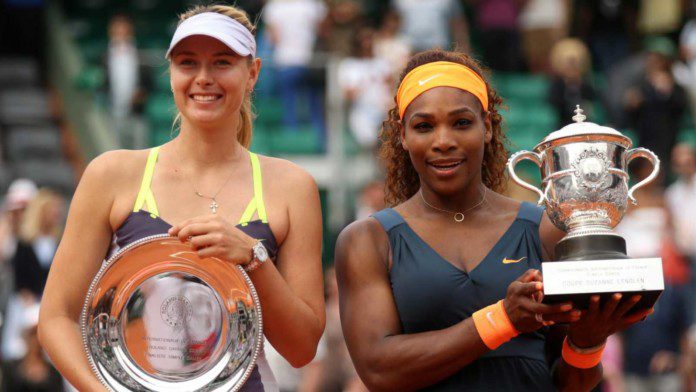 When it comes to the GOAT debate in tennis, one name that stands out is the American legend, Serena Williams. She has been the face of women's tennis for more than two decades and has 23 Grand Slam titles to her name. Her bold and aggressive style of playing revolutionized women's tennis as she delivered a massive game of power that was unprecedented in a women's game.
Recently in a podcast, 5 times Grand Slam champion Maria Sharapova talking at length about Serena. The Russian is one of Serena's biggest opponents and revealed that the Americans are by far the most feared opponent for her. She also recalls that she lost Monica Seles very bad in her younger days but Serena is definitely the toughest and most consistent opponent for her.
"Serena Williams is by far the most feared opponent for me. When I was young, I lost to Monica Seles 6–0, 6–1, and I really think I had a good game. I walked out confused, I didn't know if I was 16 or 17, and told my dad, my coach at the time, that I really thought I played well. I completely broke down (laughs). But yes, Serena is definitely the toughest, toughest and most stable opponent at her level," she speaks.
Maria Sharapova-Serena Williams match
The Sharapova-Williams rivalry is one of the biggest rivalries in women's tennis. Together they've shared the big stage for over a decade and give tennis fans around the world plenty to cheer for. But when it comes to results, Serena was invincible.
The duo have met 22 times on the field, of which Serena has won 20 times. In fact, the Russian has won two of her first three meetings against Serena, including the historic 2004 Wimbledon final. But since then, Serena has not lost a match to Sharapova. Their last meeting was at the 2019 US Open, where Serena beat Shaparova in straight sets. Needless to say, Sharapova was really captivated by the excellence of Serena Williams.
Also read: Serena Williams beams in custom 'GOAT' sweatshirt at Milan Fashion Week
https://firstsportz.com/tennis-she-was-by-far-the-most-intimidating-opponent-for-me-maria-sharapova-reveals-shocking-insights-about-serena-williams/ 'She's by far the scariest opponent for me,' Maria Sharapova AGAIN shocking insights about Serena Williams »FirstSportz