Seven-round NFL Mock Draft 2023: Nine QBs go after Round 1 as Lions, Rams, Falcons among teams to get passers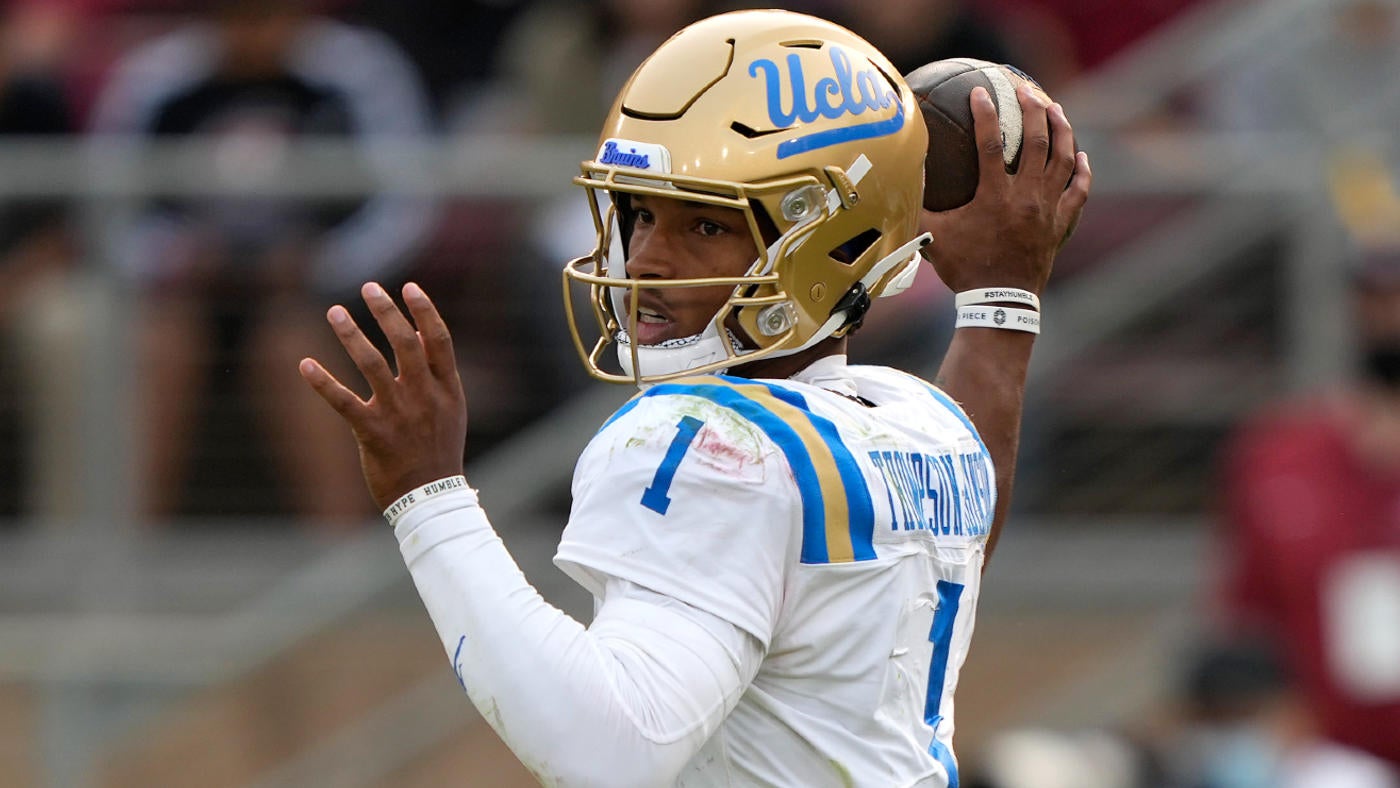 We're inside two weeks until the 2023 NFL Draft, which means, of course, the end is near. It also means you can expect a seven-round mock draft because what better way to cap off more than seven months of mock drafts than with what I will, in the name of comedy, call a celebration of all 259 picks. And because I truly want you to enjoy yourselves (or, perhaps, make it easier for you to send angry tweets — either way, you're welcome!), I've broken down the picks by teams, as well.
Also: remember to check out With the First Pick, the NFL Draft podcast I co-host with former Vikings general manager Rick Spielman. We're live THREE times a week: every Monday, Tuesday and Thursday, and you can watch us live on the NFL on CBS YouTube channel. And you can subscribe on iTunes, Spotify or wherever you listen to podcasts.
One last thing: there are only 31 picks in the first round of this mock draft because the Dolphins were stripped of their first-round pick due to tampering.
OK, let's get to it — all 259 picks.
For more draft content, check out our latest prospect rankings and mock drafts, as well as our new weekly podcast, "With the First Pick," featuring former Vikings general manager Rick Spielman. (Check out the latest episode below.)
Round 2
| | | | | | |
| --- | --- | --- | --- | --- | --- |
| ROUND | PICK | TEAM | PLAYER | POSITION | COLLEGE |
| 2 | 32 | Steelers | Keion White | EDGE | Georgia Tech |
| 2 | 33 | Texans | BJ Ojulari | EDGE | LSU |
| 2 | 34 | Cardinals | Dawand Jones | OT | Ohio State |
| 2 | 35 | Colts | Drew Sanders | LB | Arkansas |
| 2 | 36 | Rams | Cody Mauch | OL | North Dakota State |
| 2 | 37 | Seahawks | Kelee Ringo | CB | Georgia |
| 2 | 38 | Raiders | Matthew Bergeron | OT | Syracuse |
| 2 | 39 | Panthers | Will McDonald IV | EDGE | Iowa State |
| 2 | 40 | Saints | Jahmyr Gibbs | RB | Alabama |
| 2 | 41 | Titans | Jalin Hyatt | WR | Tennessee |
| 2 | 42 | Jets | Jack Campbell | LB | Iowa |
| 2 | 43 | Jets | John Michael Schmitz | OC | Minnesota |
| 2 | 44 | Falcons | Nick Herbig | LB | Wisconsin |
| 2 | 45 | Packers | Luke Musgrave | TE | Oregon State |
| 2 | 46 | Patriots | Darnell Washington | TE | Georgia |
| 2 | 47 | Commanders | Joe Tippman | C | Wisconsin |
| 2 | 48 | Lions | Dalton Kincaid | TE | Utah |
| 2 | 49 | Steelers | Antonio Johnson | S | Texas A&M |
| 2 | 50 | Buccaneers | Siaki Ika | DL | Baylor |
| 2 | 51 | Dolphins | Calijah Kancey | DL | Pittsburgh |
| 2 | 52 | Seahawks | Tyler Scott | WR | Cincinnati |
| 2 | 53 | Bears | Tuli Tuipulotu | EDGE | USC |
| 2 | 54 | Chargers | Daiyan Henley | LB | Washington State |
| 2 | 55 | Lions | Mazi Smith | DL | Michigan |
| 2 | 56 | Jaguars | Jartavius Martin | S | Illinois |
| 2 | 57 | Giants | Steve Avila | OL | TCU |
| 2 | 58 | Cowboys | Devon Achane | RB | Texas A&M |
| 2 | 59 | Bills | Gervon Dexter | DL | Florida |
| 2 | 60 | Bengals | Cam Smith | CB | South Carolina |
| 2 | 61 | Bears | Jakorian Bennett | CB | Maryland |
| 2 | 62 | Eagles | Byron Young | DL | Alabama |
| 2 | 63 | Chiefs | Adetomiwa Adebawore | EDGE | Northwestern |
Round 3
| | | | | | |
| --- | --- | --- | --- | --- | --- |
| 3 | 64 | Bears | Luke Wypler | C | Ohio State |
| 3 | 65 | Texans | Zacch Pickens | DL | South Carolina |
| 3 | 66 | Cardinals | Tank Bigsby | RB | Auburn |
| 3 | 67 | Broncos | Chandler Zavala | OL | NC State |
| 3 | 68 | Broncos | Trenton Simpson | LB | Clemson |
| 3 | 69 | Rams | Hendon Hooker | QB | Tennessee |
| 3 | 70 | Raiders | Keeanu Benton | DL | Wisconsin |
| 3 | 71 | Saints | Marvin Mims | WR | Oklahoma |
| 3 | 72 | Titans | Isaiah Foskey | EDGE | Notre Dame |
| 3 | 73 | Texans | DJ Turner | CB | Michigan |
| 3 | 74 | Browns | Roschon Johnson | RB | Texas |
| 3 | 75 | Falcons | Felix Anudike-Uzomah | EDGE | Kansas State |
| 3 | 76 | Patriots | Josh Downs | WR | UNC |
| 3 | 77 | Rams | Derick Hall | EDGE | Auburn |
| 3 | 78 | Packers | YaYa Diaby | EDGE | Louisville |
| 3 | 79 | Colts | Nick Saldiveri | OL | Old Dominion |
| 3 | 80 | Steelers | Tyler Steen | OT | Alabama |
| 3 | 81 | Lions | DeMarvion Overshown | LB | Texas |
| 3 | 82 | Buccaneers | Tyjae Spears | RB | Tulane |
| 3 | 83 | Seahawks | Marte Mapu | LB | Sacramento State |
| 3 | 84 | Dolphins | Tucker Kraft | TE | South Dakota State |
| 3 | 85 | Chargers | Jalen Redmond | DL | Oklahoma |
| 3 | 86 | Ravens | Zach Charbonnet | RB | UCLA |
| 3 | 87 | Vikings | Garrett Williams | CB | Syracuse |
| 3 | 88 | Jaguars | Jaelyn Duncan | OT | Maryland |
| 3 | 89 | Giants | Darius Rush | CB | South Carolina |
| 3 | 90 | Cowboys | JL Skinner | S | Boise State |
| 3 | 91 | Bills | Tyrique Stevenson | CB | Miami |
| 3 | 92 | Bengals | Jaquelin Roy | DL | LSU |
| 3 | 93 | Panthers | Cory Trice | CB | Purdue |
| 3 | 94 | Eagles | Zach Evans | RB | Ole Miss |
| 3 | 95 | Chiefs | Cedric Tillman | WR | Tennessee |
| 3 | 96 | Cardinals | Jonathan Mingo | WR | Ole Miss |
| 3 | 97 | Commanders | Ji'Ayir Brown | S | Penn State |
| 3 | 98 | Browns | Brodric Martin | DL | Western Kentucky |
| 3 | 99 | 49ers | Kyu Blu Kelly | CB | Stanford |
| 3 | 100 | Raiders | Sydney Brown | S | Illinois |
| 3 | 101 | 49ers | Wanya Morris | OT | Oklahoma |
| 3 | 102 | 49ers | Jayden Reed | WR | Michigan State |
| 4 | 103 | Bears | Colby Wooden | DL | Auburn |
| 4 | 104 | Texans | Jammie Robinson | S | Florida State |
Round 4
| | | | | | |
| --- | --- | --- | --- | --- | --- |
| 4 | 105 | Cardinals | Myles Brooks | CB | Louisiana Tech |
| 4 | 106 | Colts | Clark Phillips III | CB | Utah |
| 4 | 107 | Patriots | Byron Young | EDGE | Tennessee |
| 4 | 108 | Broncos | Kei'Trel Clark | CB | Louisville |
| 4 | 109 | Raiders | Owen Pappoe | LB | Auburn |
| 4 | 110 | Falcons | Braeden Daniels | OG | Utah |
| 4 | 111 | Browns | Andre Carter II | EDGE | Army |
| 4 | 112 | Jets | Jay Ward | S | LSU |
| 4 | 113 | Falcons | Jordan Battle | S | Alabama |
| 4 | 114 | Panthers | Nick Broeker | OG | Ole Miss |
| 4 | 115 | Saints | Karl Brooks | EDGE | Bowling Green |
| 4 | 116 | Packers | Tre Tucker | WR | Cincinnati |
| 4 | 117 | Patriots | Henry To'oTo'o | LB | Alabama |
| 4 | 118 | Commanders | Brenton Strange | TE | Penn State |
| 4 | 119 | Vikings | Cam Jones | LB | Indiana |
| 4 | 120 | Steelers | Trey Palmer | WR | Nebraska |
| 4 | 121 | Jaguars | Cameron Mitchell | CB | Northwestern |
| 4 | 122 | Chiefs | Cameron Young | DL | Mississippi State |
| 4 | 123 | Seahawks | Jarrick Bernard-Converse | CB | LSU |
| 4 | 124 | Ravens | Yasir Abdullah | EDGE | Louisville |
| 4 | 125 | Chargers | Eric Gray | RB | Oklahoma |
| 4 | 126 | Browns | Luke Schoonmaker | TE | Michigan |
| 4 | 127 | Jaguars | Anthony Bradford | OG | LSU |
| 4 | 128 | Giants | Ivan Pace Jr. | LB | Cincinnati |
| 4 | 129 | Cowboys | Emil Ekiyor Jr. | OL | Alabama |
| 4 | 130 | Bills | Juice Scruggs | C | Penn State |
| 4 | 131 | Bengals | Chris Smith II | S | Georgia |
| 4 | 132 | Panthers | Nathaniel Dell | WR | Houston |
| 4 | 133 | Bears | Zack Kuntz | TE | Old Dominion |
| 4 | 134 | Chiefs | Kendre Miller | RB | TCU |
| 4 | 135 | Patriots | Quindell Johnson | S | Memphis |
Round 5
| | | | | | |
| --- | --- | --- | --- | --- | --- |
| 5 | 136 | Bears | DeWayne McBride | RB | UAB |
| 5 | 137 | Bills | Sidy Sow | OG | Eastern Michigan |
| 5 | 138 | Colts | Parker Washington | WR | Penn State |
| 5 | 139 | Broncos | Daniel Scott | S | California |
| 5 | 140 | Browns | Isaiah Moore | LB | NC State |
| 5 | 141 | Raiders | Ricky Stromberg | C | Arkansas |
| 5 | 142 | Browns | Blake Freeland | OT | BYU |
| 5 | 143 | Jets | Moro Ojomo | DL | Texas |
| 5 | 144 | Raiders | Henry Bainivalu | OG | Washington |
| 5 | 145 | Panthers | Josh Whyle | TE | Cincinnati |
| 5 | 146 | Saints | Riley Moss | CB | Iowa |
| 5 | 147 | Titans | Keaton Mitchell | RB | ECU |
| 5 | 148 | Bears | DJ Johnson | EDGE | Oregon |
| 5 | 149 | Packers | Atonio Mafi | OG | UCLA |
| 5 | 150 | Commanders | Aidan O'Connell | QB | Purdue |
| 5 | 151 | Seahawks | Viliami Fehoko | DL | San Diego State |
| 5 | 152 | Lions | Michael Wilson | WR | Stanford |
| 5 | 153 | Buccaneers | Brandon Joseph | S | Notre Dame |
| 5 | 154 | Seahawks | Nick Hampton | EDGE | Appalachian State |
| 5 | 155 | 49ers | Jon Gaines II | OG | UCLA |
| 5 | 156 | Chargers | Gervarrius Owens | S | Houston |
| 5 | 157 | Ravens | Rashee Rice | WR | SMU |
| 5 | 158 | Vikings | Jake Haener | QB | Fresno State |
| 5 | 159 | Lions | Andrew Vorhees | OG | USC |
| 5 | 160 | Giants | Kaevon Merriweather | S | Iowa |
| 5 | 161 | Texans | Olusegun Oluwatimi | C | Michigan |
| 5 | 162 | Colts | Isaiah McGuire | EDGE | Missouri |
| 5 | 163 | Bengals | Zach Harrison | EDGE | Ohio State |
| 5 | 164 | 49ers | Will Mallory | TE | Miami |
| 5 | 165 | Saints | Shaka Heyward | LB | Duke |
| 5 | 166 | Chiefs | Brayden Willis | TE | Oklahoma |
| 5 | 167 | Rams | Terell Smith | CB | Minnesota |
| 5 | 168 | Cardinals | Desjuan Johnson | DL | Toledo |
| 5 | 169 | Cowboys | Dante Stills | DL | West Virginia |
| 5 | 170 | Packers | Dorian Williams | LB | Tulane |
| 5 | 171 | Rams | Carter Warren | OT | Pittsburgh |
| 5 | 172 | Giants | K.J. Henry | EDGE | Clemson |
| 5 | 173 | 49ers | Chamarri Conner | S | Virginia Tech |
| 5 | 174 | Raiders | Tyrus Wheat | EDGE | Mississippi State |
| 5 | 175 | Buccaneers | Xavier Hutchinson | WR | Iowa State |
| 5 | 176 | Colts | Jordan Howden | S | Minnesota |
| 5 | 177 | Rams | Cameron Latu | TE | Alabama |
Round 6
| | | | | | |
| --- | --- | --- | --- | --- | --- |
| 6 | 178 | Chiefs | Jose Ramirez | EDGE | Eastern Michigan |
| 6 | 179 | Buccaneers | Noah Sewell | LB | Oregon |
| 6 | 180 | Cardinals | Jake Andrews | OL | Troy |
| 6 | 181 | Buccaneers | Warren McClendon | OT | Georgia |
| 6 | 182 | Rams | Devonnsha Maxwell | DL | UT-Chattanooga |
| 6 | 183 | Lions | Dorian Thompson-Robinson | QB | UCLA |
| 6 | 184 | Patriots | Bryce Baringer | P | Michigan State |
| 6 | 185 | Jaguars | Kobie Turner | DL | Wake Forest |
| 6 | 186 | Titans | Jake Moody | K | Michigan |
| 6 | 187 | Patriots | DJ Dale | DL | Alabama |
| 6 | 188 | Texans | Drake Thomas | LB | NC State |
| 6 | 189 | Rams | Ronnie Hickman | S | Ohio State |
| 6 | 190 | Browns | Charlie Jones | WR | Purdue |
| 6 | 191 | Rams | Jeremy Banks | LB | Tennessee |
| 6 | 192 | Patriots | Evan Hull | RB | Northwestern |
| 6 | 193 | Commanders | Jordan McFadden | G | Clemson |
| 6 | 194 | Lions | Connor Galvin | G | Baylor |
| 6 | 195 | Broncos | Trevor Downing | C | Iowa State |
| 6 | 196 | Buccaneers | Payne Durham | TE | Purdue |
| 6 | 197 | Dolphins | AT Perry | WR | Wake Forest |
| 6 | 198 | Seahawks | Sean Tucker | RB | Syracuse |
| 6 | 199 | Ravens | Ryan Hayes | OT | Michigan |
| 6 | 200 | Chargers | Ali Gaye | EDGE | LSU |
| 6 | 201 | Texans | Puka Nacua | WR | BYU |
| 6 | 202 | Jaguars | Davis Allen | TE | Clemson |
| 6 | 203 | Texans | Jeremiah Martin | EDGE | Washington |
| 6 | 204 | Raiders | Chase Brown | RB | Illinois |
| 6 | 205 | Bills | Jason Taylor II | S | Oklahoma State |
| 6 | 206 | Bengals | Israel Abanikanda | RB | Pittsburgh |
| 6 | 207 | Jets | Blake Whiteheart | TE | Wake Forest |
| 6 | 208 | Jaguars | Kayshon Boutte | WR | LSU |
| 6 | 209 | Giants | Dontayvion Wicks | WR | Virginia |
| 6 | 210 | Patriots | Hunter Luepke | RB | North Dakota State |
| 6 | 211 | Vikings | Jerrod Clark | DL | Coastal Carolina |
| 6 | 212 | Cowboys | Isaiah Land | LB | Florida A&M |
| 6 | 213 | Cardinals | Mark Evans II | OG | Arkansas Pine Bluff |
| 6 | 214 | Raiders | Eli Ricks | CB | Alabama |
| 6 | 215 | Commanders | Carrington Valentine | CB | Kentucky |
| 6 | 216 | 49ers | Ronnie Bell | WR | Michigan |
| 6 | 217 | Chiefs | Keidron Smith | CB | Kentucky |
Round 7
| | | | | | |
| --- | --- | --- | --- | --- | --- |
| 7 | 218 | Bears | Matt Landers | WR | Arkansas |
| 7 | 219 | Eagles | SirVocea Dennis | LB | Pittsburgh |
| 7 | 220 | Raiders | Demario Douglas | WR | Liberty |
| 7 | 221 | Colts | Tavius Robinson | EDGE | Ole Miss |
| 7 | 222 | 49ers | Jerome Carvin | OG | Tennessee |
| 7 | 223 | Rams | Ochaun Mathis | EDGE | Nebraska |
| 7 | 224 | Falcons | Christian Braswell | CB | Rutgers |
| 7 | 225 | Falcons | Elijah Higgins | WR | Stanford |
| 7 | 226 | Jaguars | Clayton Tune | QB | Houston |
| 7 | 227 | Saints | Dee Winters | LB | TCU |
| 7 | 228 | Titans | Richard Gouraige | OT | Florida |
| 7 | 229 | Browns | MJ Anderson | DL | Iowa State |
| 7 | 230 | Texans | Alex Ward | LS | UAB |
| 7 | 231 | Raiders | Jaren Hall | QB | BYU |
| 7 | 232 | Packers | Tyler Lacy | DL | Oklahoma State |
| 7 | 233 | Commanders | Aubrey Miller | LB | Jackson State |
| 7 | 234 | Steelers | Thomas Incoom | EDGE | Central Michigan |
| 7 | 235 | Packers | Malik Knowles | WR | Kansas State |
| 7 | 236 | Colts | Rejzohn Wright | CB | Oregon State |
| 7 | 237 | Seahawks | Jahleel Billingsley | TE | Texas |
| 7 | 238 | Dolphins | Kenny McIntosh | RB | Georgia |
| 7 | 239 | Chargers | Noah Taylor | EDGE | UNC |
| 7 | 240 | Giants | Asim Richards | OG | UNC |
| 7 | 241 | Steelers | Arquon Bush | CB | Cincinnati |
| 7 | 242 | Packers | Chad Ryland | K | Maryland |
| 7 | 243 | Giants | Darrell Luter Jr. | CB | South Alabama |
| 7 | 244 | Cowboys | Jovaughn Gwyn | OC | South Carolina |
| 7 | 245 | Patriots | Anthony Johnson | S | Virginia |
| 7 | 246 | Bengals | Alex Forsyth | OC | Oregon |
| 7 | 247 | 49ers | Robert Beal Jr. | EDGE | Georgia |
| 7 | 248 | Eagles | Max Duggan | QB | TCU |
| 7 | 249 | Chiefs | Andrei Iosivas | WR | Princeton |
| 7 | 250 | Chiefs | Nesta Jade Silvera | DL | Arizona State |
| 7 | 251 | Rams | Tashawn Manning | OG | Kentucky |
| 7 | 252 | Buccaneers | Mike Morris | EDGE | Michigan |
| 7 | 253 | 49ers | Charlie Thomas | S | Georgia Tech |
| 7 | 254 | Giants | Tanner McKee | QB | Stanford |
| 7 | 255 | 49ers | Chris Rodriguez Jr. | RB | Kentucky |
| 7 | 256 | Packers | Andre Jones | EDGE | Louisiana |
| 7 | 257 | Saints | Stetson Bennett | QB | Georgia |
| 7 | 258 | Bears | Antoine Green | WR | UNC |
| 7 | 259 | Texans | Quinton Barrow | OL | Grand Valley State |
Team-by-team picks breakdown
49ers
3.99 Kyu Blu Kelly, CB, Stanford
3.101 Wanya Morris, OT, Oklahoma
3.102 Jayden Reed, WR, Michigan State
5.155 Jon Gaines II, OG, UCLA
5.164 Will Mallory, TE, Miami
5.173 Chamarri Conner, S, Virginia Tech
6.216 Ronnie Bell, WR, Michigan
7.222 Jerome Carvin, OG, Tennessee
7.247 Robert Beal Jr., EDGE, Georgia
7.253 Charlie Thomas, S, Georgia Tech
7.255 Chris Rodriguez Jr., RB, Kentucky
Bears
1.9 Paris Johnson Jr., OT, Ohio State
2.53 Tuli Tuipulotu, EDGE, USC
2.61 Jakorian Bennett, CB, Maryland
3.64 Luke Wypler, C, Ohio State
4.103 Colby Wooden, DL, Auburn
4.133 Zack Kuntz, TE, Old Dominion
5.136 DeWayne McBride, RB, UAB
5.148 DJ Johnson, EDGE, Oregon
7.218 Matt Landers, WR, Arkansas
7.258 Antoine Green, WR, UNC
Bengals
1.28 Michael Mayer, TE, Notre Dame
2.60 Cam Smith, CB, South Carolina
3.92 Jaquelin Roy, DL, LSU
4.131 Chris Smith II, S, Georgia
5.163 Zach Harrison, EDGE, Ohio State
6.206 Israel Abanikanda, RB, Pittsburgh
7.246 Alex Forsyth, OC, Oregon
Bills
1.27 Bijan Robinson, RB, Texas
2.59 Gervon Dexter, DL, Florida
3.91 Tyrique Stevenson, CB, Miami
4.130 Juice Scruggs, C, Penn State
5.137 Sidy Sow, OG, Eastern Michigan
6.205 Jason Taylor II, S, Oklahoma State
Broncos
3.67 Chandler Zavala, OL, NC State
3.68 Trenton Simpson, LB, Clemson
4.108 Kei'Trel Clark, CB, Louisville
5.139 Daniel Scott, S, California
6.195 Trevor Downing, C, Iowa State
Browns
3.74 Roschon Johnson, RB, Texas
3.98 Brodric Martin, DL, Western Kentucky
4.111 Andre Carter II, EDGE, Army
4.126 Luke Schoonmaker, TE, Michigan
5.140 Isaiah Moore, LB, NC State
5.142 Blake Freeland, OT, BYU
6.190 Charlie Jones, WR, Purdue
7.229 MJ Anderson, DL, Iowa State
Buccaneers
1.19 Will Levis, QB, Kentucky
2.50 Siaki Ika, DL, Baylor
3.82 Tyjae Spears, RB, Tulane
5.153 Brandon Joseph, S, Notre Dame
5.175 Xavier Hutchinson, WR, Iowa State
6.179 Noah Sewell, LB, Oregon
6.181 Warren McClendon, OT, Georgia
6.196 Payne Durham, TE, Purdue
7.252 Mike Morris, EDGE, Michigan
Cardinals
1.3 Will Anderson, EDGE, Alabama
2.34 Dawand Jones, OT, Ohio State
3.66 Tank Bigsby, RB, Auburn
3.96 Jonathan Mingo, WR, Ole Miss
4.105 Myles Brooks, CB, Louisiana Tech
5.168 Desjuan Johnson, DL, Toledo
6.180 Jake Andrews, OL, Troy
6.213 Mark Evans II, OG, Arkansas Pine Bluff
Chargers
1.21 Zay Flowers, WR, Boston College
2.54 Daiyan Henley, LB, Washington State
3.85 Jalen Redmond, DL, Oklahoma
4.125 Eric Gray, RB, Oklahoma
5.156 Gervarrius Owens, S, Houston
6.200 Ali Gaye, EDGE, LSU
7.239 Noah Taylor, EDGE, UNC
Chiefs
1.31 Anton Harrison, OT, Oklahoma
2.63 Adetomiwa Adebawore, EDGE, Northwestern
3.95 Cedric Tillman, WR, Tennessee
4.122 Cameron Young, DL, Mississippi State
4.134 Kendre Miller, RB, TCU
5.166 Brayden Willis, TE, Oklahoma
6.178 Jose Ramirez, EDGE, Eastern Michigan
6.217 Keidron Smith, CB, Kentucky
7.249 Andrei Iosivas, WR, Princeton
7.250 Nesta Jade Silvera, DL, Arizona State
Colts
1.4 Anthony Richardson, QB, Florida
2.35 Drew Sanders, LB, Arkansas
3.79 Nick Saldiveri, OL, Old Dominion
4.106 Clark Phillips III, CB, Utah
5.138 Parker Washington, WR, Penn State
5.162 Isaiah McGuire, EDGE, Missouri
5.176 Jordan Howden, S, Minnesota
7.221 Tavius Robinson, EDGE, Ole Miss
7.236 Rejzohn Wright, CB, Oregon State
Commanders
1.16 Deonte Banks, CB, Maryland
2.47 Joe Tippman, C, Wisconsin
3.97 Ji'Ayir Brown, S, Penn State
4.118 Brenton Strange, TE, Penn State
5.150 Aidan O'Connell, QB, Purdue
6.193 Jordan McFadden, G, Clemson
6.215 Carrington Valentine, CB, Kentucky
7.233 Aubrey Miller, LB, Jackson State
Cowboys
1.26 Sam LaPorta, TE, Iowa
2.58 Devon Achane, RB, Texas A&M
3.90 JL Skinner, S, Boise State
4.129 Emil Ekiyor Jr., OL, Alabama
5.169 Dante Stills, DL, West Virginia
6.212 Isaiah Land, LB, Florida A&M
7.244 Jovaughn Gwyn, C, South Carolina
Dolphins
2.51 Calijah Kancey, DL, Pittsburgh
3.84 Tucker Kraft, TE, South Dakota State
6.197 AT Perry, WR, Wake Forest
7.238 Kenny McIntosh, RB, Georgia
Eagles
1.10 Devin Witherspoon, CB, Illinois
1.30 Nolan Smith, EDGE, Georgia
2.62 Byron Young, DL, Alabama
3.94 Zach Evans, RB, Ole Miss
7.219 SirVocea Dennis, LB, Pittsburgh
7.248 Max Duggan, QB, TCU
Falcons
1.8 Jalen Carter, DL, Georgia
2.44 Nick Herbig, LB, Wisconsin
3.75 Felix Anudike-Uzomah, EDGE, Kansas State
4.110 Braeden Daniels, OG, Utah
4.113 Jordan Battle, S, Alabama
5.159 Jake Haener, QB, Fresno State
7.224 Christian Braswell, CB, Rutgers
7.225 Elijah Higgins, WR, Stanford
Giants
1.25 Quentin Johnston, WR, TCU
2.57 Steve Avila, OL, TCU
3.89 Darius Rush, CB, South Carolina
4.128 Ivan Pace Jr., LB, Cincinnati
5.160 Kaevon Merriweather, S, Iowa
5.172 K.J. Henry, EDGE, Clemson
6.209 Dontayvion Wicks, WR, Virginia
7.240 Asim Richards, OG, UNC
7.243 Darrell Luter Jr., CB, South Alabama
7.254 Tanner McKee, QB, Stanford
Jaguars
1.24 Myles Murphy, EDGE, Clemson
2.56 Jartavius Martin, S, Illinois
3.88 Jaelyn Duncan, OT, Maryland
4.121 Cameron Mitchell, CB, Northwestern
4.127 Anthony Bradford, OG, LSU
6.185 Kobie Turner, DL, Wake Forest
6.202 Davis Allen, TE, Clemson
6.208 Kayshon Boutte, WR, LSU
7.226 Clayton Tune, QB, Houston
Jets
1.13 Broderick Jones, OT, Georgia
2.42 Jack Campbell, LB, Iowa
2.43 John Michael Schmitz, OC, Minnesota
4.112 Jay Ward, S, LSU
5.143 Moro Ojomo, DL, Texas
6.207 Blake Whiteheart, TE, Wake Forest
Lions
1.6 Lukas Van Ness, EDGE, Iowa
1.18 Joey Porter Jr., CB, Penn State
2.48 Dalton Kincaid, TE, Utah
2.55 Mazi Smith, DL, Michigan
3.81 DeMarvion Overshown, LB, Texas
5.152 Michael Wilson, WR, Stanford
6.183 Dorian Thompson-Robinson, QB, UCLA
6.194 Connor Galvin, G, Baylor
Packers
1.15 Brian Branch, S, Alabama
2.45 Luke Musgrave, TE, Oregon State
3.78 YaYa Diaby, EDGE, Louisville
4.116 Tre Tucker, WR, Cincinnati
5.149 Atonio Mafi, OG, UCLA
5.170 Dorian Williams, LB, Tulane
7.232 Tyler Lacy, DL, Oklahoma State
7.235 Malik Knowles, WR, Kansas State
7.242 Chad Ryland, K, Maryland
7.256 Andre Jones, EDGE, Louisiana
Panthers
1.1 C.J. Stroud, QB, Ohio State
2.39 Will McDonald IV, EDGE, Iowa State
3.93 Cory Trice, CB, Purdue
4.114 Nick Broeker, OG, Ole Miss
4.132 Nathaniel Dell, WR, Houston
5.145 Josh Whyle, TE, Cincinnati
Patriots
1.14 Darnell Wright, OT, Tennessee
2.46 Darnell Washington, TE, Georgia
3.76 Josh Downs, WR, UNC
4.107 Byron Young, EDGE, Tennessee
4.117 Henry To'oTo'o, LB, Alabama
4.135 Quindell Johnson, S, Memphis
6.184 Bryce Baringer, P, Michigan State
6.187 DJ Dale, DL, Alabama
6.192 Evan Hull, RB, Northwestern
6.210 Hunter Luepke, RB, North Dakota State
7.245 Anthony Johnson, S, Virginia
Raiders
1.7 Christian Gonzalez, CB, Oregon
2.38 Matthew Bergeron, OT, Syracuse
3.70 Keeanu Benton, DL, Wisconsin
3.100 Sydney Brown, S, Illinois
4.109 Owen Pappoe, LB, Auburn
5.141 Ricky Stromberg, C, Arkansas
5.144 Henry Bainivalu, OG, Washington
5.174 Tyrus Wheat, EDGE, Mississippi State
6.204 Chase Brown, RB, Illinois
6.214 Eli Ricks, CB, Alabama
7.220 Demario Douglas, WR, Liberty
7.231 Jaren Hall, QB, BYU
Rams
2.36 Cody Mauch, OL, North Dakota State
3.69 Hendon Hooker, QB, Tennessee
3.77 Derick Hall, EDGE, Auburn
5.167 Terell Smith, CB, Minnesota
5.171 Carter Warren, OT, Pittsburgh
5.177 Cameron Latu, TE, Alabama
6.182 Devonnsha Maxwell, DL, UT-Chattanooga
6.189 Ronnie Hickman, S, Ohio State
6.191 Jeremy Banks, LB, Tennessee
7.223 Ochaun Mathis, EDGE, Nebraska
7.251 Tashawn Manning, OG, Kentucky
Ravens
1.22 Emmanuel Forbes, CB, Mississippi State
3.86 Zach Charbonnet, RB, UCLA
4.124 Yasir Abdullah, EDGE, Louisville
5.157 Rashee Rice, WR, SMU
6.199 Ryan Hayes, OT, Michigan
Saints
1.29 Bryan Bresee, DT, Clemson
2.40 Jahmyr Gibbs, RB, Alabama
3.71 Marvin Mims, WR, Oklahoma
4.115 Karl Brooks, EDGE, Bowling Green
5.146 Riley Moss, CB, Iowa
5.165 Shaka Heyward, LB, Duke
7.227 Dee Winters, LB, TCU
7.257 Stetson Bennett, QB, Georgia
Seahawks
1.5 Tyree Wilson, EDGE, Texas Tech
1.20 O'Cyrus Torrence, OG, Florida
2.37 Kelee Ringo, CB, Georgia
2.52 Tyler Scott, WR, Cincinnati
3.83 Marte Mapu, LB, Sacramento State
4.123 Jarrick Bernard-Converse, CB, LSU
5.151 Viliami Fehoko, DL, San Diego State
5.154 Nick Hampton, EDGE, Appalachian State
6.198 Sean Tucker, RB, Syracuse
7.237 Jahleel Billingsley, TE, Texas
Steelers
1.17 Julius Brents, CB, Kansas State
2.32 Keion White, EDGE, Georgia Tech
2.49 Antonio Johnson, S, Texas A&M
3.80 Tyler Steen, OT, Alabama
4.120 Trey Palmer, WR, Nebraska
7.234 Thomas Incoom, EDGE, Central Michigan
7.241 Arquon Bush, CB, Cincinnati
Texans
1.2 Bryce Young, QB, Alabama
1.12 Jaxon Smith-Njigba, WR, Ohio State
2.33 BJ Ojulari, EDGE, LSU
3.65 Zacch Pickens, DL, South Carolina
3.73 DJ Turner, CB, Michigan
4.104 Jammie Robinson, S, Florida State
5.161 Olusegun Oluwatimi, C, Michigan
6.188 Drake Thomas, LB, NC State
6.201 Puka Nacua, WR, BYU
6.203 Jeremiah Martin, EDGE, Washington
7.230 Alex Ward, LS, UAB
7.259 Quinton Barrow, OL, Grand Valley State
Titans
1.11 Peter Skoronski, OT, Northwestern
2.41 Jalin Hyatt, WR, Tennessee
3.72 Isaiah Foskey, EDGE, Notre Dame
5.147 Keaton Mitchell, RB, ECU
6.186 Jake Moody, K, Michigan
7.228 Richard Gouraige, OT, Florida
Vikings 
1.23 Jordan Addison, WR, USC
3.87 Garrett Williams, CB, Syracuse
4.119 Cam Jones, LB, Indiana
5.158 Jake Haener, QB, Fresno State
6.211 Jerrod Clark, DL, Coastal Carolina