Season: A Letter to the Future
Season: A Letter to the Future is disappointing proof that beauty is all skin and texture. This slow-paced exploration, in which you must chronicle and log the end of an era, is filled with sincerity, although lacking in anything meaningful.
To start with, it's obvious from the start that this isn't our reality, although the world and characters seem familiar. This is a place where memories exist outside of a human body and can be relinquished or regained once lost. Meanwhile, a timeline of "Seasons Past" refers to the "Season of Modernity" in year 500, while "The War" took place in year 770. Our character – a young woman, probably in her 20s – was born in the year 780, a season yet to be named. However, a prophetic dream suggests that this era is almost over and, with her mother's blessing, she will be the first to leave her village in many years to record the current times for future knowledge.
Before leaving, her mother sacrifices five memories, each associated with one of the traditional "five senses," to create a pendant that will protect her daughter from the muttering "mmmph mmph." Then she jumps on her bike and sets off to explore the big wide world.
The game is instant spectacular pretty. It's a vibrant, vibrant, beautifully detailed and delightfully animated world, bursting with life and sprinkled with carefully muted colors. I gasped loudly as I pedaled down the first hill of the game, the vast sunrise sky over rolling hills. You can't take anything away from there season's art.
G/O Media may receive a commission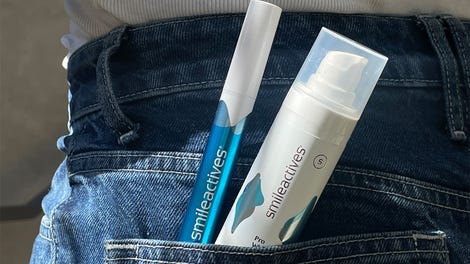 58% discount
Whitening Powerhouse Pen & Gel Duo
BRIGHT YOUR SMILE
Whiten your teeth at home with Smileactives' one-two punch: the Whitening Powerhouse Pen & Gel Duo. This kit gives you the kind of teeth whitening power that uses the same ingredients dentists rely on for in-office whitening treatments at a fraction of the price.
It is then time to start recording for the future with your camera, your audio recorder and your personal thoughts. Each section of the game has a double page spread in your journal, which you fill with photos, sketches, notes, and (sort of) recordings until a meter is filled on the page and a few more thoughts are unlocked – along with a bunch of decorative goodies to do with it Your diary page very pretty. At first, the game is linear, taking you through these sections in order and teaching you the ropes. Then, for its dominant middle act, you're unleashed in a large valley that you can explore in any order you choose.
The problem is that there is simply no substance under all this style, although visually it is always adorable. The valley is abandoned because some floods will permanently fill it and destroy everything in it. There is only one day to go when you arrive, and some stubborn or disorganized people have yet to go. This is your last chance to capture the valley, whether the season is ending or not, and speak to the few remaining residents. What insights will you learn? What sense will you make of this impending destruction? Ah…
For the most part, you have to fight the game miserable Steering the bike that gets stuck on every rock, cobblestone or bump in the road and has the turning circle of an ocean liner. Along the way you need to stop and take pictures of everything interesting you see (or take the same picture of an empty sky five times – the game doesn't really care) to fill the journal. Snapping pictures of interesting objects, or recording a specific sound, triggers dialogue that feels like ticking some sort of box, but even these can be placed in the journal in a random, overlapping stack, and it doesn't matter.
There are five characters to talk to and some areas that require further exploration to allow the time of day to advance towards evening, but beyond that it becomes all too obvious that your main job here is to turn the page. Where the game would have been interesting was that you essentially had to "solve the puzzles" of what sounds to record and what notable features to photograph in order to satisfactorily complete each area. Instead, with about five exceptions out of dozens, most of the time you accidentally poop through a page by just snapping a few photos and adding three of the auto-generated comments, then the meter hits, even though most of your journal is blank. (Or worse, you can just throw in five shots of literally nothing and still "pass".)
I tried to avoid this. Instead, I worked incredibly hard to complete each area, most of the time arranging them to look good and even decorating them with extra details just to do something. Because despite a massive amount of well-delivered dialogue, and against what felt like a lot of effort (the included videos are amazing too), I was just so bored.
Unfortunately, the game behaves as if it has amazing wisdom to share, as if every thought and reflection is a pearl for us to cherish. Everything is presented as if it were a great insight, a revelation, plenty of depth that will blow your mind. But alas, it only delivers banality. Everything is said so incredibly seriously, but everything blends ambiguity with intrigue and sincerity with sophistication.
We're asked to wonder why the current season is ending, but we've never received even a shred of information to work with. We've been asked to look into what season might follow, but we have no knowledge of what the current season might look like. Our character has lived her entire life in a village that no one leaves, yet acts as if her exploration of just the immediate area will be the most profound and important source of information for generations to come! It's the most amazing colonial mindset to ignore the possibility that someone in the neighboring town, let alone the rest of the world, might have thought about doing the same. That what you collect is a bunch of tourist snaps and thinly developed thoughts on the nature of memory thwarts these attempts at sharpness even more.
If you had to summarize something season Ultimately, it's about remembrance and grief. This is, for whatever reason, by far the most well-trodden ground of chin-stroking indie games. But at least the best examples of it—Brothers: A Tale of Two Sons, To the moon, night in the forest, hoarfrost– are effective, even therapeutic. season just pointing at the issues and hoping that will be enough. Sure, I'm happy to do quite a bit of interpretive work when I'm playing a game, but I'm not willing to do the building narrative as well.
There is an effort in the writing to be flowery, as if that might replace value, leading to swathes of contradictory lines such as "a gentle tension in the air".
"Tell me about your mother," I asked one character upon meeting her. The answer? "These symbols and gestures were overlaid with meaning. There are signals in the way you move your hands or close your eyes. Their job was to manage the meaning behind the symbols." No symbols or gestures were mentioned before or after, so all nonsense to hear, no matter how emphatically written. If you ask the same person what it was like growing up on a cruise ship, the answer is that the rocking motion was soothing. It's so demoralizingly trite.
At the game's rock bottom, there's a flashback sequence where a character tells you about a dream, and it's just as terrifying as when that happens in real life. Just drivel about apples moving through time, struggling to persevere, made worse by the game presenting everything with a black screen, as if it were a wonderful opportunity for us to use our vivid imaginations to envision these time-travelling apples .
None of that is supported by our character, frankly, decided not to be bright. I was dying to like her: an obviously very popular young black woman who pushed beyond the confines of her previous existence. She should be an inspirational avatar to cast, but too often has leaden reactions to most she meets. At one point you look at an artist's sculptures, and on two different works her response is a blank, "I'm not sure what to make of that." That, or she's smarmily arch. In one area is an old CRT TV. Look at it and she says, "We heard about this box at school. People looked at it instead of talking to their neighbors." Oh fuck off.
I really didn't like it season. But the weird thing was that it made me feel bad almost all the time. It was trying so damn hard, and shitting it like that feels like teasing the struggling kid in class. Heck, he's a good artist, but his contributions to the discussion really take the air out of the room.
I also imagine I would have been a bit more generous if it weren't so abysmal to control. As mentioned, the bike is unforgivably cruel, but even walking is clumsy. She moves freezing, her jog almost comically slow, and she tends to get caught on the corner of a nearby object.
But more than anything, I didn't like it season's belief in his own depth. His mysticism felt like cod Buddhist holdovers, while his nonchalant efficacy of prayer undermined his attempts at an agnostic universalism, all crushed under the weight of the sheer banality of all your actions, as if creating a vital tome of historical importance.
https://kotaku.com/season-a-letter-to-the-future-ps5-steam-pc-game-review-1850069978 Season: A Letter to the Future