"Rohit is not my captain" – Young fan holds poster at 2nd test » FirstSportz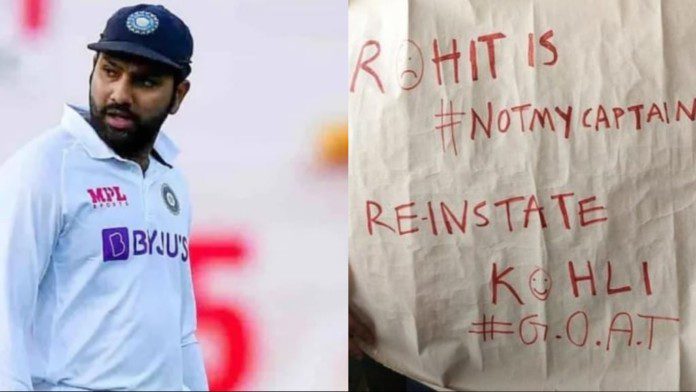 Even though the current and former India captains support each other, fans are polarized when it comes to choosing their 'best captain'. First it was Dhoni versus Kohli and with Virat Kohli stepping down as captain of all formats this year, his fans simply cannot accept Rohit's decision to take his position.
On Monday March 14, a cricket fan father attending the match posted a picture at M. Chinnaswamy Stadium in Bengaluru during the day-night pink ball tests between Sri Lanka and India. The picture showed his children holding a poster, which is now going viral, which read: "Rohit is #NotMyCaptain. Put Kohli #GOAT back in."
The debate over the height of the two players began to heat up again between Kohli Sharma fans on Twitter. Sharma fans began criticizing the picture, explaining how India was in a better position after Rohit shouldered the captaincy.
Also read | Watch: Rahul Dravid and Virat Kohli congratulate Suranga Lakmal on the eve of his final test
Rohit Sharma – GOAT White Ball Player
The youngster's father then went on to explain that their demands were for Test cricket only. He also called Rohit a GOAT player in a white ball and hoped the "hitman" would win the 2023 trophy for both the ODI and T20 World Championships. He changed that again by showing a picture of Sharma Kohli fans sitting together in the stands. Seeing heavy criticism, he later deleted the original tweet.
On the show Breakfast with Champions, Kohli mentioned that he was intimidated by Sharma in his early days when both were the new players on the scene. Kohli explained this in Hindi: "I'm a young player too, so what's the new guy everyone's hyped for?" But praised him after watching his play at the T-20 World Cup: "It's amazing . I haven't seen anyone who can do it better than him."
Also read | 'Are there no other colors in the world' – fans react to Gujarat Titans jersey
https://firstsportz.com/cricket-rohit-is-not-my-captain-young-fans-poster/ "Rohit is not my captain" – Young fan holds poster at 2nd test » FirstSportz