Rhys Hoskins injury: Phillies first baseman tears cruciate ligament in left knee during spring training to undergo surgery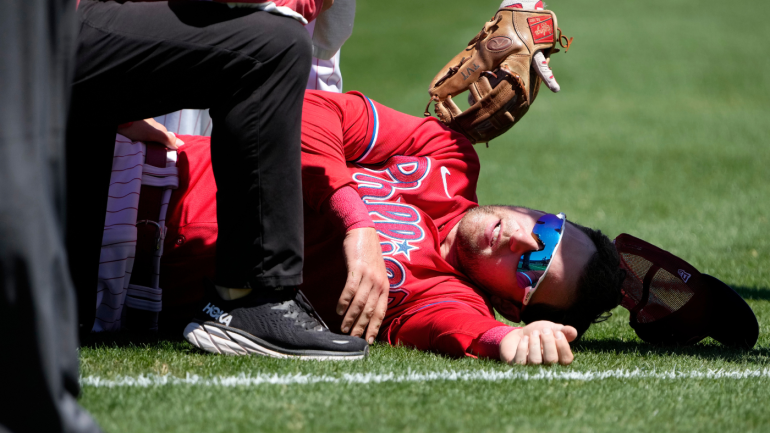 USATSI
Philadelphia Phillies first baseman Rhys Hoskins has torn his anterior cruciate ligament (ACL) and will need surgery, the team said Thursday night. The NL champion was carted off the field Thursday afternoon after sustaining a non-contact injury to his left knee when he set up a ground ball behind first base during a spring game against the Detroit Tigers.
While the Phillies have yet to announce a timeline for Hoskins' recovery, the injury presumably means he will miss the entire 2023 season.
Here's the injury. Hoskins went awkwardly and suddenly to the ground:
Hoskins, 30, is set to become a free agent after the season. He's been a consistent midfielder throughout his career, and last season he hit .246/.332/.462 with 33 doubles and 30 home runs. The Phillies are already without Bryce Harper, who will miss the start of the season while recovering from Tommy John surgery.
In Hoskins' absence, the Phillies are expected to open the season with Darick Hall in the cold corner.
"I feel comfortable saying that we like Darick Hall very much," Dave Dombrowski told reporters on Friday. "We think he's going to get most of the game time at first base. … We think he's ready to step up and become a big league player."
Should Hall falter or injure himself, the Phillies could push Alec Bohm to first base and push supply man Josh Harrison to third. Hall's move opens the DH spot for Bohm, Nick Castellanos or Kyle Schwarber.
Miguel Sanó is the best bat-free agency available at this point if the Phillies decide to leave the organization to replace Hoskins. Luke Voit has an exit date in his minor league contract with the Milwaukee Brewers and could make sense for the Phillies.
The Phillies went 87-75 last season and won the National League pennant. Hoskins hit six home runs in the team's 17 postseason games.
https://www.cbssports.com/mlb/news/rhys-hoskins-injury-phillies-first-baseman-tears-acl-in-left-knee-during-spring-training-to-undergo-surgery/ Rhys Hoskins injury: Phillies first baseman tears cruciate ligament in left knee during spring training to undergo surgery