Red Bull F1 announces new team name as Oracle steps up to title sponsor »FirstSportz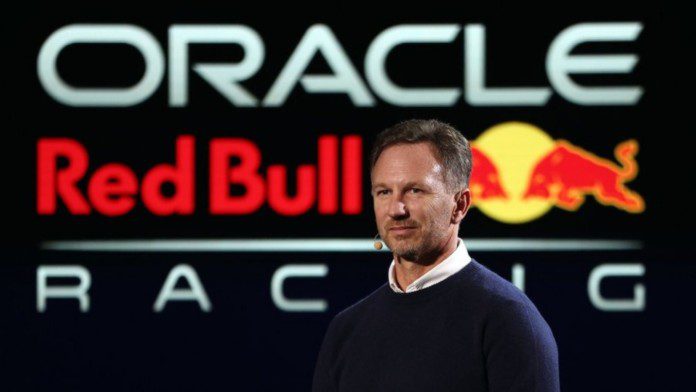 Red Bull has revealed a new car and new title sponsor for the 2022 season. On February 9, Red bull revealed their 2022 race car. RB18. But the biggest news of the evening was that the team announced Oracle as the new title sponsor.
The team will officially be known as Oracle Red Bull Racing after they partnered with the cloud and information technology giant. The new partnership is a huge boost for Red Bull as the team looks to defend the World Drivers Championship title won by Max Verstappen.
Along with sponsorship perks, Oracle will lend Red Bull its technical strength and expertise. The partnership will help strengthen their highly analytical race strategy managers and in the development of their engines.
Also read: Helmut Marko dismisses the possibility of success like 2009's Brawn GP…
Red Bull: "Oracle helped us win the championship"
The partnership on the title was revealed by Team Principal and CEO, Christian Horner during the Car Launch. He talked about the partnership with Red Bull. "Oracle Cloud has allowed us to make the race day decisions that helped Max Verstappen win the 2021 Drivers Championship," he praised Oracle.
"Detecting and reacting quickly to opportunities is critical to our success in the long run, and Oracle is an integral part of that effort. Every element of our performance is driven by data analytics. Having Oracle as our primary partner shows the confidence we have in their expertise and ability to deliver a real competitive advantage. "
Oracle Executive Vice President and Chief Marketing Officer, Ariel Kelman said "Oracle Red Bull Racing is, and will continue to be, the most forward-thinking and innovative F1 team in the world." during publication. Red Bull posted on their social media announcing the partnership with captions "It's official, Oracle… Kicking off a new chapter of innovation in F1 with our key partner"
Red Bull used Oracle Cloud to increase the number of simulations they ran during the 2021 campaign, helping their strategists make the right decisions. Oracle will help support Red Bull in connecting with their fan base through initiatives such as the fan loyalty platform. There are plans to enter the growing E-sports segment with their own Oracle Red Bull Racing Esports team.
Also read: 'Just look back at the seven titles you have,' Max Verstappen…
https://firstsportz.com/formula-1-red-bull-announce-new-team-name-as-oracle-steps-up-to-become-title-sponsor/ Red Bull F1 announces new team name as Oracle steps up to title sponsor »FirstSportz