RB PPR Fantasy Leaderboard Week 12: Who starts, runs back in fantasy football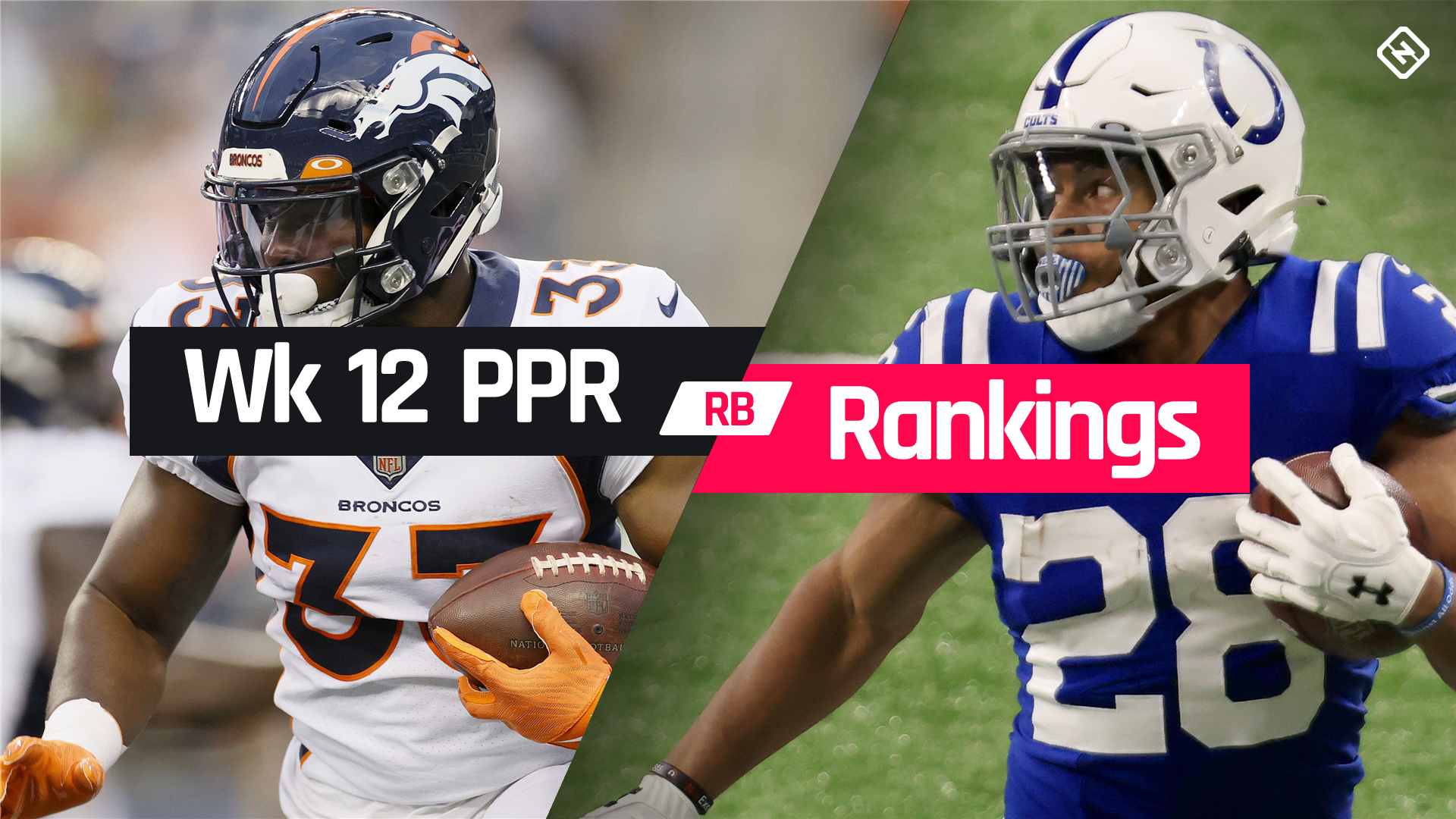 You'll often hear about NFL teams struggling for "a short week". Well, welcome to the short weeks for fantasy football owners. With three games on Thursday (one of which starts right after some people wake up) and a bunch of games that distract from precious list management time, let's get their decisions started. You may feel shaky and rushed. We're doing our best to help rank our Fantasy RB PPR Week 12.
Rerun has always been one of the hardest positions to assess each week, and despite some difficulty in Week 12, this position largely resolved itself. We will explain.
WEEK 12 STANDARD RANKING:
Midfielder | Run back | Wide receiver | Tight ending | VND / ST | Kicker
The most difficult RB lineup decisions often involve committee backing, but this week, a number of unpleasant timeshares have tough games. D'Onta Foreman and Adrian Peterson (@Patriots) and Zack Moss and Devin Singletary (@Saints) are in the worst position and unable to warm up in PPR tournaments, the same could be true of Latavius ​​Murray and Devonta Freeman (vs. Browns). Freeman has been doing enough lately to be at least one flexible, but his six catches from last week won't be the norm. Alex Collins and the other Seattle defenders (@Washington) are also in dire straits, but Collins remains a decent pick for touchdowns.
WEEK 12 PPR RANKING:
Midfielder | Wide receiver | Tight ending | VND / ST | Kicker
Damien Harris and Rhamondre Stevenson (versus Titans) didn't catch many passes, but Harris still has a high TD and should at least be on the squad. David Johnson and Rex Burkhead (versus the Jets) have the best fantasy matchup for RB, so one would be worth a start – possibly Johnson since he gets more targets – but both have decks The house is low and the ceilings are just average.
This week's best band was one of the most evenly split – Denver duo Javonte Williams and Melvin Gordon. They play a Chargers defense that allows runners to run for the second most fantasy points in each match, so both Williams and Gordon are solid starters. Ty Johnson (@Texans), Jeff Wilson Jr. (vs. Vikings), Tony Pollard (vs. Raiders) and JD McKissic (vs. Seahawks) also participate. Johnson and McKissic are particularly interesting in PPR tournaments with their usual target numbers, though Johnson was disappointed in that division last week. Nyheim Hines (versus Buccaneers) is also an interesting PPR option. Tampa is tied for the second-most take-ups per game RB allowed, so Hines could be worth the sneaky PPR.
No tons of sleepers or other regular warm-ups should be benched. Guys like Darrell Henderson (@ Packers), Joe Mixon (vs. Steelers) and Myles Gaskin (vs. Panthers) aren't the most attractive, but they have too many touches/catches on the bench. Injuries and returning players from injury (Kareem Hunt? Cordarrelle Patterson? Alvin Kamara?) are sure to shake things up, but for now, we have to focus on what we know. Hopefully, that will make this short week a little easier.
Note: We'll be updating these RB PR leaderboards throughout the week, so check back for the latest player analysis and movements.
Fantasy RB PPR Leaderboard Week 12: Who's Started Running Again
Rating based on Full point PPR scored
| | |
| --- | --- |
| Places | Player |
| first | Christian McCaffrey, CAR @ MIA |
| 2 | Najee Harris, PIT @ CIN |
| 3 | Ezekiel Elliott, DAL vs. LV |
| 4 | Jonathan Taylor, IND vs TB |
| 5 | James Robinson, JAX vs. ATL |
| 6 | Dalvin Cook, MIN @ SF |
| 7 | Austin Ekeler, LAC @ DEN |
| 8 | Nick Chubb, CLE @ BAL |
| 9 | Alvin Kamara, NOT against BUF |
| ten | David Montgomery, CHI @ DET |
| 11 | Saquon Barkley, NYG vs FIGHT |
| twelfth | Cordarrelle Patterson, ATL @ JAX |
| 13 | D'Andre Swift, DET vs. SPEND |
| 14 | AJ Dillon, GB vs LAR |
| 15 | Elijah Mitchell, SF vs MIN |
| 16 | Antonio Gibson, WAS and SEA |
| 17 | Josh Jacobs, LV @ DAL |
| 18 | Michael Carter, NYJ @ HOU |
| 19 | Joe Mixon, CIN vs. PIT |
| 20 | Melvin Gordon, DEN vs. LAC |
| 21 | Javonte Williams, DEN vs. LAC |
| 22 | Leonard Fournette, TB @ IND |
| 23 | Darrell Henderson, LAR @ GB |
| 24 | Myles Gaskin, MIA vs. CAR |
| 25 | Kareem Hunt, CLE @ BAL |
| 26 | Devonta Freeman, BAL vs. CLE |
| 27 | Miles Sanders, PHI @ NYG |
| 28 | Damien Harris, NE vs TEN |
| 29 | JD McKissic, WAS vs. SEA |
| 30 | Tony Pollard, DAL vs. LV |
| thirty first | Rex Burkhead, HOU vs NYJ |
| 32 | David Johnson, HOU vs NYJ |
| 33 | Jordan Howard, PHI @ NYG |
| 34 | Alex Collins, SEA @ WAS |
| 35 | Mark Ingram, NO vs. BUF |
| 36 | Jeff Wilson Jr., SF vs MIN |
| 37 | Ty Johnson, NYJ @ HOU |
| 38 | Drake Kenya, LV @ DAL |
| 39 | Rhamondre Stevenson, NE vs. TEN |
| 40 | Jamaal Williams, DET vs. SPEND |
| 41 | Nyheim Hines, IND vs TB |
| 42 | Latavius ​​Murray, BAL vs. CLE |
| 43 | D'Onta Foreman, TEN @ NE |
| 44 | Devontae Booker, NYG vs. FLY |
| 45 | Mike Davis, ATL @ JAX |
| forty six | Adrian Peterson, TEN @ NE |
| 47 | Zack Moss, BUF @ NO |
| 48 | Devin Singletary, BUF @ NO |
| 49 | Samaje Perine, CIN vs. PIT |
| 50 | Boston Scott, PHI @ NYG |
| 51 | Jeremy McNichols, TEN @ NE |
| 52 | D'Ernest Johnson, CLE @ BAL |
| 53 | Duke Johnson, MIA vs. CAR |
| 54 | Brandon Bolden, NE vs. TEN |
| 55 | Rashaad Penny, SEA @ WAS |
| 56 | Alexander Mattison, MIN @ SF |
| 57 | Giovani Bernard, TB @ IND |
| 58 | Matt Breida, BUF @ NO |
| 59 | Ronald Jones II, TB @ IND |
| 60 | Khalil Herbert, CHI @ DET |
| sixty one | Sony Michel, LAR @ GB |
| 62 | Chuba Hubbard, CAR @ MIA |
| 63 | Carlos Hyde, JAX vs ATL |
| sixty four | Jaret Patterson, WAS and SEA |
| 65 | Phillip Lindsay, HOU vs NYJ |
| 66 | Ty'Son Williams, BAL vs. CLE |
| sixty seven | Larry Rountree III, LAC @ DEN |
https://www.sportingnews.com/us/fantasy/news/fantasy-rb-ppr-rankings-week-12-who-to-start-sit-at-running-back-fantasy-football/o1nvxup1u8cl1s3cc07zx4a6q | RB PPR Fantasy Leaderboard Week 12: Who starts, runs back in fantasy football