Ranking of the NBA's top five title contenders: Bucks, Suns up a notch; warrior a sleeping giant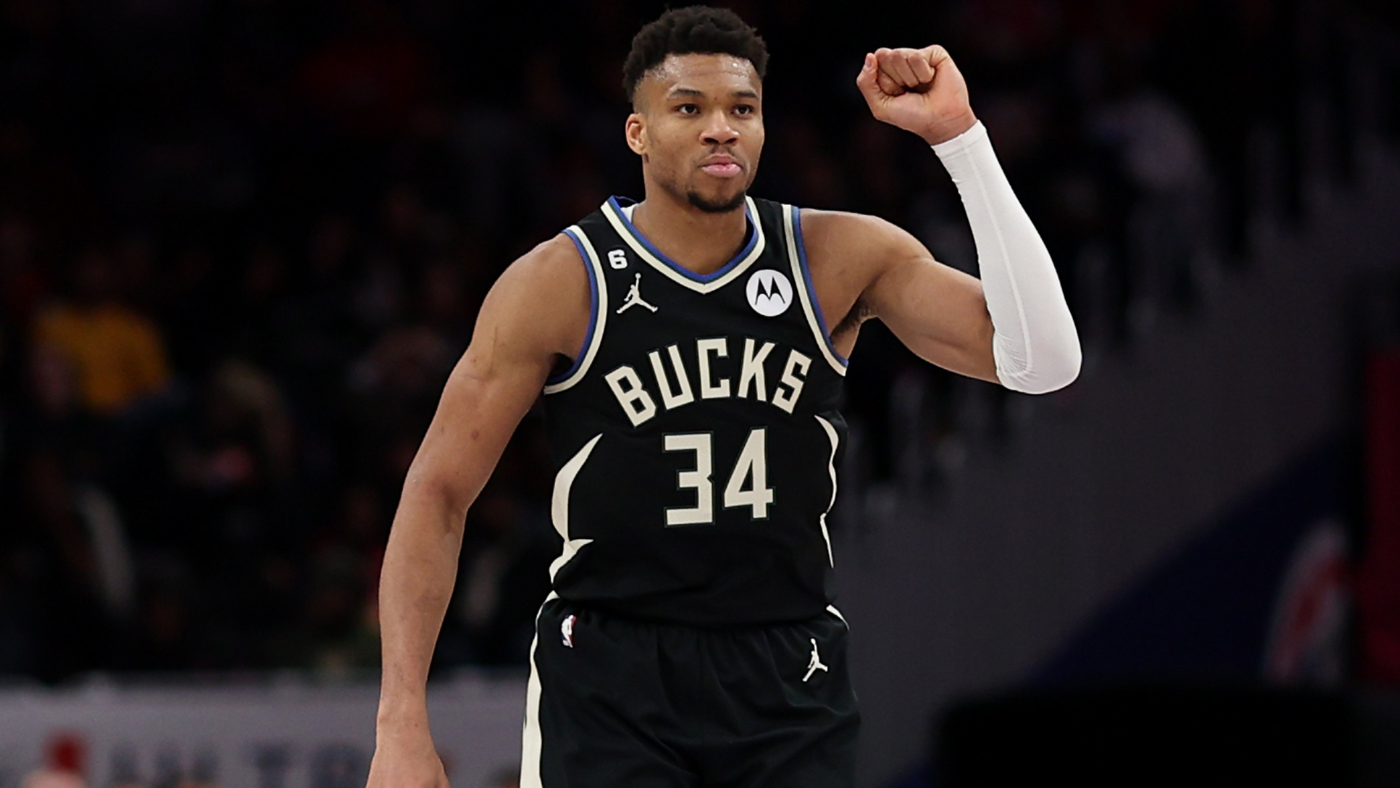 With less than a month into the 2022-23 NBA regular season, there is still so much to decide in the seeding races. But whatever the outcome, I think a reasonably reliable championship picture is starting to emerge, albeit a fairly large one.
Below are my top five title contenders as they stand…
Winners of 21 of the last 23, the Bucks at least look like the best team in the Eastern Conference as they continue to bring Khris Middleton to his knees.
That Milwaukee currently has the best record in the league despite the Big 4 of Giannis Antetokounmpo, Jrue Holiday, Middleton and Brook Lopez (who could be Defensive Player of the Year) playing just five games together all season is a bright red warning to all Challengers, especially when Middleton, who posted a season-high 31 in Milwaukee's big win over Sacramento on Monday, embarks on something closer to his typical performance and efficiency in the playoffs.
Giannis should get more MVP love than he is. He's arguably the most unstoppable force in today's game, and the Bucks are fully behind him. Depth. Versatility. Shoot. In a playoff landscape composed of extremely tight margins, guys like Pat Connaughton, Joe Ingles, Jae Crowder, Bobby Portis, and Grayson Allen will be cut out of the classic big-shot RPG mode, and Jevon Carter and Holiday will be your point guard 48-minute seizures.
What bothers me about Milwaukee? Offense. This is a lower half unit. They pick up 3s but can struggle to get a quality look in half court. A to-the-point Middleton goes a long way to fixing this. If you can get Giannis to put his head down and blast through multiple defenders in stagnant environments, you might have a shot for seven games to withstand his unrelenting power.
Kevin Durant could miss the rest of the regular season after playing just three games with the Suns, but if any superstar is primed to weather an extended absence and dive straight into the postseason fire without missing a beat , it's Durantwho has burst into flames again in the past after long injury layoffs.
In theory, if we ended up with a Phoenix-Milwaukee finale, you could easily vote for the Suns because they're uniquely built to emphasize Milwaukee's camber coverage – and neutralize Lopez's rim guard – a trifecta of the most versatile pick-and-roll Creator and deadliest pull-up shooter in NBA history.
Also, the Suns have one of the best pace controllers we've seen in Chris Paul. Hold Milwaukee in a slower halffield game and you have your best shot at knocking them out.
For me, the first swing guy is Deandre Ayton. In the three games Durant played, his touches almost halved. He needs to be involved offensively, not just because he's committed defensively, but because he'll have so much leeway to act on the short roll and on deep seals with defenders spread across Booker and Durant.
Paul is another swing guy. He's fallen off this season and likely won't be the primary shot creator or snake-dribbling-in-elbow-pull-up robot he was in the past, but assuming whatever's happening in the moment , will continue to happen in the future, is how you go broke. Things often change in the blink of an eye, for better or worse, and I'd be pretty confident in betting that Paul will be a big factor in the playoffs.
Teams will leave Josh Okogie, Torrey Craig and even Damion Lee (who has been on fire all season) open to make Durant and Devin Booker see doubles, but Paul will see plenty of cushion himself and how he's capitalizing on those opportunities, either by attacking space and finding corner shooters or pulling the trigger himself could go a long way in deciding the fate of Phoenix.
Do I have any Phoenix concerns? Yes. Depth and 3 point shooting. In fact, these outlet shooters have to pocket and make a relatively large amount of 3-pointers for Phoenix in the playoffs. The Suns aren't a 3-point offensive player, and even with arguably the two best midrange players in the game, it's hard to beat threes with twos.
I don't approve of Golden State's regular-season road incapacity at all. I can't explain it, but as long as they get into a first-round streak (far from guaranteed) they'll be reset and be as dangerous as last year when we also tried to write them off as a top contender at several points of the season, just to see it all win.
So, for the record, you've been warned: sleep on this team at your own risk.
Two keys: Andrew Wiggins and Gary Payton II. Wiggins is irreplaceable on this team. He was the second most important player on the 2022 title team. First, will he come back? And second, when he does, does he jump right back into the rhythm?
As for Payton, the Warriors outplayed opponents by nearly 16 points per 100 possessions when he was on the court in last year's playoffs, according to Cleaning the Glass. His ball pressure, his transition energy, his half-court cutting, he's absolutely vital, which is why the Warriors paid to bring him back after letting him go to Portland in the summer.
So, same thing as Wiggins: Will Payton come back healthy for the playoffs? And if so, does he immediately jump into the rhythm? Because this has to happen immediately. The Warriors will have an extremely difficult first round matchup, no matter what the outcome.
But when they get it going, this is a sleeping giant. Stephen Curry is still the most influential player in the world in my opinion and Klay Thompson has been on form since the turn of the year.
Boston is right there with each of the top contenders. They have all the championship markers: top-five offense and defense, elite duo in Jayson Tatum and Jaylen Brown, top-end depth with Malcolm Brogdon, shooting, defensive lineup and versatility, one-on-one creation, rim protection with Robert Williams, experience, the bitter aftertaste of being so close from last season, etc.
A possible outcome of the Boston-Milwaukee conference would be war, and while I've favored Boston in most of my analysis throughout the season, I'm now leaning towards Milwaukee. They've just been so great the last six weeks and I can't ignore the fact that Milwaukee will probably win last season with a healthy Middleton.
I consider Boston's Bigs to be a huge swing factor. First order of business: Get the aforementioned Williams back healthy, and hold him healthy for the duration of the postseason. In last year's playoffs, the Celtics were better defensively by 8.2 points per 100 possessions, per CTG, when Williams was down. He's about as effective as any rim guard in the league when he's clicking with his coverage radius and vertical pop, and on the other hand, his offensive rebound is a huge advantage.
Then there's Al Horford, who's just months from his 36th birthday and is still rock solid. Among all players attempting at least four 3-pointers per game, Horford is second in the league (behind teammate Malcolm Brogdon) with a 45.3% clip. Over a quarter of Horford's 3's are coming from the corner this season, a career high by far, and he's making 49% of those. If he continues to be that kind of safety valve option while Tatum and Brown command attention, Boston will be very hard to beat.
Issue? Support shooting doesn't continue, which the Celtics need because they can't get to the rim at high speed. The Celtics stop moving the ball at the wrong time, get drunk one-on-one, and Robert Williams, who was never able to stay sane for long, injures himself again. Tatum's wrist already requires off-season surgery; What if he makes it worse again? Who knows how much that bothers him.
What about Grant Williams, the guy who won Game 7 against the Bucks last season for Boston by pretty much seven 3-pointers? He's one of the biggest postseason wildcards. When he's hot at the right time, just like Horford, Boston gets really tough.
When the Clippers signed Russell Westbrook, I wrote that if they won a championship it would be in spite of Westbrook, not because of him. There's still a little part of me that thinks they can pull it off despite him.
As of Jan. 1, Kawhi Leonard's 3-point clip is the second-highest in the league at 49% among any player who has scored at least four per game, behind only Kevin Durant, who has only played seven games in that span.
With Leonard playing at this level and seemingly in better health than ever and ready to play big minutes for what will hopefully be a long postseason, the Clippers have what is possibly the most dangerous man in the playoffs. He's proven that before. I think under the right circumstances he can do it again.
When Leonard and Paul George were on the ground together this season, the Clippers have amassed an elite 120 points and outscored opponents by nearly eight per 100 possessions, per CTG. We'll see how many times Ty Lue goes small in the non-Zubac minutes with the addition of Mason Plumlee, but regardless of his lineup choices, he has options.
The Clippers have the bench scoring at Normal Powell. I love Terance Mann. You have shooting, defense (theoretically), and semi-court formation. I wish they were at the free-throw line more often, and it's disturbing that only six teams get to the rim less often than the Clippers. They have to fire a lot of shots to keep up with the top teams and I'm not sure I trust Lue to consistently bench Westbrook for as long as needed. But I just can't get Kawhi and PG playing at their best out of my head. If they reach that peak, the Clippers can win everything.
Sorry to…
Philly 76ers: I can't trust a defense covering James Harden and Tyrese Maxey to last four rounds. I don't think Harden will be a 40% 3 point shooter in the playoffs. I don't believe in Doc Rivers. The Sixers just aren't creative enough offensively and I think at some point they're going to have to lean on the guys to make individual plays and shots and it's not going to work against the real contenders.
Denver Nuggets: Don't totally believe in the defense. Asking Jamal Murray to go into bubble mode is too much.
Memphis Grizzlies: Uncertainty about Ja Morant and Steven Adams, and ultimately I don't trust a team in the playoffs that is so dependent on transition. Memphis' inability to pull off a consistent offense in court is where they fall off the list of top contenders for me.
Dallas Mavericks: Can't stop anyone Forgiveness.
Kings of Sacramento: Just like Dallas.
Cleveland Cavaliers: You're going to give seizures to a team, or maybe a few teams. Donovan Mitchell is an electric playoff scorer. Darius Garland is cash. The twin towers are a defensive burden. Ultimately, I don't think Cleveland are taking or making enough 3s to bridge the collective talent gap between them and the top contenders; Issac Okoro's shooting, in particular, has fallen back to earth, and that 3-point is a pressure point for Cleveland when the defense can ground a shooter with two bigs not shooting already.
Los Angeles Lakers: That will not happen.
New York Knicks: Not enough talent.
Strong heat: Save your culture lecture.
https://www.cbssports.com/nba/news/ranking-nbas-top-five-title-contenders-bucks-suns-a-cut-above-warriors-a-sleeping-giant/ Ranking of the NBA's top five title contenders: Bucks, Suns up a notch; warrior a sleeping giant