"Rafael Nadal has no choice but to play well straight away," said Patrick Mourtaglou as he analyzed the Spaniard's chances at Roland Garros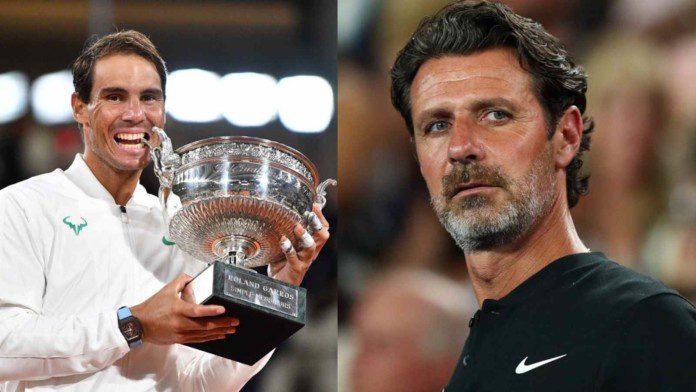 Tennis fans around the world are waiting to watch the clay court season as players prepare for the upcoming season Roland Garros. Over the years, Rafael Nadal has heavily dominated the Grand Slam, winning the title 13 times, a record. However, last year the Spaniard was eliminated in the semifinals after losing to him Novak Djokovicwho went on to win the Grand Slam, so Nadal will aim to reclaim the crown from the Serb.
But renowned tennis coach Patrick Mouratoglou believes it won't be that easy for the Spaniard, especially with his current stress fracture. The 35-year-old, who won the Australian Open this year after returning from injury, is aiming for another miracle as he continues to recover and plans to perform at Roland Garros.
Mouratglou, known for his apt analysis, shares his verdict on how crucial this Roland Garros will be for both players. He tells how Novak Djokovic, who wins the French Open, will bring him back to the level of Nadal. Whereas the Spaniard getting another Grand Slam allows him to get some more breathing room
"I think this clay court season is going to be amazing. There is so much at stake because who will win Roland Garros is key. If it's Rafa then he has two more Grand Slams than Novak and if it's Novak they go equal and Novak has a better chance than Rafa on grass. And this fight between the two for the most Grand Slam titles is incredible, so Roland Garros can be the key. The Clay season is going to be incredible and if you look at the start of the season and the global situation Novak has the edge for me", Patrick Mouratoglou analyzes the GOAT race ahead of Roland Garros on Instagram.
However, Mouratoglou shared how the off-field issues hampered Djokovic's progress and how Nadal capitalized on this with both hands. "But because of this Covid story, he (Novak Djokovic) couldn't play most of the year. He's missing a lot of games and on the other hand, Rafa gained so much confidence when Novak wasn't playing, he won almost everything. "They have Novak who would be at an advantage but with what has happened Rafa is now ahead. But then Rafa gets injured and he won't be able to play much this season, so it sort of balances out." added the Frenchman.
Patrick Mouratoglou tells how difficult it can be for Rafael Nadal at Roland Garros after returning from injury
However, the 35-year-old's recent injury spell has once again swung the pendulum in favor of Novak Djokovic. It will be difficult for the Spaniard to come back and play at Roland Garros straight away from injury.
"I think it will be tough for Rafa. Luckily for him, he has a lot of confidence from the start of the season. But we know how much he loves playing many matches before Roland Garros to feel like he's in full control. He needs control and if he doesn't get control it will be very difficult for him."
"The fact that he can't play many tournaments before Roland Garros will be a big hurdle for him. Because he has no choice but to play well immediately. At the beginning of the clay-court season, he often doesn't play well at all. Last year, for example, he didn't start well. It took him 4-5 tournaments to be the real Rafa. He won't have those tournaments this year. So he has no choice but to play well from the start. It won't be easy for him." explained Mouratoglou.
The 51-year-old concludes by highlighting that this year's Roland Garros will be the most open and competitive of the last decade. "If you think about Roland Garros now, you can think that it's the most open in 10 to 15 years." he concluded.
The Roland Garros kick off on May 22 and all eyes will be on Rafael Nadal, who is trying to recover from a stress fracture in his rib and trying to get back on the pitch.
Also read: "Even on clay Novak Djokovic is the best player in the world" Patrick Mouratoglou explains what makes the Serb a French Open favorite this season
https://firstsportz.com/tennis-rafael-nadal-has-no-other-option-but-to-play-well-straight-away-feels-patrick-mourtaglou-as-he-analyses-the-spaniards-chances-in-the-roland-garros/ "Rafael Nadal has no choice but to play well straight away," said Patrick Mourtaglou as he analyzed the Spaniard's chances at Roland Garros