Palestinians demand hundreds of people be evacuated from Shifa hospital
The operation came after the military took broader control of the northern Gaza Strip on Tuesday, including the capture of the territory's parliament building.
DEIR AL-BALAH, Gaza Strip – The Israeli military raided the largest hospital in the Gaza Strip early Wednesday, carrying out what it called a "precise and targeted operation against Hamas in a specific area" of the facility, where a standoff ensued with the verdict militant group.
Israeli authorities claim the militants concealed military operations at Shifa Hospital. However, with hundreds of patients and medical staff inside, the military refused to enter.
In recent weeks, Israel Defense Forces have publicly warned that such use of the hospital "endangers its protected status under international law," the military said. On Tuesday, military officials again told Gaza authorities that all military activities at the hospital must cease within 12 hours.
"Unfortunately, that is not the case," the military said.
Hamas has denied Israeli accusations that it is using the hospital as cover.
Israeli military officials did not provide further details but said they were taking measures to avoid harm to civilians.
The operation came after the military took broader control of the northern Gaza Strip on Tuesday, including seizing the territory's parliament building and police headquarters. These achievements had great symbolic value in the country's quest to dismantle Hamas.
Meanwhile, Israeli defense officials said they had agreed to allow some fuel shipments to the Gaza Strip for humanitarian operations. It was the first time Israel had allowed fuel into the besieged area since Hamas' bloody cross-border invasion on October 7.
In some of the captured buildings, soldiers held up the Israeli flag and military flags in celebration. In a nationally televised news conference, Defense Minister Yoav Gallant said Hamas had "lost control" of the northern Gaza Strip and that Israel had made significant gains in Gaza City.
But when asked about the time frame for the war, Gallant said, "We're talking long months, not a day or two."
An Israeli commander in Gaza, identified only as Lt. Col. Gilad, said in a video that his troops had seized government buildings, schools and residential buildings near Shifa Hospital, where they found weapons and eliminated militants.
The army said it captured parliament, Hamas police headquarters and a compound that housed Hamas military intelligence headquarters. The buildings are powerful symbols, but their strategic value was unclear. Hamas fighters are believed to be stationed in underground bunkers.
The Israeli army surrounded the country for days Shifa Hospital. Hundreds of patients, staff and displaced people were trapped inside, supplies were running low and there was no electricity to run incubators and other life-saving equipment. After days without refrigeration, morgue workers dug a mass grave in the yard Tuesday for more than 120 bodies, officials said.
Elsewhere, the Palestinian Red Crescent said on Tuesday it had evacuated patients, doctors and displaced families from another hospital in Gaza City, Al-Quds.
Israel has vowed to end Hamas' rule in Gaza after the militants attacked Israel on October 7 killed about 1,200 people and took about 240 hostages. The Israeli government has acknowledged that it does not know what it will do with the territory after Hamas's defeat.
The Israeli attack – one of the most intense bombings this century – was catastrophic for the 2.3 million Palestinians in the Gaza Strip.
According to the Palestinian Ministry of Health in Ramallah, more than 11,200 people were killed in Gaza, two-thirds of them women and minors. Around 2,700 people were reported missing. The Ministry's count does not differentiate between civilian and militant deaths.
Almost all of Gaza's population has squeezed into the southern two-thirds of the tiny territory, where conditions continue to deteriorate despite continued bombardment. About 200,000 people have fled the north in recent days, the United Nations said on Tuesday, although tens of thousands are believed to remain.
The U.N. agency for Palestinian refugees said Tuesday that its fuel depot in Gaza was empty and that it would soon halt aid operations, including transport limited supplies of food and medicine from Egypt for more than 600,000 people seeking protection in schools and other institutions in the south.
"Without fuel, the humanitarian operation in Gaza is coming to an end. Many more people will suffer and probably die," said Philippe Lazzarini, UNRWA Commissioner General.
Israeli defense officials, who had repeatedly refused to allow fuel into the Gaza Strip on the grounds that Hamas would divert it for military use, changed course early Wednesday. Israel will allow about 24,000 liters (6,340 gallons) of fuel into the Gaza Strip for humanitarian operations, officials said.
The Coordinator of Government Activities in the Territories, the Israeli Defense Agency responsible for Palestinian affairs, said it would allow refilling of U.N. trucks at the Rafah crossing on the Egyptian border later on Wednesday. The decision was in response to a request from the USA, it said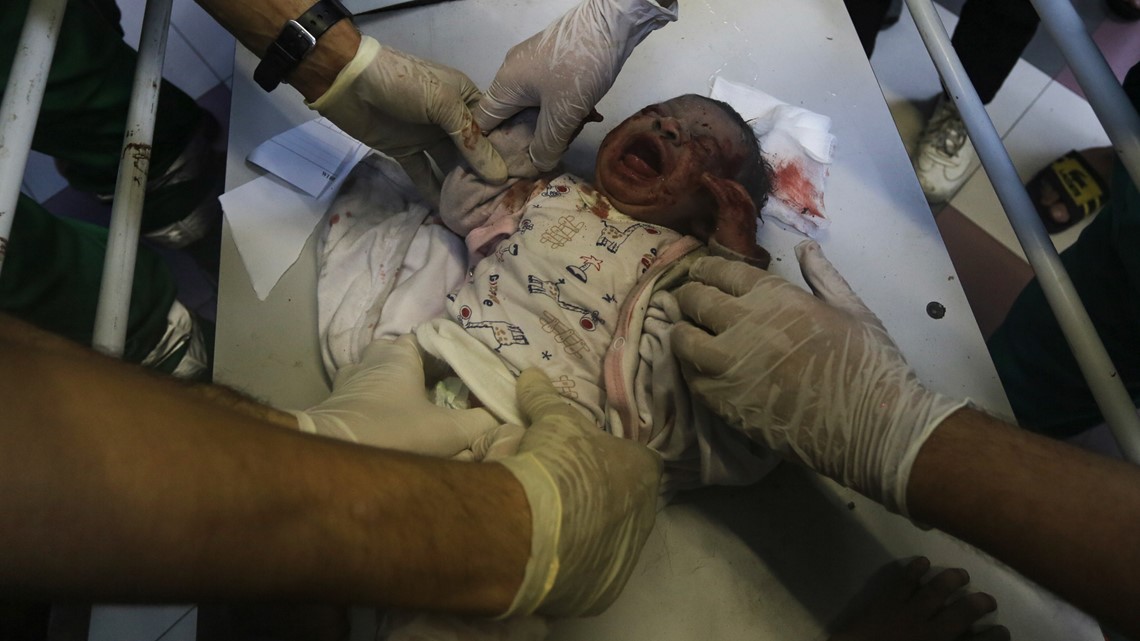 Plight of hospitals
Fighting has been raging for days around the Shifa hospital complex in central Gaza City, which has now "turned into a cemetery," the director said in a statement.
The Health Ministry said 40 patients, including three babies, had died since Shifa's emergency generator ran out of fuel on Saturday. According to the ministry, another 36 babies are at risk of dying because there is no electricity for incubators.
The Israeli military said it had begun moving incubators to Shifa. But without electricity they would be useless, said Christian Lindmeier, spokesman for the World Health Organization.
The Health Ministry proposed evacuating the hospital under the supervision of the International Committee of the Red Cross and transferring the patients to hospitals in Egypt, but received no response, ministry spokesman Ashraf al-Qidra said.
While Israel says it is ready to allow staff and patients to evacuate, some Palestinians who have managed to do so say Israeli forces have fired on evacuees.
Israel claims there is a Hamas command center in and under Shifa are based on intelligence information, but there is no visual evidence to support them. Gaza's Health Ministry denies the claims and says it has invited international organizations to investigate the facility.
The evacuation of Al-Quds Hospital followed "a more than 10-day siege during which no medical and humanitarian supplies could reach the hospital," Palestinian Red Crescent officials said.
In a post on X, they accused the Israeli army of bombing the hospital and shooting those inside.
White House National Security Council spokesman John Kirby said the U.S. had unspecified information that Hamas and other Palestinian militants were using Shifa and other hospitals and tunnels beneath them to support military operations and hold hostages.
The intelligence is based on multiple sources and the U.S. collected the information independently, a U.S. official said on condition of anonymity to discuss sensitive matters.
Kirby said the U.S. does not support airstrikes on hospitals and does not want a "firefight in a hospital where innocent people" are trying to get treatment.
March for hostages
Families and supporters of around 240 people held hostage by Hamas started a protest march from Tel Aviv to Jerusalem. The fate of the hostages has dominated public discourse since the October 7 attack, with solidarity protests taking place across the country. Protesters expected to reach Jerusalem on Saturday say the government must do more to bring their loved ones home.
"Where are you?" Shelly Shem Tov, whose 21-year-old son Omer is among the prisoners, called out Netanyahu. "We have no strength left. We have no strength. Bring our children and our families home."
BATTLE IN GAZA CITY
It has been nearly impossible to gather independent reports on the fighting in Gaza City because communications with the north have largely broken down.
Israeli military spokesman Daniel Hagari said Israeli forces had completed the takeover of the Shati refugee camp, a densely built-up district bordering central Gaza City, and were free to move throughout the city.
Videos released by the Israeli military show troops moving through the city and shooting at buildings. Bulldozers demolish buildings while tanks roll through streets surrounded by partially collapsed towers.
The videos show a battle in which troops track down groups of Hamas fighters and tear down buildings wherever they find them, while also gradually dismantling the group's network of tunnels.
Israel says it has killed several thousand fighters, including key mid-level commanders, while 46 of its own soldiers were killed in Gaza.