"'OLD-AGE' Lakers are paralyzed by the past" Colin Cowherd details how LeBron James and Co. need to bring back Jerry Buss-like ideas and vision to resurrect from dead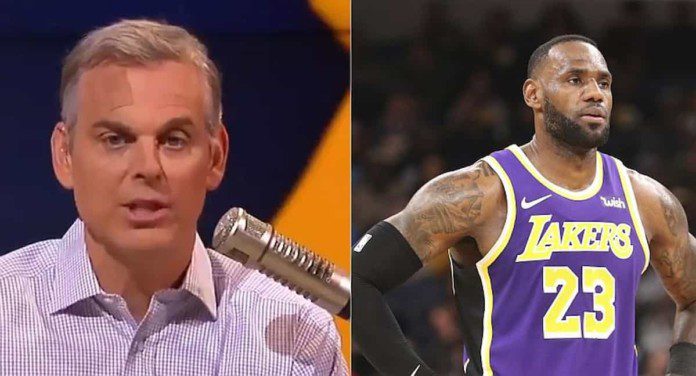 Before the 2021-22 NBA Season began, Los Angeles Lakers were deemed to be the favorites to win the title. But with just over 8 games to go for each team in the regular season, we night not even witness the purple and gold army making it to the postseason. Which has urged Colin Cowherd to come out and detail upon the much-required amendments which the old-age Lakers need to come out of their depleted void. 
Majority of the Lakers signing have proved to be dreadful for the team, be it Carmelo Anthony or Russell Westbrook, the above 30-year-old players have flopped big time in the 2021-22 season. On the other hand, younger squads like Memphis Grizzlies have been superb, ensuring that they have already secured the second seed in the Western Conference. On the same notes, Colin Cowherd decided to detail what changes the Lakers must make. 
Also Read: Warriors' star Stephen Curry's instant and true reaction to Will Smith…
Colin Cowherd on Jerry Buss changing the fortune of Los Angeles Lakers 
Discussing how the Lakers can be saved, Colin Cowherd started by praising the late Jerry Buss, "He was such an innovator, such a risk-taker, Laker Girls were considered much sexualised, they put actors up front. He was broke when he started running this franchise (Los Angeles Lakers)." 
Cowherd went onto urge that the modern-day and current Lakers roster is in dire need to make necessary changes, after they have been brutally beaten by the New Orleans Pelicans. To those who are not aware the Lakers were on a 3-day rest before they entered this contest and were tortured by former Laker, Brandon Ingram. 
He stated, "They are the oldest roster in the NBA, Melo, Howard, Westbrook, I mean they look like an All-Star team, 9 years ago. The showtime Lakers were bold, aggressive and innovators. And now all I see in the Lakers, is that they are paralyzed by the past. Kobe's former agent is the President. Executive is former Laker. I'm not trying to pick on people, they may be capable. But when Jerry buss bought this team who got Magic Johnson to challenge the legendary Kareem Abdul Jabbar. Who could do that now, who can challenge LeBron James?" 
Colin Cowherd does make a valid point here; the Lakers have seen their ideas clearly not working and they need to make effective changes if they are to stand a chance in modern-day NBA. With elite changes required as early as possible, all eyes will be on whether Spurs could upset Lakers to make the postseason or not? 
Also Read: Kyrie Irving's strong message on COVID-19 vaccine stand after Nets' loss…
https://firstsportz.com/nba-old-age-lakers-are-paralyzed-by-the-past-colin-cowherd-details-how-lebron-james-and-co-need-to-bring-back-jerry-buss-like-ideas-and-vision-to-resurrect-from-dead/ "'OLD-AGE' Lakers are paralyzed by the past" Colin Cowherd details how LeBron James and Co. need to bring back Jerry Buss-like ideas and vision to resurrect from dead