Nintendo Life's Biggest Game Regret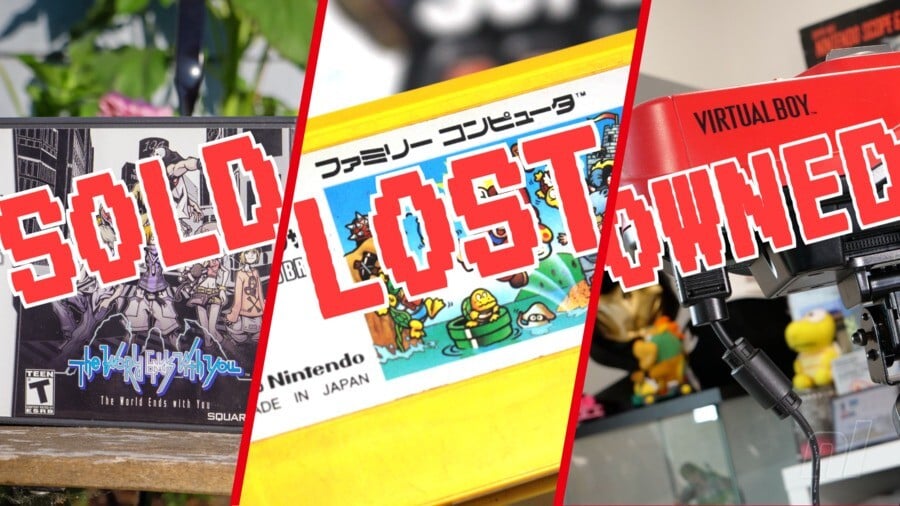 Here's some news: We're not the wrong people here at Nintendo Life. Hard to believe but true.
Not all of us sit on the throne of priceless Spice Orange consoles and rare SNES games, although a few of us have. collect some odd jewelry here and over there. But life doesn't always go as it should… In fact, we've all had our share of mistakes and woes that we look back on with shame and grief. Sometimes, we miss great deals, lend a less-trusted friend a valuable game possession, or sell a game that will later become priceless (monetarily or emotionally). ). These are the stories that keep us up all night.
And, for our friends and colleagues on Nintendo Life YouTube Channel have admitted their worst gaming mistakes in the past (see video at bottom of page), we can be honest in the same spirit.
So! Without further explanation and trying to explain our shame, here are our biggest regrets from gaming.
---
Kate Gray, Screenwriter

There are no Ragrets. That is my motto. But it is not true. I have a lot of scrap.
The main ones I have are based on a particular moment in my life. I was in college, and didn't have much money at the time, as I spent most of it on lectures and instant noodles. But I wish… game.
My solution was HMV's rather generous (at the time) commercial policies, which gave me store credit in return for my games. I will buy a game, like Ghost trick, Professor Layton, and Okamiden, play the whole thing as quickly as possible, then redeem it for the maximum amount of store credits (usually half the cost of a game). With that credit, I'll buy another game…wash and repeat.
While this leads to me getting a chance to play a lot of excellent games, it also leads to me not really own any of them in the end. Now that I have extra disposable income, I've bought back all – and the DS games Not cheap. I have yet to find a reasonably priced copy of Ghost Trick. However… I'd rather have a lot of memories and no games at all, than own one or two games that I could afford at the time.
Also, I wish I could go back in time and replay it Hall VA11-A. I think I've been pretty unfair about that in my reviews (which you can read here, and also here), with a focus too much on the concoction, not the story (which is a bit more interesting). To protect myself, I worked very hours, and I was stressed, tired, and sad at the time – but I couldn't turn down the job! It made me re-evaluate what a "review" can and should be, and what a reviewer owes the audience. and we.
Gavin Lane, Editor
Most of my gaming regrets are based on bargains I didn't snag or games I sold during liquidation. At that point, it made sense to destroy a few games and get back the two Billy Bookcase's worth of DVDs, which is why I no longer own Metroid Prime trilogy or Killer7. Bad time.
Not buy Resident Evil chainsaw controller for GameCube when I see it for 20 quid is another bug that comes to mind all the time. Lending Sonic & Knuckles and Castle of Illusion to a schoolmate and getting them back to me won't work unless you nudge the stroller out a millimeter or two out of the slot is another one. However, I learned a lesson in trust there.
But probably my biggest game involves "what the hell am I thinking?!" was the moment in a tough patch I decided to sell my Xbox 360 Elite. I'm savvy enough to maintain the games – again, I'm not sure why – but Microsoft didn't introduce save to the cloud at the time, or I didn't know they existed (pretty sure). old game) and all my precious save data was deleted as I prepared my Elite for the trip to GameStation.
Those aren't the saves I miss – the achievements I've unlocked are saved forever to my Xbox profile – but I've built some stunning creations (if I say so) in Banjo-Kazooie Nuts & Bolts, and now they just disappeared. I don't even have the little screenshots I took of the London bus, the Ecto-1, or my wonderful USS Enterprise to suggest possible reconstruction. It's bloody, huh?
Gonçalo Lopes, Contributor
A younger version of this humble scribe who still lives with his parents once stepped into the local Cash Changer to be blessed with a complete Nintendo Entertainment System in a box with two tables keys. The whole thing is in on-site condition, and of course, if someone sold the NES they'd probably scrap their game as well. My heart almost skipped a beat when I found out Super Mario Bros. 2, Super Mario Bros. 3, Mega Man 2, Speculum and Faxanadu also in their pristine CIB glory.
I didn't think twice about grabbing the whole lot for an absolute bargain and spent the next week playing those games in absolute bliss. Despite having a lot of friends using NES and Famiclones, I've never had one myself because by the time Nintendo arrived in Portugal, the Commodore Amiga ruled my household. My parents didn't care much for the space this "incredible find" occupied in a living room that was unusually filled with an extensive collection of GameCube games. I had no choice but to sell the entire lot for double the purchase price (and I can guarantee it's still a bargain!).
It was only a few more years before I bought and moved into a home of my own, one of the biggest changes in my youth since that time I never even had a bedroom to call my own. me. At this point in my brief NES ownership, I had no idea I was moving out so soon nor did I have a real sense of how valuable those games would become. Along with the NES Classic Mini, I keep two CIB NES games on my living room shelf (Ice Hockey and Steel Blade) as a reminder to never (ever!) Which has to do with my youth.
Ollie Reynolds, Critic
So my biggest gaming regret is not that I've been gaming too specific, but rather a general life regret that happened to greatly affect my beloved hobby. So gather, kids, and listen to a story of real bad things.
Back when I was about 14 or 15 years old, I amassed a bunch of Game Boy Advance games to go with the NES version of the GBA SP. It is my pride and joy. Of course, being an impressionable teenager, I got a phone deal and used it to chat with a girl I liked better, in the early hours of the morning.
Now, the mid-2000s contracts don't bring you much money; maybe about 50 text messages per month. I went further than that, earning a bill of around £150-200 in just one month. Suffice to say my parents weren't very pleased, so to make sure the full amount would be paid out comfortably, they brought my GBA SP along with many of its games to the nearest store and sell them right there.
Ladies and gentlemen… I said. I was devastated and I know it was my fault. Needless to say, I lost contact with the girl I was texting with. Heck, I'm not even sure I remember her name now…
However, I miss my GBA. Daily. I hope it finds a good home.
---
Good (or possibly bad) news: We're certainly not alone in our game regrets that kept us up at night. We polled on Twitter and received over 150 responses (at time of writing). Here are a few picks from some of the hardest hit:
So welcome to Nintendo Life confessional where we will forgive you for all your gaming sins (unless someone else loses/discards/destroys/sells your game. will never be forgiven). Tell us: What do you regret about playing the game?
https://www.nintendolife.com/features/nintendo-lifes-biggest-gaming-regrets Nintendo Life's Biggest Game Regret