NFL Offseason Storylines to Watch: What Will Tom Brady Decide? Can the Eagles keep their free agents?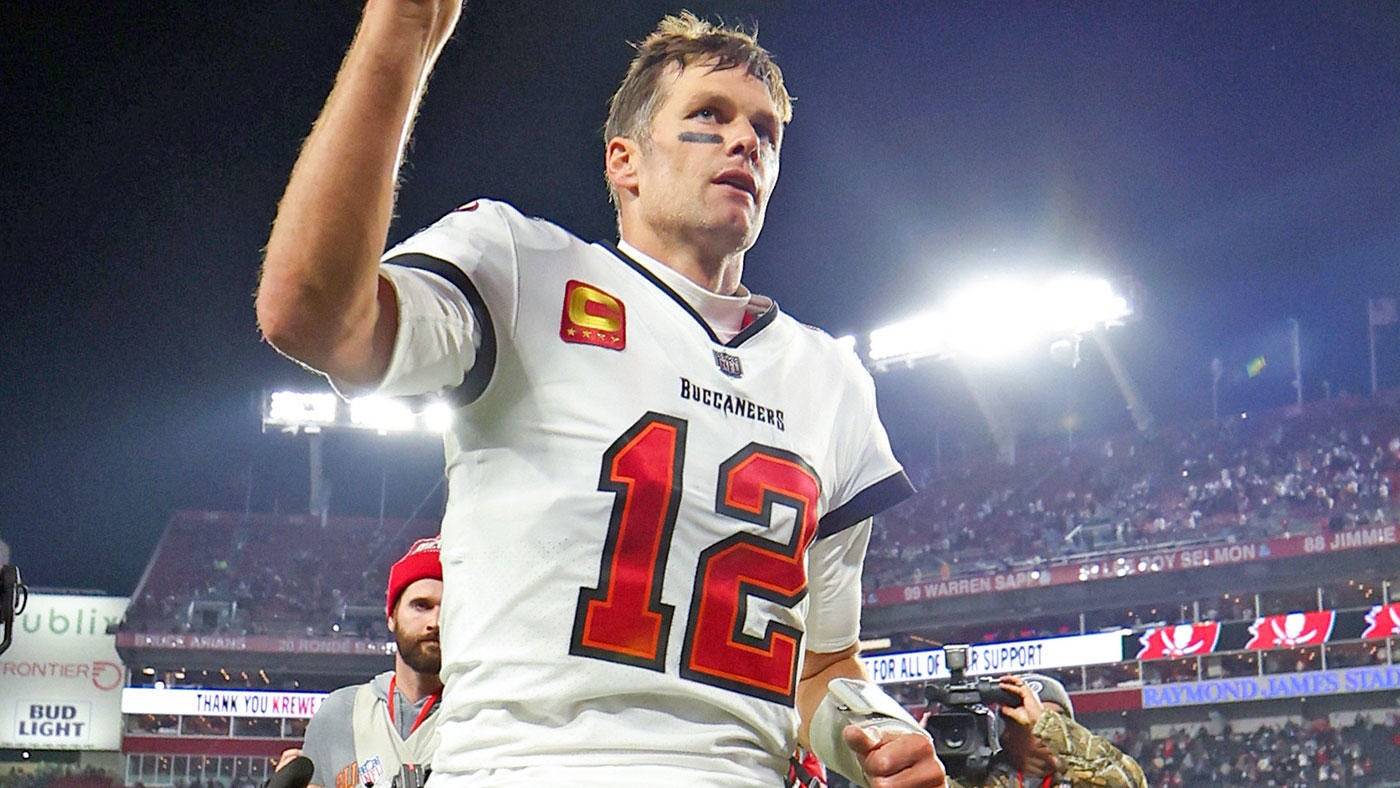 As the Philadelphia Eagles and Kansas City Chiefs prepare for Super Bowl LVII, the 30 teams not participating in the Big Game prepare for the 2023 season. The league has one game left before the NFL offseason madness begins, especially with free agency less than two months away and the draft less than three months away.
The NFL offseason won't be short of drama either, especially after last year's free-agent frenzy. Teams will try to up their ante to reach the Super Bowl and compete with the Eagles and Chiefs in the future. This free agent season will certainly be quarterback focused as there can be significant movement among signal callers across the league.
With the off-season just a few weeks away, these are the key storylines to keep an eye on:
For the third time in the last four offseasons, the NFL world revolves around Tom Brady and his decisions for next season. Brady, who will soon be 46, has a few options to consider, including actually retiring and accepting the 10-year, $375 million deal with Fox.
Brady retired last season but that lasted 40 days and he decided to return to the Tampa Bay Buccaneers. A return to Tampa Bay seems unlikely for Brady, so there are a few options available. What about the Las Vegas Raiders, San Francisco 49ers or Miami Dolphins? Are these franchises enough to entice Brady to play another season — or two?
This offseason will be critical for Brady and the franchises who are just one quarterback away from being Super Bowl contenders. Any team that gets Brady gets multiple players with him.
Aaron Rodgers and the Packers have been playing the dance game for the past two offseasons, resulting in Rodgers being the highest-paid quarterback in the league and the Packers trading their top passcatcher in Davante Adams. With the Packers letting Jordan Love enter the final year of his rookie deal, will Green Bay and Rodgers finally decide to part ways?
The New York Jets hired Nathaniel Hackett as their offensive coordinator to lure Rodgers in, and the Las Vegas Raiders have Adams in case Rodgers wants to reunite with him. There's bound to be a bidding war for Rodgers in the trade market, especially since he has two more years to close this three-year, $150 million deal.
3. Will the Ravens sign a long-term deal with Lamar Jackson?
Lamar Jackson's future with the Ravens is as uncertain as it comes, especially since both sides failed to secure a long-term deal before the quarterback's self-imposed preseason deadline. The Ravens can certainly franchise Jackson and try to work out a long-term deal this offseason, but does Jackson even want to be in Baltimore at this point?
The Ravens certainly didn't help Jackson by providing him with pass catchers this season, who matched Jackson's strengths with a run-first offense for his entire Ravens tenure. Baltimore made a switch from longtime offensive coordinator Greg Roman as a result, and will seek Jackson's input in finding a new offensive coordinator.
Jackson's short-term future in Baltimore seems secure unless the Ravens decide not to pay him the lucrative extension he wants and move on. Then it gets interesting in terms of Jackson, where does he want to play, how much does he want and how much can Baltimore get for him.
4. Where will Derek Carr end up?
The Raiders will be succeeded by Derek Carr this offseason, but which team will Carr join? After the fates of Brady, Rodgers and Jackson are decided, will Carr be the consolation prize – or will Carr be the first domino to fall?
Since Carr joined the Raiders, the franchise has had the worst defense in the NFL. If Carr is given a second chance with a new franchise, will a more competent defense get the best of him? Carr was the franchise quarterback the Raiders had been missing since Rich Gannon, but failed to give the Raiders a playoff win despite being respectable.
Also, how much is Carr worth? What will teams be willing to pay him? With Carr on the market, it will be interesting to see which teams make the jump on him first.
5. Can the NFC Champion Eagles keep all of their free agents?
The Eagles have arguably the best roster in the NFL, rolling their opponents through the regular season and playoffs to advance to the Super Bowl. Not all of these players are guaranteed to return for the 2023 season, as several achievers are free agents.
James Bradberry, Javon Hargrave, CJ Gardner-Johnson, Miles Sanders, Fletcher Cox, TJ Edwards, Isaac Seumalo and Marcus Epps are the key starters who are free agents this upcoming March. That's a lot of good players the Eagles would need to keep — and Philadelphia can't keep them all with the cap space available.
The Eagles will have to get creative again on the salary cap and retain the players who are part of the long-term future. This team will definitely not be the same as the NFC championship roster.
6. Who will be the 49ers' quarterback next season?
San Francisco basically made its decision on Jimmy Garoppolo preseason when the 49ers decided to go to camp with Trey Lance. They revised Garoppolo's contract for 2022 and allowed him to run in free agency in 2023. Garoppolo essentially took over the job after Lance was injured and lost for the season, only to injure himself mid-season — and be replaced by Brock Purdy.
Purdy injured his UCL in the NFC Championship Game, a blowout that showed the 49ers could be a superstar quarterback away from winning the Super Bowl. With Christian McCaffrey, Deebo Samuel, George Kittle and Brandon Aiyuk in tow, it's important for the 49ers to maximize all the players at their disposal.
Does San Francisco think Purdy is the answer for 2023, or will the 49ers double their investment in Lance? With Brady and the other available free-agent quarterbacks enticing enough to walk away from either?
San Francisco must make a difficult decision that will mean the difference between winning the Super Bowl or failing in the postseason.
Saquon Barkley is the cream of the crop among loaded running backs in free agency, but how much will he command from the Giants? Barkley has said he doesn't want to dominate the running back market, though he will be the standard after his best season since his rookie year.
Barkley may not be the same player he was five years ago, but he's still a player that opposition defenses need to focus on. The Giants' offense was intermittently lost without Barkley in 2022, but New York is paying $10 million or more for its best offensive player. The Giants have the cap space but have other urgent matters to deal with on offense.
Barkley doesn't have to be the first domino to fall, but he'll be in high demand.
8. How Much Will the 2020 Quarterback Class Earn in Overtime?
Joe Burrow, Justin Herbert and Jalen Hurts are all in line for lucrative renewals in the upcoming offseason, especially as Burrow and Herbert exercised fifth-year options this year. Hurts doesn't have a fifth-year option as he was picked in the second round, meaning his extension from the Eagles could come sooner rather than later.
Aaron Rodgers earns the highest average annual salary for a quarterback at $50,271,667, which is sure to be broken after Russell Wilson earned $49 million and Kyler Murray $46.1 million last offseason.
Burrow and Herbert will rebuild the market and Hurts won't be too far behind them. Tua Tagovailoa will also be eligible for an extension, with an option coming in for the fifth year.
The quarterback market will reset with this talented class.
9. Will teams in this deep free agent tier pay any of these running backs?
There are many talented running backs that will hit the open market, but how much are these players worth? Saquon Barkley, Josh Jacobs, Miles Sanders, Tony Pollard, Kareem Hunt, Rashaad Penny, Jamaal Williams, Raheem Mostert, D'Onta Foreman, Devin Singletary, Samaje Perine and Jerick McKinnon are the notable names who will be free agents.
There are many good players for teams, but will these franchises go into a bidding war over some of these players? Will teams quell some of those backs and let the market play through to the draft — or after the draft?
Teams will seek the running back they want, but running backs are proving cheaper in a rookie deal rather than paying a player big bucks for his second contract.
Will that also be the case this off-season? There are many good players available.
https://www.cbssports.com/nfl/news/nfl-offseason-storylines-to-watch-what-will-tom-brady-decide-can-eagles-retain-their-free-agents/ NFL Offseason Storylines to Watch: What Will Tom Brady Decide? Can the Eagles keep their free agents?