NCAA bans playing 'fake slide' made famous by Kenny Pickett's touchdown run in ACC title game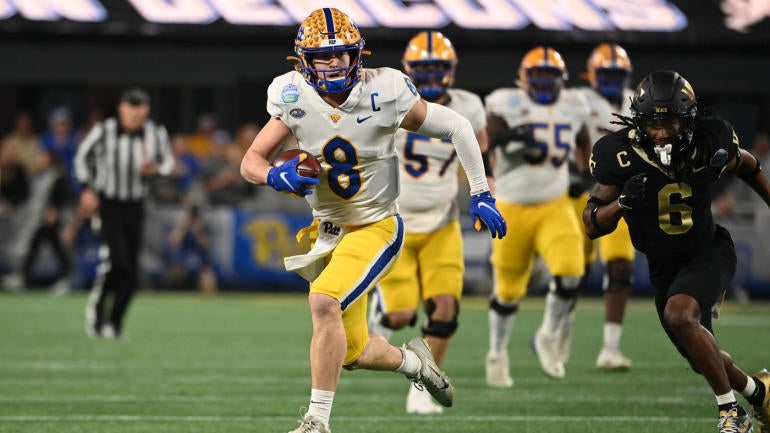 USATSI
One of the biggest spoofs of the season is now permanently banned – at least for the post-season period. Reacting to Pittsburgh quarterback Kenny Pickett's brilliant goal in the ACC Championship Game, the NCAA sent out a rule explanation Thursday that bans so-called "fake slides" by carriers shadow.
NCAA secretary's rules editor Steve Shaw sent an email to officials adding language to Rule 12-3-3 that deals with dead and loose balls. Paraphrased to officials that the ball would die if a ball carrier "simulated or faked it as if he would begin to slide with his front foot."
Pickett's 58-yard touchdown to open the scoring in the ACC Championship Game went viral when he beat a Wake Forest defender by briefly simulating a slide. Pickett later admitted the tactic, as of Thursday, had not yet been enshrined in the rules.
Officials fear that defensive players who have been taught to give up when a midfielder slips down will continue to attack knowing they can be fooled.
Shaw told CBS Sports: "From a player safety standpoint, everyone knows about the game. "We will know [a fake] on the field when we see it, and we kill it. "
The restraining order does not specify the penalty to be invoked. Rather, it allows officials to blow the play dead on the spot. The official's call will not be replayable.
The rules will change during the Army-Navy Game on Saturday, the season, College football Playoff and post-season competition at FCS, Division II and Division III levels.
It will be fully reviewed by the NCAA Rules Committee next spring. It's common to explain or tweak the rules mid-season, Shaw said.
https://www.cbssports.com/college-football/news/ncaa-bans-fake-slide-play-made-famous-by-kenny-picketts-touchdown-run-in-acc-title-game/ NCAA bans playing 'fake slide' made famous by Kenny Pickett's touchdown run in ACC title game