Michelle Yeoh reveals how she chooses which franchises to be a part of
From starring in Hong Kong action movies in the '90s to appearing in everything from Marvel to Star Trek: Michelle Yeoh has made a name for herself as an international actress. She recently appeared in American-born Chinese as a fictionalized version of the Bodhisattva and the Chinese mythological goddess Guanyin. The series is based on the graphic novel of the same name Gene Luen Yangbased on the story of an American teenager named Jin Wang (Ben Wang) and what happens when he meets Wei-Chen (Jimmy Liu), his new classmate who turns out to be the son of the legendary Monkey King Sun Wukong (Daniel Wu).
In our interview with Yeoh, we discuss what intrigued her about the role of Guanyin and the project American-born Chinese. We discuss the way the series portrays Guanyin in a more modern and covert context that goes beyond her traditional costuming. The series also features many familiar faces from her Oscar-winning film Everything everywhere at once and from the Marvel movie Shang Chi and the Legend of the Ten Rings, and we talked about what it was like getting back together with other actors and creatives. Finally, given her appearance in so many franchises past, present and future, Yeoh spoke about how she chooses which franchises to star in.
Check out the full transcript or watch the video below.
COLLIDER: First of all, I just want to say that I'm really looking forward to speaking with you again. we chatted [Everything Everywhere All at Once] when you were on the press tour and I want to congratulate you on your Oscar! So for American-born Chinese, you play an iconic mythological character. I believe that I and many Asians know the name Guanyin. What was it like embodying the character and bringing her into this modern setting? Because we don't just see them in all their glory.
MICHELLE YEOH: It's a real privilege and honor to play her, especially because she embodies everything good that we can imagine, right? If you can say, "I played Guanyin," people will think, "Oh my god, she has kindness, she has love, she has serenity," because that's what Guanyin does for us. But the fun part I have to say: It was easy to come out in their full regalia because Joy Cretton and Jose [Luis Ramos Jr.]who made the costumes really did her best with the headwear and the way the robes float when she comes down with the wind.
But to bring her into the 21st century, we had a little more fun but with a lot of respect for who this iconic goddess is. It was nice to see how she fit in, wasn't it? So the hoodie, the baseball cap. You would look and say, "Oh, that's a nice aunt," or, "That's someone who goes shopping and does the shopping," and things like that, and she wouldn't stand out like a sore thumb that way. I really enjoyed that part of it, giving her a sense of playfulness but without crossing the line.
Yes, in any case. I love seeing her at the buffet and going, "Oh, my family would definitely do that!"
Yeah right? It's like, "Don't stuff yourself on that rice!" [Laughs] Kelvin [Yu] and our writers were great when they put all of that in, and you're like, 'Oh my god, that's really funny!' 'Cause people are going to relate to that, and it's coming from the goddess of mercy [laughs]. I really enjoyed that sense of humor if you don't face it too much, but it's there and the underlying messages that come out are very, very important.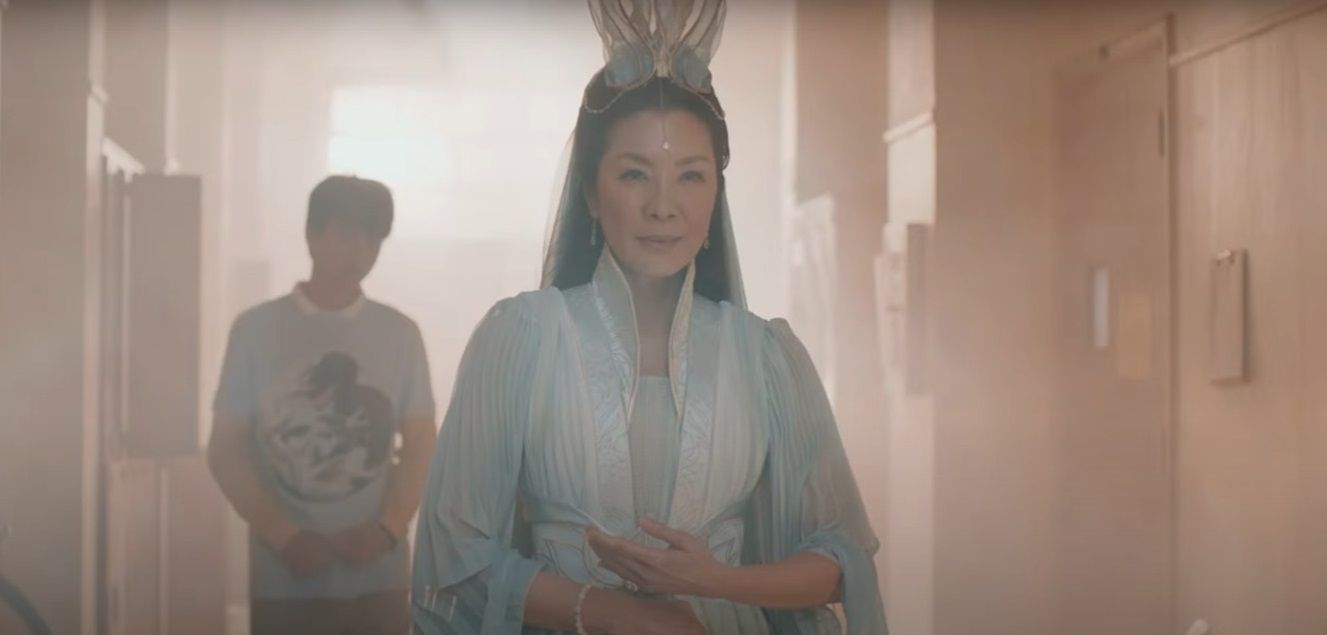 What intrigued you about this project, other than playing a goddess, of course?
YEOH: The story it told, the story of growing up, of finding your self worth. Not just as teenagers, as kids, but as adults, not to get bitter and think, "I'm doing this for everyone else but me." And to understand that the road is hard, acceptance. The most important thing is the journey into yourself, the spiritual side, love. If you don't feel love for yourself, how can you expect someone else to love you when you can't even do it for yourself?
I think that whole part of identity: "Who am I?" Who are you? Only you can answer that question, and I think we often think too much. You are Chinese and yes you are American and you have a heritage to be proud of and to learn and share with. It's never too late to learn. And I think along with you American-born ChineseThat's what it does: it gives you such a fun platform where you can learn so much about another culture maybe your own culture the history and certain mythological characters so dynamic and interesting and the two Connecting worlds together is exciting.
Yes! Secure. I really liked the story American-born Chineseand I really like the fact that this show seems to reunite you with yours Everything everywhere co-stars, but also with some [Shang-Chi and the Legend of the Ten Rings] also people. What was it like getting back together and having scenes with Ke? [Huy Quan] and with Stephanie [Hsu]? Obviously you didn't have any scenes with James [Hong], I don't think so, but it was still like, "Oh! There he is!" It was nice to see him there.
YEOH: Oh yeah I had a scene with him because we were all in heaven.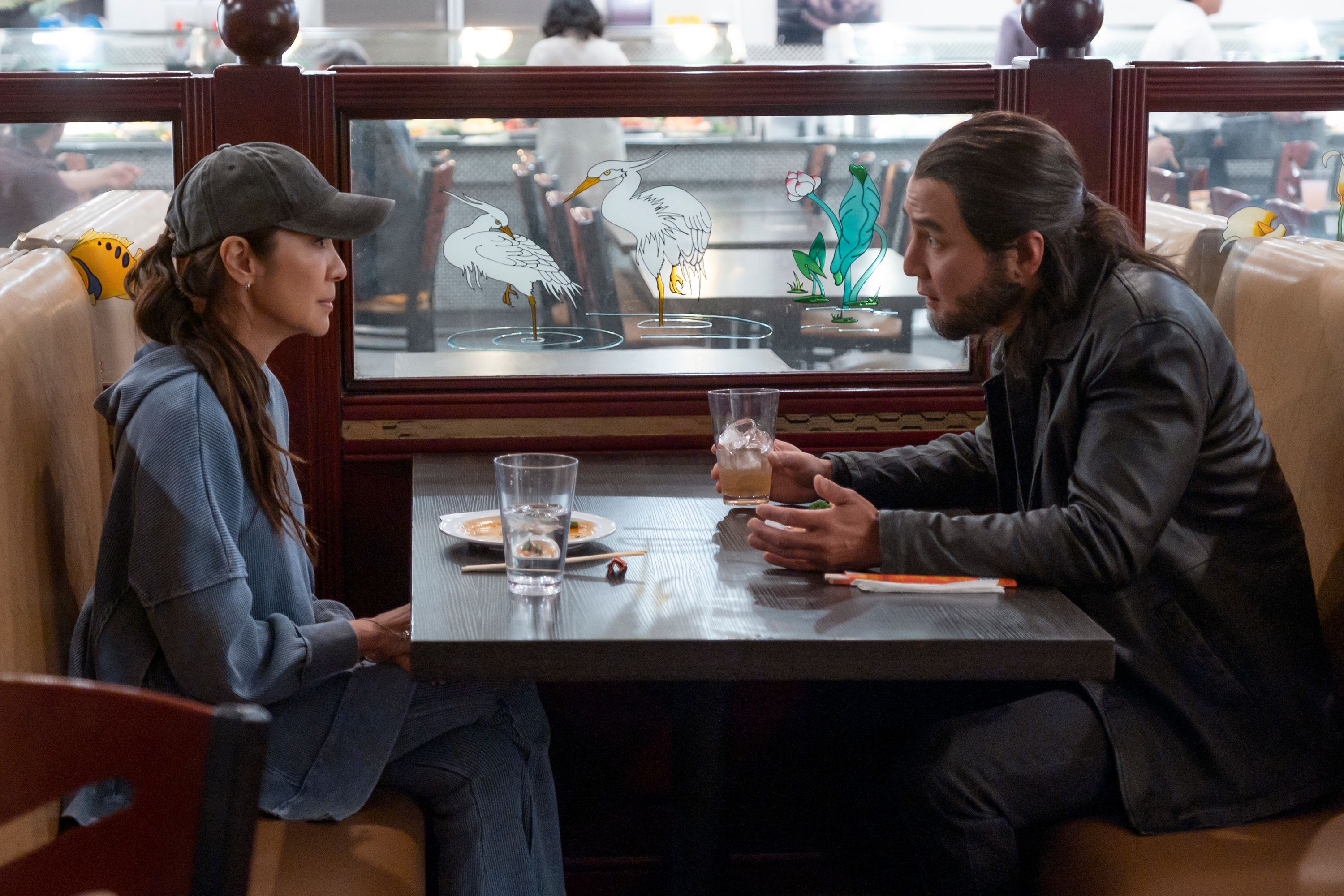 Oh yes, yes!
YEOH: It's always great to see the people you've worked with, especially the people you feel so much love for. And it's even better to come together to tell such an important story, right? We all need to play roles to tell this story and reunite with Destin not only on camera but also behind the camera [Daniel Cretton] and Joy, the Crettons. A dream became reality.
It's also the first time we've collaborated with Daniel Wu, who plays the Monkey King. You know, we've known each other since the Hong Kong days when we were fighting and things like that, but we never had the chance to work together. When he called this time, he texted me and said, "Are you in? American-born Chinese?" I said yes! And you better get in there asap!" So ​​it was a really great opportunity and I'm so grateful to Destin and Melvin for calling me [Mar] and Kelvin, you know, for bringing it all together, along with Disney+. And it all happened before the Oscars, that they knew that stories like this had to be told, and we're one of the first to bring that out American-born Chinese.
This story made sense to me in many ways. I'm also a US-born Chinese, but I wasn't aware that you and Daniel worked together before, which I think makes the relationship between your two characters even better, at least behind the scenes.
So you've been to so many franchises lately; You're on Marvel, Star Trek, The Witcher, you're gonna be on Avatar, you're gonna be on Transformers. Do you have a major advantage when it comes to getting involved in projects like this? Has that become a lesson, or do you just take the jobs that come your way?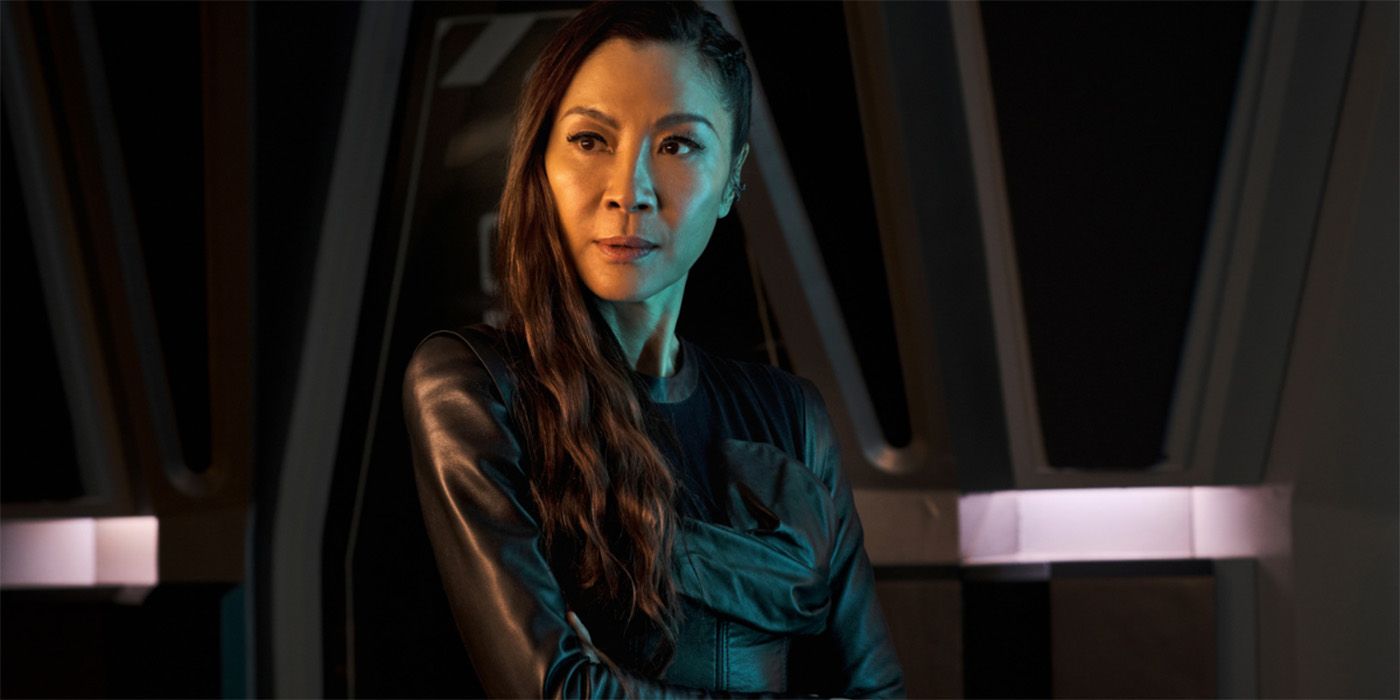 YEOH: No, no, no. I choose the jobs that come to me because they separate me from my family and therefore I will not do anything that is not meaningful to me. So there is always a reason. "Why did I choose this franchise or that franchise?" But it was a choice. Fortunately, I think we all find ourselves in a situation where saying no is sometimes the hardest.
Specifically, it could be a filmmaker or storyteller that you're dying to work with, but that character just doesn't appeal to you, or the story isn't what you want to do. I think it's very important that I try not to play the same characters again because that wouldn't teach me as an actor. It wouldn't be interesting to you as an audience because you're like, "Okay, this is Michelle doing the Michelle thing again." And I hope I'll always surprise you or give you something to think about, so I'll take all of those very strange, wonderful and crazy roles.