Mehdi Hasan sarcastically dismisses Trump AG's potential threats to deport him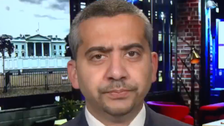 MSNBC's Mehdi Hasan hit back at conservative lawyer and activist Mike Davis on Monday after Davis vowed to deport the journalist if Donald Trump wins the 2024 election and Davis is appointed attorney general, as several Trump insiders have claimed.
Hasan revealed on his show Sunday "Davis' threats to send journalists to the D.C. Gulag" and "his repeated calls on social media for his followers to arm themselves against the violent black underclass" during a segment on the extremists Figures who may be carriers of setting out Trump's radical agenda in a possible second term.
Davis responded on X, the platform formerly known as Twitter.
The British-American Hasan is now on Davis' lists to be charged, imprisoned, denaturalized and deported, he wrote.
"I have already picked his place in the DC Gulag," the potential Cabinet member added. "But I will put him in the women's cell block at @Timodc [former Republican National Committee spokesperson Tim Miller]. So these whiny lefties don't get beaten up as much."
Hasan responded sarcastically: "There's nothing to see here, just the former Gorsuch law clerk being touted as Trump's next attorney general and threatening to indict, arrest and deport me (for what?) and Tim Miller, who's gay, into one." "Prison."
"There is nothing unconstitutional, fascist or bigoted about any of this," he added.