Lia Thomas' issue could paint Colorado red as former Olympic gold medalist Eli Bremer runs for Senate FirstSportz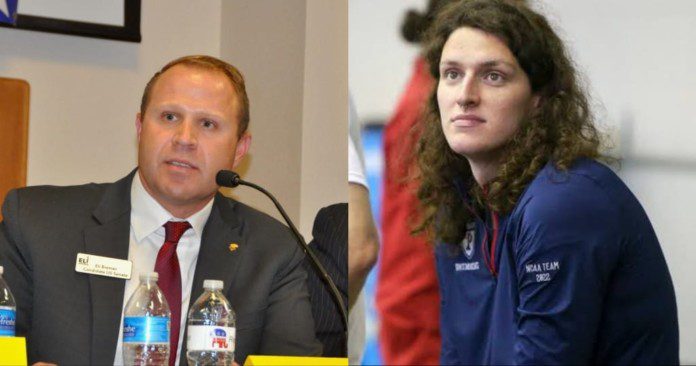 Recently transgender swimmer Lia Thomas made headlines and dealt with controversy when she won a gold medal at the NCAA national championships. Several individuals and athletes felt that she did not deserve to win the medal or even compete as she had an unfair advantage.
Several people have taken different positions on the issue. Some believe that Thomas should not compete in the women's category at all, while others believe that competing is the right thing to do. Some even believe that a different category for transgender athletes needs to be created in order to level the playing field.
The state of Colorado has been leaning toward the Democratic side since 2006. However, there could be a shift to the Republican side this year, according to a former Olympian. Eli Bremer, who was also active in reforming the US Olympic Committee following the allegations against Larry Nassar, said the transgender issue could reverse Democrats' "war on women" rhetoric.
"This is a deadly topic": Eli Bremer believes and supports the topic of Lia Thomas
Bremer has also accused Senator Michael Bennet of not participating in efforts to pass legislation to support those reforms. "This is a deadly matter for Michael Bennett because Democrats have historically said that Republicans are the ones who don't champion women, but now the tables have completely turned." Bremer told Fox News Digital. "I'm a Republican who helped lead efforts to end sex abuse at the Olympics, and now I'm spearheading this issue."
Michael Bennet refuses to stand with women, Bremer felt. He believes that this could also be a crucial moment of the elections. Bremer said the issue of transgender identity came like a "tsunami," saying schools across Colorado are encouraging confused students to adopt a transgender identity.
Bremer believes that transgender women should not be allowed to compete in women's sports because of their advantage. "I think most Democrats know that's wrong. The left always looks more absurd when they come out and say Lia Thomas has no advantage. There's no denying that being a biological male has an advantage, especially after puberty."
Also read: More backlash for Lia Thomas as Arizona Swimmers write letter to NCAA protesting win
Also read: Olympic champion Evgeny Rylov forgoes swimming world championships to support suspended Russian teammates
https://firstsportz.com/lia-thomas-issue-could-turn-colorado-red-as-former-olympian-eli-bremer-runs-for-senate/ Lia Thomas' issue could paint Colorado red as former Olympic gold medalist Eli Bremer runs for Senate FirstSportz