Kyrie Irving on Kevin Durant's move from Nets to Suns: 'I'm just glad he got out of there'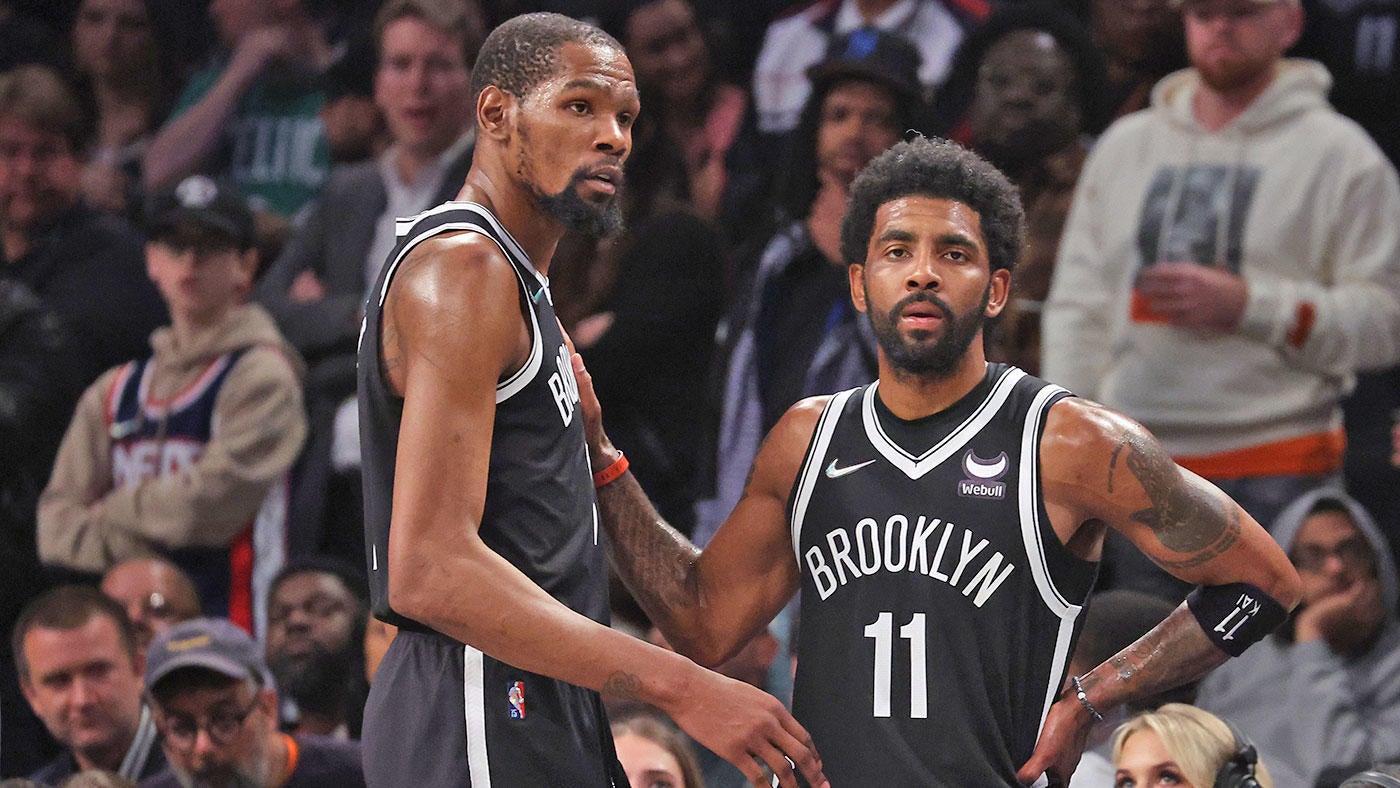 The newest Dallas maverick, Kyrie Irving, could have foreseen many of the questions that would be thrown his way after debuting with his new franchise. How was it playing with new teammates? How many pieces did you learn before you hit the court? How has your relationship with head coach Jason Kidd been so far?
One he probably didn't expect: What are your thoughts on Kevin Durant's move to the Phoenix Suns?
During his press conference following the Mavericks' 110-104 win over the Los Angeles Clippers on Wednesday, Irving was asked to respond in real time to his former Brooklyn Nets teammate and close friend sent to Phoenix in exchange for a huge crowd of young players and draft picks. Irving, who was traded to the Mavericks on Sunday after requesting a trade from the Nets, first spoke about the camaraderie he feels towards Durant, even as an opponent. He also said he's glad Durant, who asked for a trade from the Nets for the second time in less than a year, got what he wanted.
"We've had many conversations throughout the year about what our future will be like. There was still some level of uncertainty," Irving said Wednesday night. "But we just cared about seeing each other as places to thrive, and whether that's together or apart, there was never a moment I felt like he was mad at me for my choices or I was mad at him, we just tried to understand each other much better and grow as people, grow as brothers.

"This business changes so quickly. He's getting a little older. I'm getting a little bit older. I love the competition now that we can be at the same conference and I appreciate it all. Watch him play a little bit more, probably a lot more against Phoenix. I am looking forward. Everything else in between, I'm just glad he got out there.
Irving also said Brooklyn's turmoil began well before this season — in fact, it began after his and Durant's first year with the Nets in 2019-20.
"I think that was a work in progress, after the first year. I wasn't sure whether I wanted to be back in Brooklyn long-term or not because of the things that were happening behind the scenes," Irving said. "I just did my best to put my head down and work as hard as I could. There were some unfortunate circumstances that were beyond my control. Whether it was the vaccine mandate or missing games, I got suspended or, you know, just little things that I think just shake up our journey.
While Durant, Irving and former teammate James Harden together on the floor tormented the basketball world in small rehearsals, the era will ultimately go down in history as a failure now that all three superstars are working with different franchises and only one win in the playoff series is Es.
"We only played together for a very limited time and there were a lot of injuries and things that happened. I would have liked to see that work over the long term," Irving said of his partnership with Durant and Harden. "But there are no mistakes, no coincidences. I'm glad I was able to look back and reflect on that journey and say I learned a lot from these guys and my Brooklyn teammates."
Irving, Durant and Harden played just 14 games together during their time in Brooklyn in the regular season and playoffs. Irving's Mavericks, Harden's Philadelphia 76ers and Durant's Suns, now separated, are all expected to be in contention for the NBA title this season.
https://www.cbssports.com/nba/news/kyrie-irving-on-kevin-durant-being-traded-from-nets-to-suns-im-just-glad-that-he-got-out-of-there/ Kyrie Irving on Kevin Durant's move from Nets to Suns: 'I'm just glad he got out of there'