Keanu Reeves & Chad Stahelski break up the oner
[Editor's Note: The following contains spoilers for John Wick: Chapter 4]If there's one scene you'll be hearing about over the coming weeks, it's the continuous aerial shot that leads to one of the best action sequences out there John Wick Franchise – which will also likely appear in the best scenes of the year lists. In the one-take scene (aka "oner") Keanu Reeves moves through multiple rooms in an apartment building while firing a "Dragon's Breath" shotgun that sets people on fire. The scene plays out like a video game and it's impossible not to get hooked on it.
During an interview with Collider, our own editor-in-chief Steve Weintraub could not miss the opportunity to talk about this scene and he asked the director Chad Stahelksi and John Wick himself Keanu Reeves all about it. The duo revealed they always planned to step up the third act John Wick: Chapter Fourand in the end it was all about deciding how the action sequences would differ from each other.
"[W]We just thought, well, we exchange so much with the video game world and we like so much Asian cinema, so let's do a top shot. But it was, you know, most people don't shoot overhead because you're just looking down and there's not much there. It's a black carpet or something. So we started talking to the production designers and Dan [Laustsen] the cameraman about how we make it interesting, how it can be fun? And then we did our rabbit hole dive with all our weapons and martial arts choreography and we forgot that we were going to be using dragon's breath elsewhere in the film. But we saw that, you know, from above, it had this nice muzzle flash and boys on fire. And we were like, 'Okay, we'll just paint the picture and instead of practical lighting, we'll do it with stunt guys on fire.' And Dan was really excited about that. We're going to light the set with people on fire and breath of the dragon and give it that surreal anime look."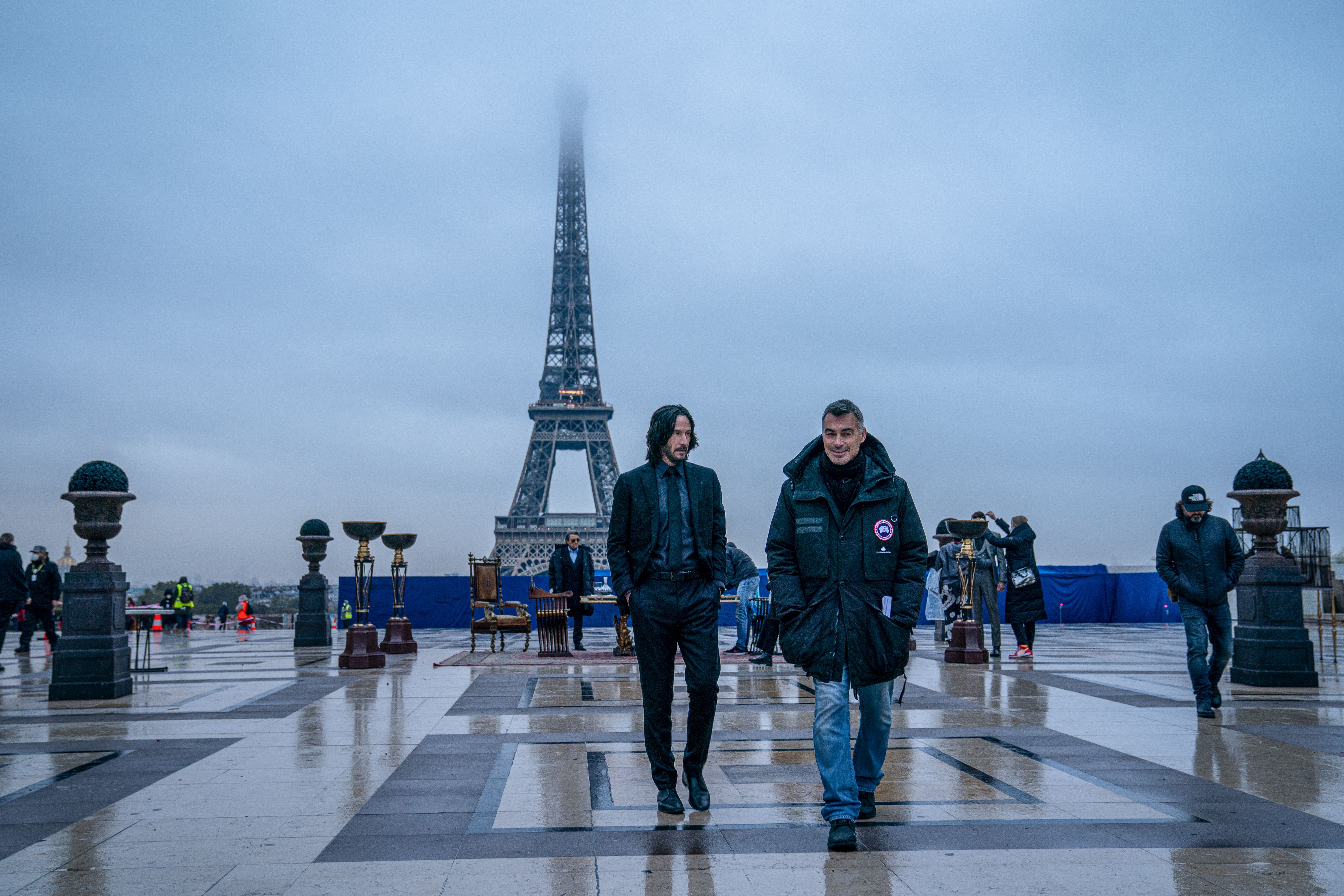 RELATED: Grab your nunchucks, 'John Wick' is going to be a video game
Choreography, One Take, Imagination and Keanu
Reeves chimed in, revealing that to make filming the scene even more difficult, he had to deal with things that would only exist in post-production. So not only did the actor need to be able to learn all of his moves and perform the entire choreography in one take, but he also had to make sure he was facing in the right direction and reacting correctly to things that only the public got to see:
"Because of the way we use cartridges, the technology, they're all plug-guns, so nothing actually comes out of the barrel. So I don't get to see all the fire. It's all some kind of post [production] Fire. I hear the sound and see the grenades being ejected. And yes, I get this little pop, pop, pop, but I don't get to see anything. I saw some people on fire. […] I had to do all the choreography. Someone would count out loud because the sequence had to be synchronized with the camera system. So it was like "1, 2" and you are like "3, 4, 5, 6, 9, 10, 11, 12, 13, 14". And that would be the end of the recording."
John Wick: Chapter 4 follows the titular character on his journey around the world to find a loophole in the rules of the High Table that allows him to challenge a member to a duel. The cast is there too Rina Sawayama, Ian McShane, Laurence Fishburne, Bill Skargard, Donnie Yen, Shamie Anderson, Natalia Tena, Hiroyuki Sanadaand the late Lance Reddick.
John Wick: Chapter 4 is now showing in cinemas everywhere. For more on our interview with Reeves and Stahelski, see our exclusive interview below. It's packed with tons of behind-the-scenes stories.
https://collider.com/john-wick-chapter-4-oner-scene-keanu-reeves-chad-stahelski-comments/ Keanu Reeves & Chad Stahelski break up the oner