Kardashians Season 3 trailer shows Kim in tears, Kourtney bemoans lack of 'loyalty'
"I wish I could tell you this was going to be a mild, relaxing, quiet season. It's not," Khloe Kardashian teases in the new preview.
The Kardashians are returning for a third season on Hulu, and if this teaser is to be believed, drama is on the horizon.
"Listen, everyone has their own truth about who they are think something happened," Kim Kardashian teases at the beginning of the footage, before Khloe Kardashian steps up and adds, "I wish I could tell you this was going to be a mild, relaxing, and quiet season. It is not."
As the footage continues, viewers see Kim in tears rocking the runway at the Dolce & Gabbana show, Kourtney Kardashian and Travis Barker sharing a serious PDA in the ocean, and Khloe and Kendall Jenner roller skating.
At one point, Kourtney is talking to Khloe and her boyfriend Simon Huck and says of someone, "There's no sense of loyalty." Scott Disick, meanwhile, is quick to emerge to exclaim, "I've never seen so much drama in my life."
Kendall also speaks vaguely about "protecting" her "peace," while Kylie Jenner admits family is a "huge influence," while wondering "what are we doing with our power?".
According to Hulu, the new season "invites viewers back into their lives as they navigate motherhood, co-parenting, and building their own empire." The synopsis adds, "Their bond will be tested and tensions will rise, but as a family, they will weather the storm together."
The third season of The Kardashians premieres May 25 on Hulu, with new episodes every Thursday.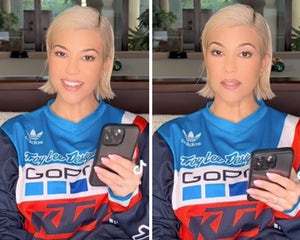 tick tock
Kourtney Kardashian Hilariously Responds to Mean TikTok Comments About Herself

view history
https://toofab.com/2023/03/27/the-kardashians-season-3-trailer/ Kardashians Season 3 trailer shows Kim in tears, Kourtney bemoans lack of 'loyalty'