Josh Allen in walking warmup after Bills OT loss to Buccaneers, will undergo ankle injury tests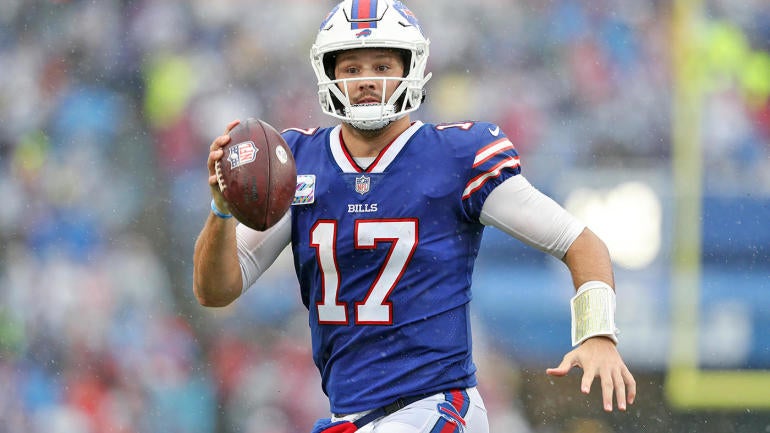 Bill midfielder Josh Allen was busy on Sunday against Buccaneers, hit a season-high 54 passes and ran more than 100 yards in Buffalo's loss. But he didn't leave it unscathed. After clumsily landing in the fourth quarter scramble but remaining in the game, Allen join his post-game press conference with a walking boot on his left foot, told reporters his ankle was "quite sore" and that he will undergo further testing in Monday.
Allen stayed on immediately after his 23-yard run to put Buffalo inside the Bucs' 20-yard line with less than 10 minutes to go, unleashing a touchdown pass for Dawson Knox after that. After limping to the sideline, he was noticed by the Bills' athletic trainer, who taped his left ankle and also examined his left big toe. Despite the extra tests on the machine, Allen assured reporters on Sunday night that he wasn't worried about missing the time.
"I finished the game on it," he said, NFL.com, "so I don't think it's going to be a big deal."
"There's no way I'm out," he added of his state at Sunday's game, which dropped the Bills to 7-6 and just before Dolphin at AFC East.
Buffalo is back on the field next Sunday, when the Bills will host Panthers (5-8), who has now lost three right after falling Eagle on Sunday. In the event that Allen is unable to practice before – or play – the Week 15 game, Buffalo will likely be substituted. Mitchell Trubisky as an emergency starter under the center.
Please check the opt-in box to confirm that you want to sign up.
Thank you for registering!

Monitor your inbox.

Sorry!

An error occurred while processing your registration.

https://www.cbssports.com/nfl/news/josh-allen-in-walking-boot-after-bills-ot-loss-to-buccaneers-will-undergo-tests-for-ankle-injury/ Josh Allen in walking warmup after Bills OT loss to Buccaneers, will undergo ankle injury tests