Jane Birkin, British actress and singer, has died at the age of 76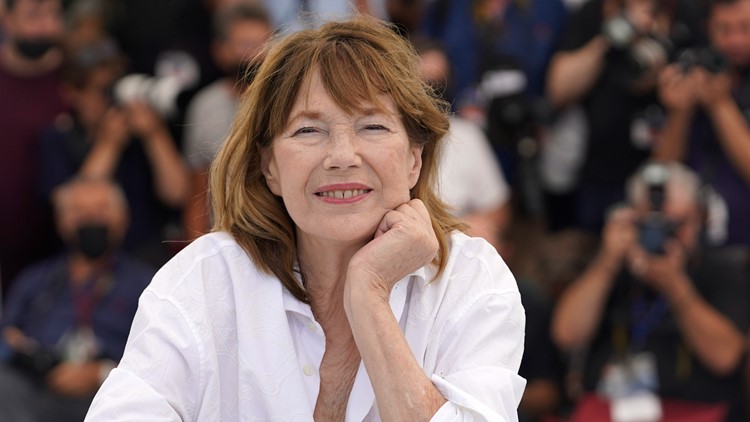 The British-born star was known for her musical and romantic relationship with French singer Serge Gainsbourg.
PARIS, France — Actress and singer Jane Birkin, who made France her home and enchanted the country With her English grace, natural style and social activism, she has died at the age of 76.
The London-born star and fashion icon was known for her musical and romantic relationship with French singer Serge Gainsbourg. Her songs notably included the steamy "Je t'aime moi non plus" ("I love you, neither do I"). Birkin's ethereal British-accented singing voice mingled with his gruff baritone in the 1969 duet that made her famous, banned in Italy after it was denounced in the Vatican newspaper.
The style Birkin flaunted in the 1960s and early 1970s — long hair with bangs, denim paired with white tops, knitted mini dresses and wicker bags — still embodies the pinnacle of French chic for many women around the world.
Birkin was also synonymous with a Hermes bag that bore her name. The Birkin bag was created in her honor by the Parisian fashion house in 1984 and has become one of the world's leading bags most exclusive luxury itemswith a stratospheric price and a years-long waiting list to buy it.
In her adopted country of France, Birkin has also been celebrated for her political involvement and her commitment to Amnesty International, Myanmar's pro-democracy movement, the fight against AIDS and other causes.
"There's always something you can do," Birkin said in 2001, campaigning for support for an Amnesty campaign against torture. "You can say, 'I don't agree with that.'"
She accompanied five monks on a march through the 2008 Cannes Film Festival and called on Myanmar to let foreign aid workers into the country to help hurricane victims.
In 2022, she joined other film and music stars in France curls of her hair in support of the protesters in Iran. Charlotte Gainsbourg, Birkin's daughter with Gainsbourg and also an actress herself, cut off her mother's hair for the HairForFreedom campaign because Iran was plagued by anti-government protests.
French President Emmanuel Macron hailed Birkin as a "consummate artist" and noted that her soft voice goes hand in hand with her "passionate" activism.
"Jane Birkin was a French icon because she was freedom incarnate and sang the most beautiful words of our language," he tweeted.
French media reported that Birkin was found dead at her home in Paris. The French culture ministry tweeted that Birkin died on Sunday. She was hailed as a "timeless francophone icon".
Culture Minister Rima Abdul Malak called Birkin "the most French of British people" and "the symbol of a whole era that never went out of style".
Outside Birkin's home on the left bank of Paris, fans mourned her death.
"She was a poet, a singer, an artist," said Marie-Jo Bonnet. "She did her best and that's great."
Birkin's early film appearances included 1966's Blow-Up, in which she introduced French audiences to her Swinging Sixties style and beauty.
Birkin and Gainsbourg met two years later. She remained his muse even after the couple split in 1980.
She also had a daughter, Kate, with James Bond composer John Barry. Kate Barry died in 2013 at the age of 46. Birkin had her third daughter, singer and model Lou Doillon, with French director Jacques Doillon.
Birkin suffered from health problems in recent years that prevented her from performing and her public appearances became less frequent.
French broadcaster BFMTV said Birkin suffered a mild stroke in 2021, which forced her to cancel broadcasts that year. In March she canceled her appearances again because of a broken shoulder blade.
A return to performing was postponed in May as the singer said she needed a little more time and vowed her fans to see her again in the fall.
Despite her decades-long film and music career, Birkin suspected that the bag named after her might be her most famous legacy for some people.
The fashion accessory emerged from a chance encounter with then-Hermes boss Jean-Louis Dumas on a flight to London in the 1980s. Birkin said in later interviews that they struck up a conversation after she spilled some of her belongings on the cabin floor. She asked Dumas why Hermes didn't make a larger handbag and sketched the kind of bag she'd like on an airplane puke bag.
Dumas then had a copy made and agreed flattered when Hermes asked if the bag could be marketed in her name.
On a CBS Sunday morning Interview in 2018Birkin joked that maybe that's what she's best known for.
"I was like, 'Oh god, my obituary says 'Like the bag' or something,'" she said. "Well, it could be worse."