"I've got a run and I want to capitalize on it" Iga Swiatek wins her 15th straight match to reach the semifinals in Miami and announces massive news about her season plans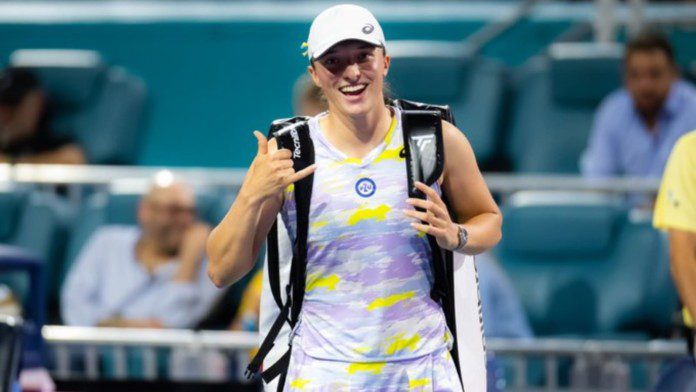 Soon to be number 1 in the world, Iga Swiatek continues opponents without breaking a sweat. The Pole took on the two-time Wimbledon winner and former world No. 2 Petra Kvitova in the quarterfinals of Miami Open 2022 and comfortably won the game with a 6-3, 6-3 victory in 1 hour and 17 minutes.
The win brings Iga to her 15th straight win in the streak that began in Qatar Open 2022 in Doha and has continued her third WTA 1000 tournament in a row. With two WTA 1000 titles already in the pipeline, Iga is just 2 wins away from claiming a hat trick of the biggest Tour titles already joined Caroline Wozniacki, Viktoria Azarenka and Yelena Ostapenko as the only players to reach four or more WTA 1000 semifinals before their 21st birthday
"I want to use the confidence I've built up since the start of Doha. I think I'm on the right track and I want to take advantage of that. It was quite difficult to have that kind of streak, but I'm pretty happy that I was able to play well, that I'm healthy and that I can play against players like Petra. She is a legend.
"I knew from the start that I had to keep up because she plays very fast. I wanted to stay low on my feet and the first serve was key. I don't know if I've had many winners, but I wanted to build positive energy from their mistakes. I'm glad I stayed focused and implemented the tactics from A to Z." Iga said in the press conference about her win over Kvitova as she is the first player since Karolina Pliskova in 2017 to reach two semifinals in Indian Wells and Miami.
"I will not play doubles": Iga Swiatek
Iga is one of the active players in both singles and doubles. However, the 20-year-old has opted not to compete in the doubles tournament this year in order to remain fresher for the singles matches where she aims to cement her place at the top of the rankings. Iga's best doubles result came in French Open 2021 When she finished second, her only appearance was in the doubles final.
"I've learned a lot from every tournament I've won, there's always been a lot of work behind it, I would even say I've worked more after winning tournaments than others I've lost, although we all do knowing that's normal in tennis Losing every week, I'm used to that. I feel ready to do it, we're still at the beginning of the season.
"We'll see what happens towards the end, when we're all tired, then management becomes more complicated. This year, for example, I won't be playing doubles, which will give me more days off." Swiatek continued. Iga takes over now Jessica Pegula in the semifinals with Pegula, who comes into play with a Walkover by Paula Badosa before their quarterfinal game.
Also read: 'I want to bring him to Belgrade', Djordje Djokovic invites Nick Kyrgios to play alongside Novak Djokovic at Serbia Open 2022
https://firstsportz.com/tennis-im-on-a-roll-and-i-want-to-use-that-iga-swiatek-wins-her-15th-consecutive-match-to-reach-the-semis-in-miami-drops-massive-news-on-her-plans-for-the-season/ "I've got a run and I want to capitalize on it" Iga Swiatek wins her 15th straight match to reach the semifinals in Miami and announces massive news about her season plans