It's time the Blazers consider Damian Lillard trades, whether he likes it or not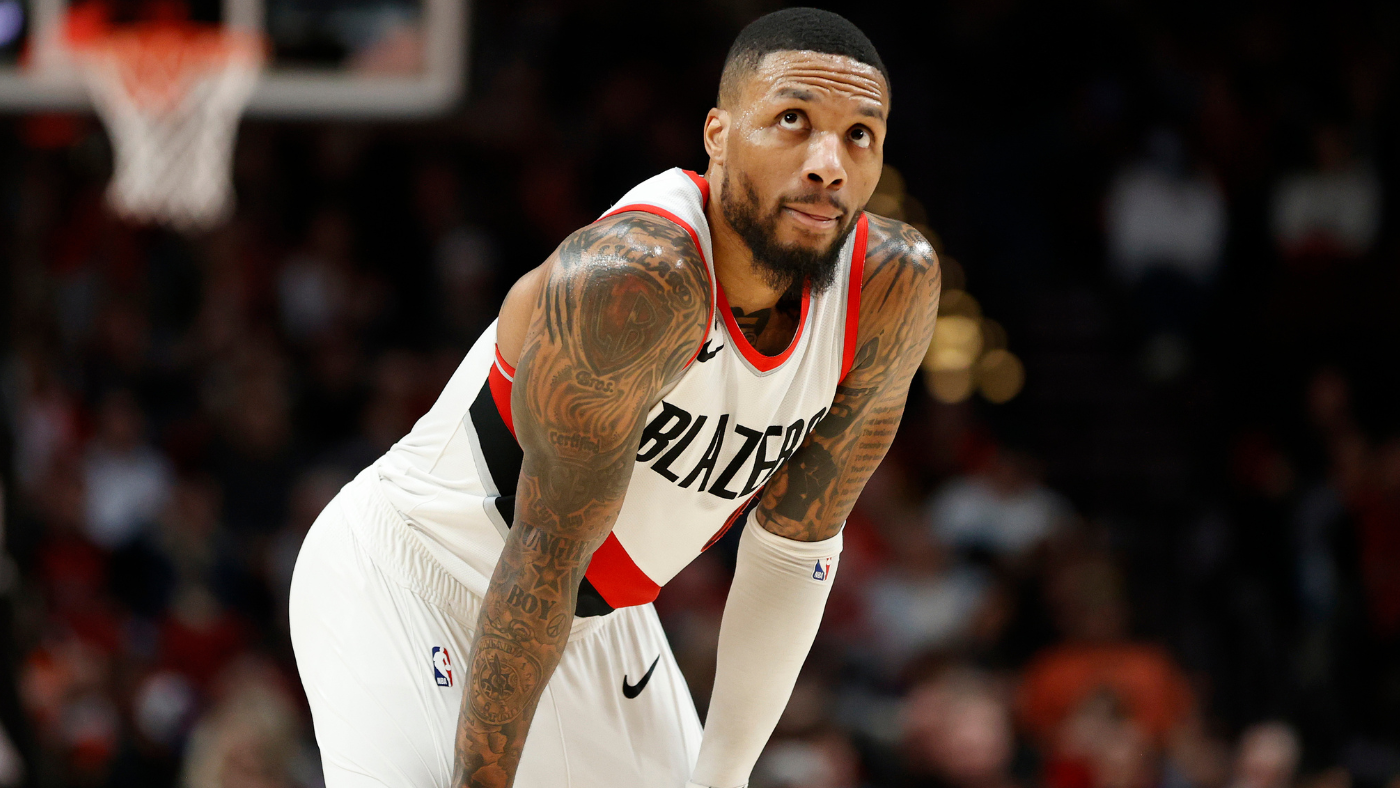 The Portland Trail Blazers were defeated by the Milwaukee Bucks 127-108 on Monday. That's nothing new for a Portland team that has rarely sniffed real competition in the past decade. During the Damian Lillard era, the Blazers only finished above .500 once in the 2018–19 season against teams with a record of .500 or better, which was also the last time that team won a playoff series.
It's a fitting statistic for a frustratingly mediocre era in Blazers history. Lillard has kept the Blazers afloat for years. He has helped them reach the playoffs eight times. Once there, he more than lived up to his end of the bargain with a string of outstanding performances. But ultimately, when Lillard-era Blazers go up against genuine championship-caliber competition, they lose.
Lillard has never shied away from the Sisyphean task the Blazers have given him. Every year at this point on the calendar there are teams trying to lure him away from the only NBA home he's ever known, and every year he makes it clear he's not interested in going anywhere. The 2023 deadline has been suspiciously quiet on that front. Bleacher Report's Chris Haynes reported in January that the Blazers are still trying to improve the roster around Lillard. Josh Hart is apparently on the table. Jerami Grant may or may not sign the extension. Such rumors could include bigger stakes for a better team. For Portland, they could be the difference between 38 wins and 43.
For now, Lillard doesn't seem to mind pushing that boulder up the hill, and the Blazers have never been inclined to stop him. NBA teams rarely consider moving prime-year stars who want to stay. It's easier to redesign everything around her and hope that the latest cosmetic changes are enough to distract from the rotting foundation. Maybe a new coach can help? NO? How about a redesigned, wing-heavy roster? That will definitely get things going again.
Not so far this season. Since starting 9-3, the Blazers have gone 17-25. They have since had the NBA's ninth-worst net rating and fourth-worst defense for the entire season. So far, swapping out smaller guards like CJ McCollum and Norman Powell for beefier wings like Grant and Hart has done little to fix this team's underlying defensive flaws. At this point, there isn't much evidence that Chauncey Billups is a better coach than Terry Stotts, and lest you think there's a blockbuster trade on the horizon that could fix that, keep in mind that Portland Chicago has a Vote for first round owes safeguards that last until 2028. Therefore, for now, the Blazers cannot even trade a first-round pick without removing those protections. That means giving the bulls a potential lottery pick in June.
There will probably be more side changes in the coming days and the coming months. Portland is likely to replace Hart with his mid-level exception in July. Perhaps the Blazers will trade for a center more mobile than Jusuf Nurkic. It's hard to take the idea of ​​such moves too seriously in the larger context of Lillard's career. He's played on almost every type of team by this point. He was part of a traditional guard big star tandem with LaMarcus Aldridge early on before transitioning into an offensive juggernaut with McCollum for most of his prime. Now the Blazers have been trying to find a better balance between offense and defense, and it has yielded uninspiring results so far. Lillard has now played for two coaches, two general managers and two owners. The results never really changed. The only untouched variable in the equation is Lillard.
Lillard is not to blame for what went wrong in Portland. He's one of the few things that has held the Blazers together despite years of poor leadership, and the stakes in keeping him through the years have been relatively low. He's happy in Portland. Blazers fans are happy to have him in Portland. It's not necessarily wrong to win 45 games every year when better opportunities don't arise, but the longer they do it, the harder it becomes to change course. Sooner or later, it would probably fall to the Blazers to actively choose a direction for their franchise.
Behind door #1 we have the definition of insanity. The Blazers can keep trying to seed a winner around Lillard. They might strike gold in an under-the-radar transaction. Maybe they can round up their young players into an Impact veteran. Maybe Lillard will convince a star to join him in Portland. It's not unthinkable. Kevin Durant has one known preference for Lillard and finally asked for a trade eight months ago. Sometimes being in the right place at the right time is enough. The Toronto Raptors were not unlike the Blazers a few years ago. Kawhi Leonard won them a championship.
But relying on such assets as a small market team with limited trading resources comes with its own set of risks. Lillard is 32 and will likely lose weight soon. He's under contract until 2027, and if that drop goes as planned, that deal could hamper Portland's next half-decade of roster building. The Blazers are far more likely to see out the remaining years of Lillard's heyday, as they've spent most of it thus far. A Grant here, a Hart there. Good players that don't make sense without another great one. Doing the same thing over and over again and expecting different results.
Behind door no. 2 we have the unloved unknown. Portland's second best player is arguably 23-year-old Anfernee Simons. Shaedon Sharpe is still a teenager, and considering it took Simons four years to reach a double-digit point average, he probably has some awkward developmental years ahead of him. The upward tendencies are there, as is the case with young striker Nassir Little. Move Lillard now and the Blazers might still get a move for him to pair with these youngsters. A few years in the lottery wouldn't hurt either.
There is no certainty for this path. Perhaps with better supporting infrastructure, Simons and Sharpe can grow into a better version of the Lillard-McCollum backcourt that has literally and figuratively come up short. Perhaps giving Lillard away leads to a decade in the wild like trading Dwight Howard did for the Orlando Magic. The only way to find out is to take the plunge.
This would mean ignoring the very publicly expressed desires of a franchise icon. No manager wants to be remembered as the man who traded the best player in franchise history. But NBA history favors teams that move stars proactively. Oklahoma City and Utah are reasonably well-positioned for the future thanks to the star trades they've made in recent off-seasons. The longer you wait, the less value you can extract. At 32, Lillard is still a star. He may not be at 34.
What if he's 36? He'll likely expend shots, minutes and dollars that he'd better use maximizing Simons and Sharpe. Throwing away an era out of sentimentality is one thing. Letting it drip into the next is far more dangerous. The Lillard era began with an inherent disadvantage given the veteran-laden roster he initially joined. With Aldridge and several other key Blazers gone, Portland simply lacked the tools to conduct a proper rebuild. Lillard was too good to tank, but without getting something back for the veterans who died, the Blazers had no way of making up for what was lost. It's a cycle the Blazers shouldn't repeat.
But it increasingly feels like their destiny the longer they pretend there's a viable way to build a championship team around Lillard. They spent a decade trying and failing. Lillard might want to spend another decade pushing that rock up the hill, but eventually the Blazers have to acknowledge that the franchise's best interests shouldn't be replaced by a single player's wishes. The Lillard-centric version of the Blazers will never be able to compete with the Bucks of the world. The breakup has always been Lillard's best path, but the longer it drags on, the clearer it's Portland's, too.
https://www.cbssports.com/nba/news/its-time-for-the-blazers-to-consider-damian-lillard-trades-whether-he-wants-them-to-or-not/ It's time the Blazers consider Damian Lillard trades, whether he likes it or not