"It was surprising that he signed such a long contract," Jenson Button fears McLaren's difficulties as a "big hit" for Lando Norris » FirstSportz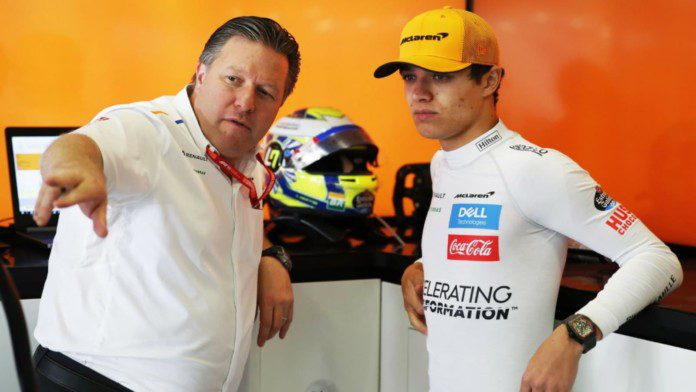 Lando Norris now has to compete with the best in Formula 1. All he needs is a competitive car. But that doesn't appear to be the case as of this writing. It was a rocky start to the season. That came as a shock to most people considering Lando Norris and McLaren enjoyed a nearly flawless preseason.
But as we've seen in so many seasons, that doesn't always mean it's a clear indication of things to come. It's been a complete turnaround since preseason testing, where the team picked up some serious pace. The team had a weekend they want to forget as soon as possible. All built-up expectations vanished after the duo's sombre performance of Lando Norris and Daniel Ricciardo at the Bahrain GP.
Lando Norris is seen as the present and future of the team after they signed him to a multi-year deal. This is a long term project with Lando Norris at the helm. The question that arises is whether Lando made the right choice in entrusting his future to a team struggling to get out of midfield?
Also read: "I still have to learn," said Daniel Ricciardo after his nightmare return to Formula 1 at the season opener in Bahrain
Lando Norris may have made the wrong decision in entrusting his future to McLaren
Jenson Button has made his feelings clear that Lando Norris did not make the right decision by pledging his long-term loyalty to McLaren. He said, "It was surprising for Lando that he signed such a long contract at the beginning of his career."
"We all want to be team players, but you never know where the team will be in three years."
"And besides, this is going to be a big hit. Five more years and he'll be like, 'Oh, okay'."
"But all he can do is come back to the team, tell them what the problems are and try to solve them." As reported by gpfans.
Lando Norris is part of a top-flight McLaren team, but they didn't compete at the front of the grid. As a Formula 1 driver you have a short amount of time to win a title and Lando wants to be world champion. We'll have to wait and see if McLaren can get it back on track any time soon.
Also read: "I expect pain," Lando Norris expects a longer dry spell after McLaren's disastrous start to the season at the 2022 Bahrain GP
https://firstsportz.com/formula-1-it-was-surprising-that-he-signed-such-a-long-contract-jenson-button-fears-mclarens-difficulties-as-a-big-hit-to-lando-norris/ "It was surprising that he signed such a long contract," Jenson Button fears McLaren's difficulties as a "big hit" for Lando Norris » FirstSportz