Islam Makhachev promises to put the belt 'into' the table in the next press conference »FirstSportz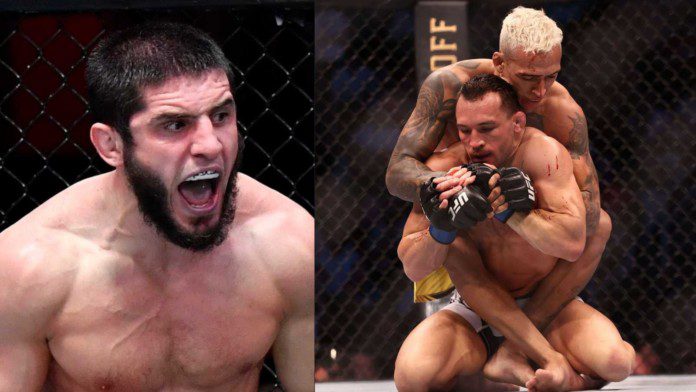 Islam Makhachev promised to win the belt with him next time he attends the post-fight interview, saying he will fight for the next title against the reigning UFC Lightweight King Charles Olivera.
Islam Makhachev after walking through Bobby Green in the first round is supposed to win the title in Abu Dhabi soon, say Khabib receive calls from White Danain the talk of 274. Islam also talked about how this was his most difficult training camp, saying that he prepared extremely hard for Beneil Dariush whom he considers a tougher opponent green.
Related – "Will Fight For The Next Title" – Islam Makhachev Claims Dana White Confirms He Is Fighting For The Title With Khabib Nurmagomedov
Islam Makhachev talked about how pleased he was with the match against Green, saying that Bobby was also glad he made some money, 'I see his face and he's happy too, you know', continued to smile blatantly at him. Islam then talked about how Bobby has a 'Heart' and respects him.
Gaethje's path towards the clash with Islam Makhachev
A hilarious tweet showing 's exact reaction By Gaethje fighting Islam, which will be very similar to what Justin has faced before. Islam and Khabib have this beautiful mentor-mentor relationship, which translates into their style too'Samboand its modification in line with MMA, a lot of stylistic similarities emerge between the two Dagestanis.
People argued that Islam didn't beat anyone from the top 5, many others said that everyone else in the group avoided him, which seems to be the case. Will Justin and Islam lock horns after the Muslim shoots the title and possibly the first title defender? That seems more likely to happen.
Also Read – Islam Makhachev ties up UFC lightweight champion Charles Oliveira and featherweight champion Alexander Volkanovski for longest win streak
https://firstsportz.com/ufc-islam-makhachev-promises-to-put-the-belt-in-the-table-by-the-next-press-conference/ Islam Makhachev promises to put the belt 'into' the table in the next press conference »FirstSportz