"I'm not tired" – Becky Lynch joked amusingly about Ronda Rousey's recent Mother's Day post » FirstSportz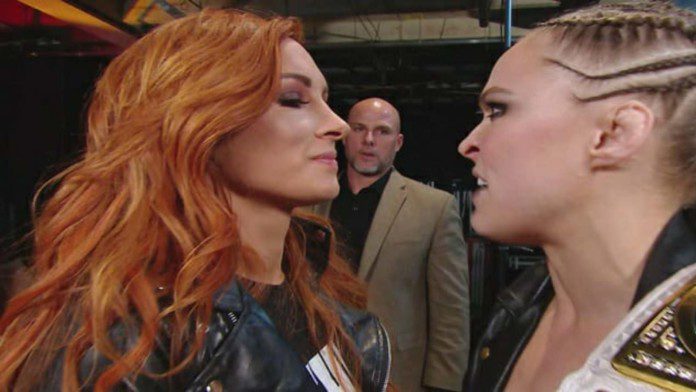 Last weekend at Wrestlemania Backlash, the entire WWE Universe watched as Ronda Rousey defeated Charlotte Flair in a brutal as hell I Quit Match to become the new Smackdown Women's Champion.
After her match, Ronda Rousey shared an emotional note on her official Instagram account, celebrating her win and also sharing a special Mother's Day message!
Shew wrote: "Okay, I accidentally don't look that good – thanks @heeezooo for the warpaint and @thisisbabe for the protective braids at #wrestlemaniabacklash. And @core you guys are just lucky to be around when I couldn't help it Look at me and think – fuck it, I just had a baby 7 months ago! In hindsight, it was freakin' crazy coming back so soon after I had pō. But I'm glad I had a goal that drives me to get back in shape – otherwise I wouldn't have dug so deep to find the extra energy I could put into myself, my own health and recovery . For all the mamas out there, I know you're tired, I'm tired too, but you have this, Happy belated Mother's Day.
You can read the full post below –
That definitely wasn't all for Rousey, as Becky Lynch, her sworn enemy of all time, former Raw Women's Champion, bought some free time to write an amusingly short answer for The Baddest Women on the Planet. Becky commented: "I'm not tired" appears to be referring to the caption posted by Rousey where she said:
"For all the moms out there, I know you guys are tired, so am I." However, Ronda didn't stop her to respond to the Big Time Becks as she took a massive shot over Becky's day off at the Wrestlemania Backlash event, she said "@beckylynchwwe maybe because you had Sundays off."
Check out the screenshot of their conversation below.
Also Read – "I'm Super Sad"; When John Cena responded to Batista's comments about working with him and Dwayne Johnson
WWE fans are demanding a one-on-one match between Ronda Rousey and Becky Lynch
Ever since "The Rowdy" Ronda Rousey returned to WWE at the Royal Rumble earlier this year, the entire WWE Universe has been anticipating a long-awaited one-on-one match between her and Becky Lynch. However, her wishes were not granted by WWE as the Rowdy instead of Becky Lynch challenged Charlotte Flair at Wrestlemania, which was felt as a huge disappointment by the majority of fans.
While we know they are destined to meet one day in a singles competition, it was painful to see that Ronda Rousey isn't immediately after Becky on her WWE return, as she was the one she took on the last one Pinning Rousey's participation is a WWE ringback at Wrestlemania 35 in a Winner Takes All Triple Threat match for the Raw and Smackdown Women's Championship.
Also Read – "John Cena Is 10 Times The Most Superstar You Will Ever Be" – Randy Orton took a massive swipe at Roman Reigns on WWE Smackdown
Also read – "It is my honor"; The Miz responds to AJ Styles calling it the biggest heel
https://firstsportz.com/wwe-news-becky-lynch-reacts-to-ronda-rousey/ "I'm not tired" – Becky Lynch joked amusingly about Ronda Rousey's recent Mother's Day post » FirstSportz