"I'm not a martial artist, I'm a fighter" – Tim Elliott justifies his glove hold on Tagir Ulanbekov at UFC 272 » FirstSportz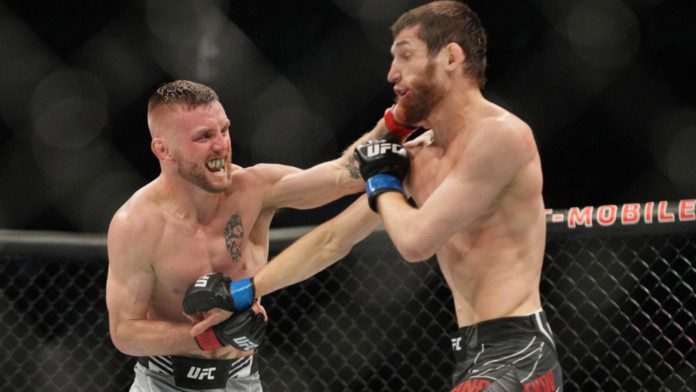 Tim Elliott faced Tagir Ulanbekov in the preliminary rounds of UFC 272. Former lightweight champion Khabib Nurmagomedov was in Tagir's corner and everyone was hoping his student would achieve the win over Tim, but things took a turn when Elliott snatched the unanimous decision away from the win, and in controversial fashion too.
The fight was really close and there came a moment when Eliot grabbed Tagir's gauntlet and punched him to change the dynamic of the fight. Khabib was furious with this decision and a video of him violently urging the referee to take action surfaced online.
Tim spoke about it in his recent interview MMA fightsand he believes he did nothing wrong and no one would have remembered the incident had he lost the fight. "At the end of the day, if Tagir had hit me, nobody would have said shit about the glove grip, nobody would have said anything about the cheating." said Tim. "The only reason people get upset about the glove grip is because they lost. His team lost and it just makes them look bad. They wouldn't have said anything if they won, so it's just one of those things."
'It's not that big of a deal' – Tim Elliott doesn't understand the controversy surrounding his glove grip
Tim doesn't think the glove hold was such a big deal and as a fighter he had to do everything in his power to win the fight. Tim claimed "If you've ever been in a fight… and maybe I'm different… I'm trying to win, man. It's the referee's job to intervene if I do something wrong. He told me all kinds of shit, he told me to let go of the glove and I let go of the glove."
Also see – Watch: Alexander Volkanovski enjoys a UFC 272 watch party with Eugene Bareman, Carlos Ulberg and the City Kickboxing crew
"But for me it's not such a big deal. I'm in there fistfighting. People talk about the ethics of the sport and the warrior spirit and all that bulls*** over and over again, but I don't give a damn. I'm not a martial artist, I'm a fighter and that's my job. I'm trying to make money from this job and I did." Tim closed.
Also Read – 'What Annoyed You Tonight?' Dana White Claims Khabib Nurmagomedov Wasn't Happy at UFC 272
https://firstsportz.com/ufc-im-not-a-martial-artist-im-a-fighter-tim-elliott-justifies-his-glove-grab-against-tagir-ulanbekov-at-ufc-272/ "I'm not a martial artist, I'm a fighter" – Tim Elliott justifies his glove hold on Tagir Ulanbekov at UFC 272 » FirstSportz