'I'll put those paws on you' Lakers icon Shaquille O'Neal threatens physical violence against Kenny Smith in an intense moment during the nationwide broadcast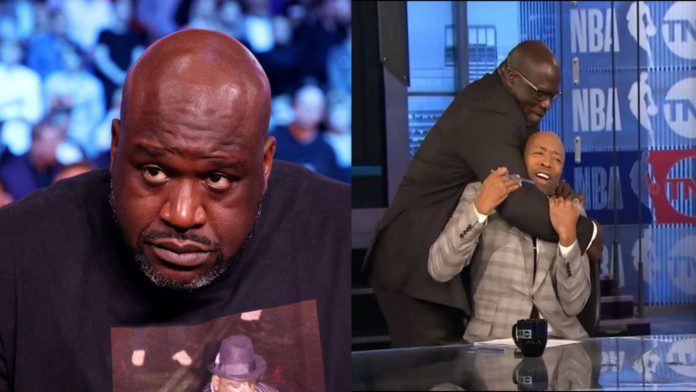 If Shaquille O'Neal, a 7'1 foot Hall of Famer who terrorized defenses and brought down billboards, is on the show with you, you better not upset him. Apparently, Kenny Smith likes to play with fire when he angered Shaq on an episode of "NBA on TNT" back in April. "NBA on TNT" was the scene of many of Shaq's and Charles Barkley's skirmishes. Shaq found new prey in the form of Kenny Smith as things got pretty heated before the Boston Celtics played The Brooklyn Nets in Game 2 of their series.
Shaquille O'Neal is a former MVP and one of the most dominating players the game has ever seen. His time on "Inside The NBA" was marked by warm conversations and some sharp ones. Kenny Smith is a two-time NBA champion with the Houston Rockets and a popular sports analyst. Inside the NBA is one of the notable and relevant shows to watch if you are a basketball and NBA fan. The super combo of Ernie Johnson, Kenny Smith, Charles Barkley and Shaquille O'Neal makes the show a feast for the eyes. For most regular fans, the show is a must-watch on the days it airs.
Also read: "His father belongs in prison," Shaquille O'Neal makes honest…
Shaquille O'Neal takes on Kenny Smith
Shaq is a popular character in the NBA who always brings us funny moments in NBA on TNT. However, Kenny Smith wanted to nudge the bear as they were having a heated debate about Phil Jackson from which Smith repeatedly interrupted him. Shaq finally made it when the former Houston Rockets point guard solemnly told him not to be late for work. Shaq had some words for Smith that suggested he might resort to other methods when words can't express his feelings.
"If you try to be funny on TV again, I'll put those paws on you." Shaq said, holding back his anger at his co-host. O'Neal was already having a rough day, having previously shared a video of traffic holding him up as he missed the start of the show. It didn't help that Shaq had colleagues who were quick to pounce on his anger. Kenny was a little surprised and probably scared by Shaq's threats, as anyone would. "Hey listen, I'm Pat Riley up here, you're not going to hit Pat Riley. you don't hit me' Kenny said to defuse the situation.
Kenny Smith has always been someone who would poke fun at either Shaq or Charles Barkley when given a chance. While he may not have jokes on the level of either of them, nor be as loud and quick with them, he doesn't back down when the opportunity arises. Shaq may have been joking but who would argue with a 7'1 giant in a bad mood, certainly not Kenny Smith! Another classic episode of NBA on TNT with top-notch banter.
Also read: 3 people shot dead outside Fiserv Forum after Bucks vs. Celtics game…
Also read: 'He's very different from his dad' Draymond Green's son plays gorgeous…
https://firstsportz.com/nba-news-lakers-icon-shaquille-oneal-threatens-kenny-smith-with-physical-violence-in-intense-moment-during-national-broadcast/ 'I'll put those paws on you' Lakers icon Shaquille O'Neal threatens physical violence against Kenny Smith in an intense moment during the nationwide broadcast