"I want to bring him to Belgrade," Djordje Djokovic invites Nick Kyrgios to play alongside Novak Djokovic at the Serbia Open 2022 » FirstSportz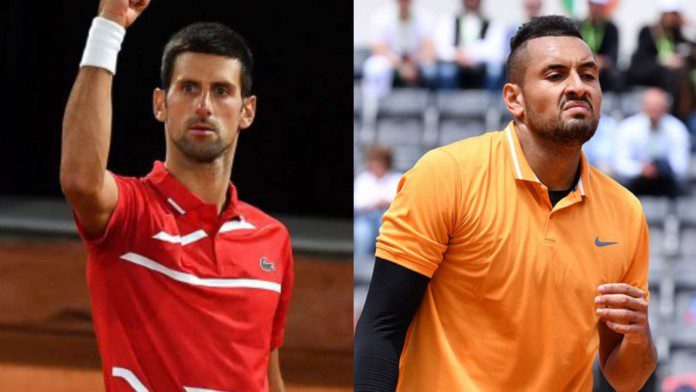 The biggest tennis event in Serbia, the Serbia Open is ready to welcome 20-time Grand Slam champion Novak Djokovic back to home soil. As expected, Djokovic will be the top seed and the overwhelming favorite to win the event. And given the restrictions Djokovic faces around the world, the tournament will be crucial in his preparation for Roland Garros.
The Serbia Open will have a full pitch led by Djokovic and will feature players like Andrey Rublev, Dominic Thiem, Gaël Monfils and others. Now tournament director Djordje Djokovic has said he would like Australian showman Nick Kyrgios to play at the Serbia Open because of the allure and eyes he brings.
Djordje said he wants to bring Kyrgios to thank him for supporting Djokovic. He added that the Australian is an entertainer and speaks his mind without any filters and is a serious athlete.
"I want to bring Nick Kyrgios to Belgrade to thank him for supporting Novak, Belgrade and Serbia. He's an entertainer, he doesn't mince his words and will always speak his mind, whatever it is. Above all, he is a serious sportsman and tennis player. I hope he comes to the Serbia Open before he retires from tennis." he said.
Djordje gives an update on Novak Djokovic's future plans
Djordje gave an update on Nole training in Belgrade preparing for the Monte Carlo Masters. He added that Novak has been confirmed for the Monte Carlo Masters and the Serbia Open and could even compete in Rome ahead of the French Open where he will defend his title.
"Novak is here, training in Belgrade and preparing for Monte Carlo. He went through a terrible time but he persevered to the end and showed and proved why he is what he is. He was in Dubai and unfortunately lost the quarter-finals there. He lacks the continuity of games and tournaments to be on the pitch." he said.
"I hope he will continue with great games and Belgrade and Monte Carlo are tournaments where he is preparing for Roland Garros and Wimbledon. Until the last moment he didn't know if he could play, but fortunately he will perform in Paris, Rome, London and Madrid. The ATP doesn't have much to say because the rules differ from country to country.
Also read: "They should ban him from ever attending the event again," Sabrina, Serena Williams' half-sister, is calling for a ban on Will Smith and says his award for inappropriate behavior at the Oscars should be taken away
https://firstsportz.com/tennis-i-want-to-bring-him-to-belgrade-djordje-djokovic-invites-nick-kyrgios-to-play-alongside-novak-djokovic-at-the-2022-serbia-open/ "I want to bring him to Belgrade," Djordje Djokovic invites Nick Kyrgios to play alongside Novak Djokovic at the Serbia Open 2022 » FirstSportz