Sports
'I thought I could beat him but Rafa has a thousand lives' – Carlos Alcaraz believes he's ready to take on top players after grueling semifinal match against Rafael Nadal
Carlo Alcaraz showed a courageous performance in his semi-final defeat Rafael Nadal In the 2022 Indian Wells. It was a generational battle in the California desert and it was the 21-time Grand Slam champion who emerged victorious in a 3-set thriller. Alcaraz weathered gusty conditions and put up a brave fight before losing 6-4, 4-6, 6-3 to the three-time Indian Wells champion.
In the first all-Spanish semi-final in Indian Wells, Nadal and Alcaraz put on a brilliant performance in windy conditions. The duo traded breaks of serve in the opening set, but Nadal's gritty gameplay came in handy as he won the first set on Alcaraz's serve. Alcaraz then kept his cool and managed the crucial break in the 9th game of the second set to force a decider. Everything was even in the final set until Nadal scored the crucial break and then held at love to extend his winning streak to 20 games.
This was Alcaraz's second loss to Nadal in as many encounters, nonetheless it was an impressive display from the young Spaniard against Nadal, who is 17 years his senior. Bringing on his experience, Nadal narrowly edged out his compatriot and will now face Taylor Fritz in the summit battle for his 4th title of the year.
"Now I know how to play against such players": Carlos Alcaraz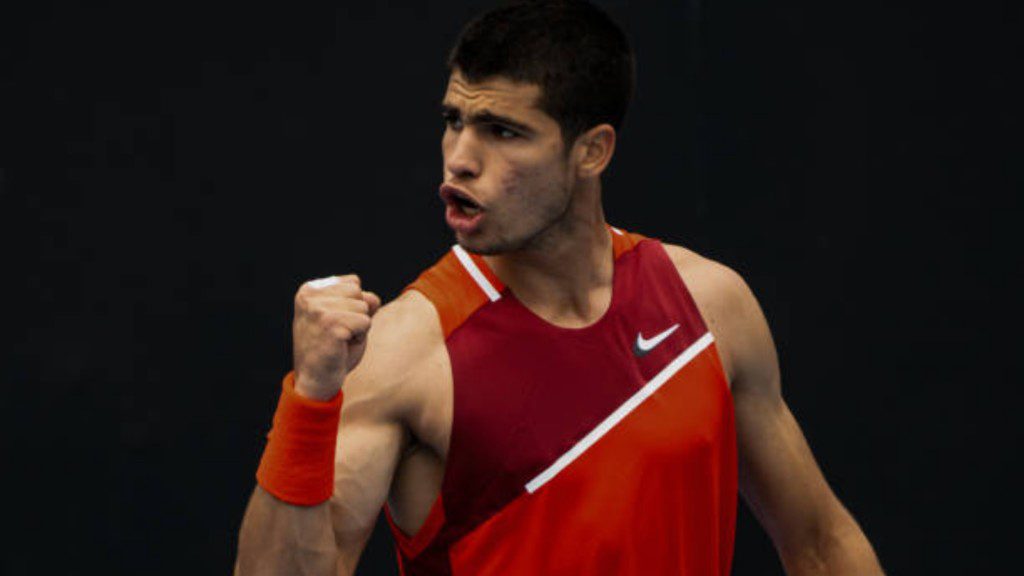 In his post-match briefing, Alcaraz reflected on his chances during the game. The 18-year-old said he had possessed the higher ground several times throughout the game but lamented it wasn't enough against the 21-time Grand Slam champion. However, he added that despite the loss he was optimistic about his performance and ready to take on top players. He also recalled his first clash against Nadal, which he lost in straight sets, and said he was happy the match could go the distance this time.
"I thought I could beat him many times during the game but Rafa has 1000 lives. I had my chances and am leaving this tournament satisfied with my performance. Now I know how to play against these top guys. [The] For the first time he destroyed me. Now we played [a] the third set… I'm really happy. [It was my] second time against Rafa. I feel like I'm part of this level. I'm that type of player. I think I will play against Rafa or the best players a lot this year. he said.
"I think last year [there] were a lot of firsts for me. I mean, first win at a Grand Slam, first Masters 1000. Lots of firsts. Now I've played more games against top 10 players, big games in big stadiums. I think I'm more mature now. I know how to control myself and my emotions. Now I know [this] is my level. [I] know how to play against these guys from players. That's the most important, [to] Know your level and what you need to do," he added.
Also read: "He's already a top player with a fantastic future," praised Rafael Nadal Carlos Alcaraz after their monumental duel in Indian Wells
https://firstsportz.com/tennis-i-thought-i-could-beat-him-but-rafa-has-thousand-lives-carlos-alcaraz-believes-he-is-ready-to-take-on-top-players-after-grueling-semi-final-clash-against-rafael-nadal/ 'I thought I could beat him but Rafa has a thousand lives' – Carlos Alcaraz believes he's ready to take on top players after grueling semifinal match against Rafael Nadal