"I feel sorry for my coaches" – Khamzat Chimaev shares intense moment with his team after UFC 273 » FirstSportz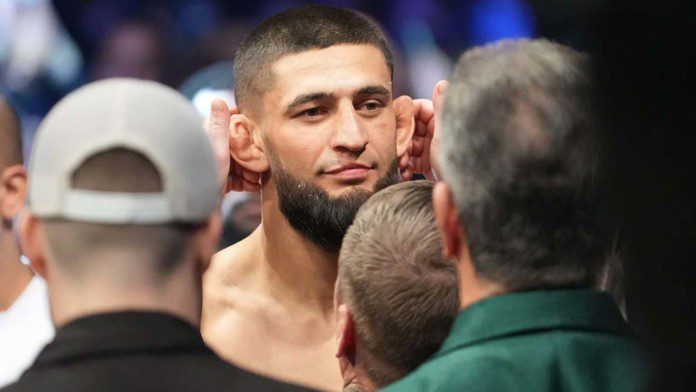 Last Saturday, the fighting world witnessed a war in the octagon of UFC 273. Aside from the main and co-main event, Khamzat Chimaev vs. Gilbert Burns had the most hype. According to Dana White, Burns vs. Chimaev had better hype than the title fights.
Coming to the fight, Khamzat was on a 3-fight win streak in the promotion. Burns, on the other hand, was also fresh from a win over Stephen Wonderboy Thompson. But what's interesting is that almost every fighter in the top 10 of the welterweight rankings then went on to fight Khamzat. However, Burns opted for a ride on Chimaev's Hype Train.
On Saturday night, Khamzat and burns went to war and the judges unanimously awarded the fight in favor of Khamzat. This helped Khamzat jump 7 notches in the new UFC rankings and it made him the third-ranked welterweight fighter.
Also Read: Khamzat Chimaev returns to training after brief hiatus following UFC 273 triumph over Gilbert Burns
"I'm happy and in a way I'm angry"– Khamzat Chimaev had mixed reactions to his fight against Gilbert Burns
It was Chimaev's first major test in the ufc, and while many believe he lacks the necessary skills to stay with the UFC, many thought he passed the test with flying colors. Khamzat was not happy with his performance and now he can be seen apologizing to his coaches in a video he released.
He said, "I feel sorry for my coaches. you work hard with me I made a lot of mistakes, go back and watch my fight like I always do. I will work hard, more energy. I have to be everywhere, black belt, strike, ground and pound, wrestling, grappling, whatever, everything. I will fix everything now. In a way I'm happy and in a way I'm angry. I'm mad because I couldn't finish the guy."
Also read – 'See you soon boy' – Khamzat Chimaev and Gilbert Burns pave the way for a rematch after UFC 273
https://firstsportz.com/ufc-news-khamzat-chimaev-shares-an-intense-moment-he-shared-with-his-team-after-ufc-273/ "I feel sorry for my coaches" – Khamzat Chimaev shares intense moment with his team after UFC 273 » FirstSportz